Home ›
MSc ›
MSc in Biorefinery Engineering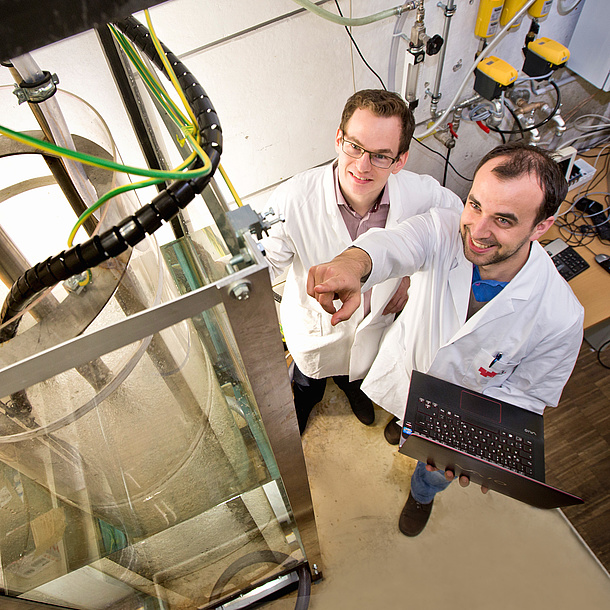 Biogenic resources are a central component of a sustainable economic system in Europe. Biorefinery engineers develop, plan and implement innovative, technical products and processes for using biogenic resources economically and in an ecologically sustainable manner.
You will acquire all the knowledge necessary for this from the very wide-ranging technical specialisations covered in the Master's degree programme Biorefinery Engineering at the TU Graz: this expertise extends from process engineering to chemistry and biotechnology through to energy engineering and environmental engineering. The focus in all of this is on innovation orientation, a close link to practice and also international activities of the students.
Content
You will acquire the engineering sciences knowledge and skills necessary for the construction and operation of technical systems for the use of biogenic resources.
You will learn how to develop and optimise process engineering methods.
You will be able to evaluate the technical, logistic and economic challenges resulting from the use of biogenic raw materials along the entire chain of value creation.
You will learn how to understand the deal with complex problems in scientific and industrial contexts, to formulate these and to develop and present the solutions for them.
You will assess regional, economic, social and ecological framework conditions in the context of the bioeconomy.
You will learn how to recognise trends in the bio-based industry.
You will acquire the scientific and analytic methods needed to evaluate and characterise biogenic resources.
You will carry out independently high-quality and structured research work.
You will carry out research-led traineeships at the university or with industry partners.
International activities
Students have optimal opportunities to prepare themselves for activities in an international environment with the numerous provisions on offer:
Courses in cooperation with international academic and industrial partners
International practical internships
Participation at international winter and summer schools at home and abroad
Semesters abroad
Career Options
Biorefinery engineers are in great demand in Europe as interdisciplinary experts for biogenic problems along the entire bio-based industry value chain. The European Strategic Energy Technology Plan (SET) roadmap points out the annual need for around 3000 technical Master's studies graduates in this field.
Biorefinery Engineers
develop, plan and implement innovative, technical products and processes, for using biogenic resources in an economic and ecologically sustainable manner.
design process plant for the production of bio-based materials and operate them.
are experts for the implementation of a modern bioeconomy.
are able to recognise and categorise trends in the bio-based industry and to convert innovations into business models.
develop innovative systems for the bioeconomy on a scientific basis .
take on management tasks in an international and interdisciplinary environment.
work together with experts from other specialist disciplines, active along the biogenic resources value creation chain.
support the change to a sustainable energy and economic system in Europe.
See 11 more programs offered by Graz University of Technology (TU Graz) »
Last updated November 6, 2019
This course is Campus based