Read more about this program on the school's website
Program Description
This MSc or Postgraduate Diploma in Archaeological Sciences gives graduates in Archaeology and related subjects a systematic training in the application of modern scientific methods.
It gives you the practical, analytical and interpretative skills you need to apply a wide range of specialist approaches, preparing you not only for research in archaeological science but also to pursue career opportunities in all areas of mainstream archaeology.
You will join a group of postgraduate students from across the world and have the opportunity to use a wide range of specialist facilities and collections, whilst being taught by internationally recognised, research-active academic staff.
You can use the course to obtain broad expertise in the field or to specialise in areas such as:
Environmental Archaeology, covering environmental change, subsistence and health through studies of animal bones, plant remains and biomarkers in human and non-human hard tissue.
Landscape Archaeology, focusing on understanding and interpreting landscapes in the past using prospection methods, visualisation and GIS.
Chronology and Biomolecules, specialising in the use of physical, chemical and biomolecular methods to study and date both human remains and artefacts.
Rankings
We are ranked in the top 200 universities in the world for Archaeology in the 2019 QS World University Rankings by subject.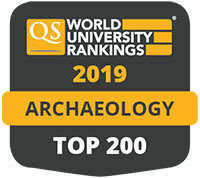 Entry requirements
We welcome applications from all potential students and most important in the decision to offer a place is our assessment of your potential to benefit from your studies and of your ability to succeed in this particular programme. Consideration of applications will be based on a combination of formal academic qualifications and other relevant experience.
The standard entry requirements for the programme are:
A first degree in Archaeology or another relevant discipline, normally with a second-class degree or higher or equivalent for UK students.
Applications are welcome from students with non-standard qualifications, and mature students (those over 21 years of age on entry) with significant relevant experience.
Admission will be judged on an individual basis of overseas students, at an equivalent level to UK entry requirements.
For North American students normally a GPA of at least 2.5 on a scale of 4.0 is required, or an equivalent.
Admissions are made on the basis of demonstrated ability, qualifications, experience, references, and, occasionally, interviews. A completed application form, references, official transcripts, or a list of programmes/modules and grades/marks stamped by your undergraduate department or student registry are required of all applicants.
Recognition of Prior Learning
If you have prior certificated learning or professional experience which may be equivalent to parts of this programme, the University has procedures to evaluate and recognise this learning in order to provide applicants with exemptions from specified modules or parts of the programme.
English language requirements
If English is not your first language you must have IELTS at 6.0 or the equivalent, with no less than 5.5 in each subtest.
If you do not meet the IELTS requirement, you can take a University of Bradford pre-sessional English course.
What you will study
This programme prepares students not only for research in archaeological science but also to further career prospects in all areas of mainstream archaeology.
The programme is normally offered on a full-time basis but a part-time route is feasible as well. Individual modules are available to candidates wishing to enhance their specialist knowledge in a particular area.
Please note that for 2020 entry, the module information is subject to change.
Modules
Core
Archaeometry (ARC7035-B)
Professional Development (ARC7041-B)
Nature of Matter and Instrumental Analysis (ARC7045-B)
FLS Analytical Elective*
Dissertation (ARC7034-E)
Option
Analysis of Human Remains (ARC7008-B)
Plants and Animals in Past Societies (ARC7046-B)
Archaeological Prospection and Visualisation (ARC7044-B)
Grave Concerns: Investigating the Archaeology of Death and Burial (ARC7036-B)
Site Evaluation Strategies and GIS (ARC7048-B)
*FLS Analytical Elective module is drawn from existing modules within the MSc Analytical Sciences and the exact choice is flexible depending on availability and student interests. It will typically be one of CFS7027-B Separation Science and Mass Spectrometry, CFS7030-B Spectroscopy, CFS7028-B Imaging, CFS7026-B Solid Analysis.
Learning and assessment
The teaching and learning strategy take into consideration the learning outcomes, the nature of the subject, and the need for you to take responsibility for your own learning as part of this advanced taught programme.
The thematic modules are delivered in a combination of formal lectures, student-led intensive seminars/tutorials and extensive practical instruction. Coursework (laboratory and field reports, worksheets, essays) is geared towards demonstrating relevant knowledge, understanding and professional skills in principal approaches to the application and use of scientific methods in archaeology. Elements of group work are part of core specialist modules; communication skills are tested in both written and oral form in several modules.
The degree progresses through a spiral curriculum, with each teaching/assessment block developing and building on prior learning. The underlying knowledge and understanding are then drawn upon in the Dissertation (c.15000 words) which encompasses a substantial piece of original research, ultimately assessed for its publishable merit.
The assessment strategy is designed to support the learning outcomes of each specific module. It uses a wide range of assessment methods, including coursework (worksheets, critiques, laboratory reports, research design, essays), exams (practical tests), and oral presentations. Assessment elements are regularly structured in a way that allows you to benefit from formative learning towards summative assessment.
Facilities
You will use a wide range of specialist facilities and collections, including geophysical survey, 3D visualisation, image analysis, materials investigation, botanical and faunal analysis and the largest collection of human skeletal remains in any UK archaeology department, over 4,000 skeletons, dating from the Neolithic to the 19th century.
Fees, finance and scholarships
Tuition fee
Home/EU: £8,570
International: £19,890
Scholarships
Every year we award numerous non-repayable scholarships to UK, EU and international students on the basis of academic excellence, personal circumstances or economic hardship. For full details, visit our scholarships website.
Career support
The University is committed to helping students develop and enhance employability and this is an integral part of many programmes. Specialist support is available throughout the course from Career and Employability Services including help to find part-time work while studying, placements, vacation work and graduate vacancies. Students are encouraged to access this support at an early stage and to use the extensive resources on the Careers website.
Discussing options with specialist advisers helps to clarify plans by exploring options and refining skills of job-hunting. In most of our programmes, there is direct input by Career Development Advisers into the curriculum or through specially arranged workshops.
Career prospects
The course prepares students not only for research in archaeological science but also furthers career prospects in mainstream archaeology or scientific analysis. The course is well-suited both to students who wish to use it as a foundation from which to commence research or as vocational training to enhance employment prospects in archaeology.
Career destinations have included PhDs at Universities of York, Bradford, Oxford, Texas A&M, Catamarca; UNESCO research; archaeological project managers; conservation science and teaching.
Study support
A comprehensive support network is here for you to ensure you reach your academic potential and go on to further success in the future.
You'll benefit from a range of support services, including:
Personal academic tutor
Student support/administration team
Academic Skills Advice service
Career and Employability Services
Award-winning Disability Service
Well-stocked libraries and excellent IT facilities
Research
Archaeology engages the entire human past in all its temporal and spatial dimensions. It is fundamental to our understanding of how we evolved and our communities developed, and how we study, preserve and interpret our past.
At Bradford, our distinctive approach emphasises the integration of the natural and physical sciences in this enquiry. In accordance with the University's mission, making knowledge work, the School of Archaeological and Forensic Sciences aims to provide excellence in a comprehensive range of archaeological topics, with emphasis on both teaching and research, believing the two activities to be mutually dependent.
Last updated Mar 2020
About the School
At the University of Bradford, you'll benefit from - and be a part of – teaching and research that harnesses technology for the good of society. You'll learn from academic and industry experts who are ... Read More
At the University of Bradford, you'll benefit from - and be a part of – teaching and research that harnesses technology for the good of society. You'll learn from academic and industry experts who are shaping the future of their sectors in world-class facilities. We've invested millions of pounds in high-tech learning environments, such as our motion capture studio and new School of Management facilities. During your time with us, you can become the very best version of yourself. The University is a place where you can expand your mind and make lifelong friends; where you can grow, learn, experience. Where you can belong, and where we support you every step of the way.
Read less