MSc in Applied Social Psychology
Home ›
MSc ›
MSc in Applied Social Psychology
Program Description
Programme Overview
Double Degree MSc in Applied Social Psychology
Structure of the programme: 1st year at HSE, optional 2nd year at Tilburg University (for the Double Degree) or HSE.
Applied Social Psychology trains students in theoretical and applied social psychology, preparing them for careers in academia or in applied research settings. Students can enrol in a double-degree track, which will enable them to earn a degree from Tilburg University (the Netherlands) in addition to a degree from HSE University. Courses are taught by HSE lecturers and renowned experts from leading social and psychological schools worldwide. Students choose the areas that they wish to focus on so that they are well equipped to launch their careers after graduation.
Core courses and electives are offered in the following areas:
Year 1 – HSE University Moscow
Social Psychology
Cross-Cultural Psychology
Year 2 – Tilburg University (for double-degree students) or HSE University Moscow
Economic Psychology
Work and Organizational Psychology
Students select the courses within these areas that best align with their interests and career goals. Courses offered by other faculties at HSE can also be taken for credit. Classes are a mix of lectures, seminars, and practice sessions.
Programme benefits
Study at two outstanding universities to earn two degrees.
Set yourself up for an internationally-driven career.
Gain practical experience from the beginning, working on international research projects through internships at the International Laboratory for Socio-Cultural Research.
Prepare for future careers both in academia and business.
Choose an individual learning pathway, combining electives from the programme and from other HSE faculties.
Learn from leading social psychology scholars, including S. H. Schwartz, J. Berry, S. Breugelmans, and N. Lebedeva at HSE and F. van de Vijver, M. Zeelenberg, and I. van Beest at Tilburg University.
Career Opportunities
Which knowledge and professional skills will students obtain?
Students of the programme "Applied social psychology" have an opportunity to chose а training track that suits their professional interests the best:
Social psychology track provides in-depth review of social attitudes, their predictive power for behaviours and outcomes in cognitive processing of social information and emotional responses; interpersonal and intergroup processes (leadership, group-effects), interpersonal communication, psychology of attraction and prosocial behaviour, etc.);
Cross-cultural psychology track provides students with knowledge of culture and cognition, culture and personality; instructs on usage of cultures' measuring and mapping, cultural values, and social axioms ; provides practice-oriented workshops on intercultural relations,, psychological adaptation of migrants, prevention of ethnic and religious extremism; raises issues of multiculturalism as an ideology and practice of intercultural communication);
Economic psychology track provides training in consumer behaviour investment and financial behaviour, social programmes planning and assessment, advertisement evaluation and expertize);
Organizational psychology track reviews organizational behavior, leadership in organizations, HR-consulting for organizations, personnel assessment, in depth training in cross-cultural organizational behavior, assessment and adaptation of personnel in international companies).
Division into tracks contributes to professional training of unique researchers and practitioners in applied social psychology. Experience in use of the latest innovations from research and practice provides the advantage of graduates at labor market. Graduates of the programme are trained in prediction and interpretation of people behavior, their response to socio-economic and political changes. They are skilled in international negotiations facilitation and support in acculturation of expatriates. Graduates are experts in the media monitoring and analysis when it comes to issues of the media and virtual reality influence on people attitudes and behavior.
Which companies are looking for our graduates?
Graduates of our programme are currently employed in international companies and large Russian corporations (e.g. Gazprom, Severstal, etc). They are also demanded in recruitment agencies and consulting centers. Fluency and skills in professional communication in English, and statistical data analysis skills contribute to graduates competitiveness at both Russian and International labor markets. According to surveys, 100% of the graduates were hired within the first year after graduation. Moreover, many students start working before graduation.. Most of the graduates work as researchers and practitioners and use skills and knowledge obtained at the programme in their everyday professional lives.
There are several career trajectories for graduates in "Applied social psychology":
Career in academia: enrollment for PhD programme at graduate schools around the world, work for research centers (ILSCR, LCSR, VTsIOM, FOM).
Career in teaching: internship and teaching for colleges and universities (including HSE).
Career in civil service: state administrative professionals (departments and offices dealing with a social and migration issues).
Work for Russian and International corporations (MTS, MARS, Unilever, ROMIR, GfK-Rus).
Career in consulting: consultant at various social and welfare centers (Centers of monitoring and prevention of ethnic conflicts, the Museum of tolerance, etc.).
Work for a non-government and non-profit organization, charity funds (CAF, UNICEF, WWF).
Application Requirements
The English-language programme «Applied social psychology» involves two educational tracks
A two-year training at HSE.
The double-degree programme with training during the first year at HSE, and the second year — at Tilburg University (hereinafter — TiU).
For either of the two tracks all applicants must provide the following documents:
A photocopy of the diploma and academic transcripts. Background in psychology is not required. Diplomas received at the non-Russian universities have to be officially verified (more information at the International Admissions Office).
A photocopy of the passport.
Certificates of English language proficiency. In the presence of certificates of international examinations with required scores applicant is exempt from the qualification examination of English language. The required scores are: TOEFL PBT – 577; TOEFL IBT – 90; Academic IELTS – 6.5 (every part no less than 6.0); Cambridge Proficiency in English – any score, Cambridge Advanced English – A, B and C. If the candidate has not received the required number of points on the international exam in a foreign language, the certificate will still be attached to the portfolio. Exceptions for those who plan to study on HSE track: applicants for whom English is a native language, and who received basic education entirely in English.
Motivation letter in English.
Summary on 5-10 pages for your final qualifying work (research paper) in English. OR Instead of the summary, you can describe a project (5-10 pages) of a new scientific study that fits the field of the master's programme (social, cross-cultural, economic or organizational psychology).
CV in English.
The portfolio must either consist of hard copies of all required documents and be submitted to HSE Admissions office, or consist of e-copies that must be uploaded through online application form.
Last updated Feb 2020
About the School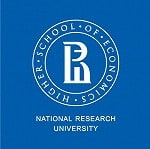 Consistently ranked as one of Russia's top three universities, the Higher School of Economics (HSE University) sets itself apart by its internationally-minded, research-driven approach to higher educa ... Read More
Consistently ranked as one of Russia's top three universities, the Higher School of Economics (HSE University) sets itself apart by its internationally-minded, research-driven approach to higher education. Based in the vibrant center of Moscow, with campuses in St. Petersburg, Nizhny Novgorod and Perm, HSE offers outstanding academics at all levels and includes more than 25 English-taught Master's programmes and 8 English-taught Bachelor's degree programmes.
Read less