MSc in Advanced Electrical Power Engineering
Home ›
MSc ›
MSc in Advanced Electrical Power Engineering
Program Description
MSc in Advanced Electrical Power Engineering
This is the UK's first two-year full-time MSc in Advanced Electrical Power Engineering.
To be an effective power engineer you need a good knowledge of underpinning technologies and user and application requirements. You also require a firm understanding of the business and regulatory landscape that national and multinational power and utility companies must work within.
This course brings together advanced expertise in all aspects of electrical energy and power systems, complemented by studies in electricity markets and power systems economics.
The course is designed to provide the advanced training you need for a career in the dynamic power and energy sectors.
You'll study
Year 1
You'll take a selection of compulsory and optional taught classes. This is combined with training in business and project management skills and research methodologies and techniques.
Potential Year 2 research projects are explored during this year through completion of a mini-project, with a final topic agreed for the start of Year 2.
Year 2
You'll undertake a major research project within the electrical power and energy disciplines. You'll also select a number of advanced taught modules designed to broaden your understanding of your chosen topic.
Facilities
You'll have exclusive access to our extensive computing network and purpose-built teaching spaces including our outdoor test facility for photovoltaics high voltage laboratory, equipped with the latest technologies including:
LDS 6-digital partial discharge test & measurement system
Marx impulse generators & GIS test rigs
£1M distribution network and protection laboratory comprising a 100kVA microgrid, induction machines and programme load banks
You'll have access to the UK's only high-fidelity control room simulation suite and the Power Networks Demonstration Centre (PNDC). This is Europe's first centre dedicated to the development and demonstration of "smart-grid" technologies.
Course content
Year 1
Compulsory classes
Advanced Power System Analysis & Protection
High Voltage Technology & Electromagnetic Compatibility
Power Electronics for Energy & Drive Control
Power System Economics, Markets & Asset Management
Wind Energy & Distributed Energy Resources
Assignment & Professional Studies
Elective classes
Digital Signal Processing Principles
Information Transmission & Security
Communications Networks
Control Principles
Control Techniques
Software Engineering
Year 2
Learning & teaching
We use a blend of teaching and learning methods including interactive lectures, problem-solving tutorials and practical project-based laboratories. Our technical and experimental officers are available to support and guide you on the individual subject material.
Each module comprises approximately five hours of direct teaching per week. To enhance your understanding of the technical and theoretical topics covered in these, you're expected to undertake a further five to six hours of self-study, using our web-based virtual learning environment (MyPlace), research journals and library facilities.
The teaching and learning methods used to ensure you'll develop not only technical engineering expertise but also communications, project management and leadership skills.
You'll undertake group projects. These will help to develop your interpersonal, communication and transferable skills essential to a career in the industry.
Entry requirements
A first or good second-class UK Honours degree, or equivalent qualification, in electronic or electrical engineering, from a recognised academic institution.
Candidates whose first language is not English or who have not undertaken their undergraduate course in the UK must possess a recent UKBA-recognised English qualification.
English Language Requirement
IELTs 6.5 or equivalent
Last updated Sep 2019
About the School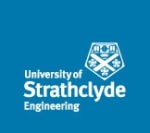 Our Faculty of Engineering is the biggest in Scotland. We're also one of the largest, best equipped engineering faculties in the UK.
Our Faculty of Engineering is the biggest in Scotland. We're also one of the largest, best equipped engineering faculties in the UK.
Read less