Program Description
Why this course?

This full-time course will cover the practical, theoretical and technological aspects of 5G Communications Systems as they evolve over the coming years.
You'll gain expert knowledge of the latest technologies that will drive the next mobile, wireless and communications revolution, and evolve our current 4G environment to 5G communications enabled systems. Applications will cover robotics & autonomous systems, UAVs, immersive systems and augmented realities, health monitoring, cyber-integrated systems, and smart grids. Data handling of the expected 50 billion IoT (internet of things) devices coming on-line to monitor traffic, weather, environment, smart agriculture, and even when your fridge runs out of milk, will also be explored.
5G will provide greater capacity, improved reliability, support at higher rates of mobility, and wider geographical coverage, at even higher data speeds and throughput and many new services and facilities.
On the course, you will engage with experts and specialists whose integrated knowledge will enable you to gain the skills, knowledge, and expertise to be part of the definition of the next generation of mobile and wireless communications. These will include:
Mobile & Wireless Standards (such as LTE, 802.11x,)
Software Defined Radio (SDR)
Software Defined Networking (SDN) Systems
Internet of Things (IoT) Wireless Communications
Big Data & Information Management
Security & Cybersecurity systems
Spectrum Access, & Dynamic Spectrum
5G Hardware Systems Design – FPGA & Microcontrollers
Advanced DSP/Comms Systems; eg Massive MIMO
Augmented Reality & Advanced Multimedia Systems


What you'll study

There are two semesters of compulsory and optional taught classes, followed by a three-month summer research project working in a core area of 5G Communications system design, either in the Department or with an industry partner via an internship.
Facilities for research projects are extensive and these will allow you to choose to work on projects in a wide variety of areas such as physical and MAC layers (e.g. Advanced LTE) from IoT, cybersecurity, dynamic spectrum, massive-MIMO, low latency communications, or in applications such as smart agriculture, environment monitoring, computer vision, communicating radar, satellite systems, automotive, driver-less cars and of course some application domains yet to be established with the advent of 5G!


Facilities

We have an extensive set of teaching spaces and learning environments alongside a dedicated Masters Project and Study Environment for self-study and group working.
We work closely with a number of industry partners, and our state-of-the-art facilities include wireless and mobile radio hardware and software, FPGA and SDR systems, supported by companies including EE, Vodafone, Xilinx, Cisco, MathWorks, British Telecom, Intel, Lime Microsystems, Analog Devices and many smaller companies and organizations. Our research laboratories include our Signal Processing Design Lab; Image and Vision Processing Lab; White Space Radio Testbed, IoT Test Facility, RF anechoic room, and so on.


Course content

Compulsory classes
(September to May)
Information Transmission & Security
Digital Signal Processing Principles
5G Communications Networks
Assignment & Professional Studies

Elective classes
Choose at least two from this list
Advanced Digital Signal Processing Principles
Image & Video Processing
Software Engineering
Embedded Systems Design

Summer (June to September)
MSc Research Project/Internship

Learning & teaching

We use a blend of teaching and learning methods including interactive lectures, online video lectures, problem-solving tutorials and practical project-based laboratories. Our extensive teaching and project facilities include state-of-the-art Software Defined Radio laboratories, IoT and networking capabilities, Computer Vision laboratories, alongside satellite and sensor equipment.
Each module comprises approximately five hours engagement per week. Some classes are presented in traditional lecture-tutorial-lab style, and we also offer a number of "flipped learning" classes whereby lectures are delivered through complete online video sets, with complementary in-class discussion and review seminars held each week to discuss relevant topics and subject matter.
To enhance your understanding, you are expected to undertake a further five to six hours of self-study, using our web-based virtual learning environment (MyPlace), research journals and library facilities.
The teaching and learning methods ensure you'll develop not only technical engineering expertise but also communications, project management, and leadership skills.

Industry engagement

Interaction with industry is provided through our internships, teaching seminars and networking events.
British Telecom, Vodafone, Everything-Everywhere, Xilinx, Cisco, Texas Instruments, MathWorks, NXP/Qualcomm and Selex ES are just a few examples of the industry partners working with Strathclyde at this time, and you have the opportunity to engage with them during your studies.

Assessment

A variety of assessment techniques are used throughout the course. You'll complete 120 credits of taught modules. Each module has a combination of written assignments, individual and group reports, oral presentations, practical lab work and, where appropriate, an end-of-term exam.
Assessment of the summer research project consists of four elements, with individual criteria:
Interim report (10%, 1,500 to 3,000 words) – The purpose of this report is to provide a mechanism for supervisors to provide valuable feedback on the project's objectives and direction
Poster Presentation (15%) – A vital skill of an engineer is the ability to describe their work to others and respond to requests for information. The poster presentation is designed to give you an opportunity to practice that
Final report (55%) – This assesses the communication of project objectives and context, accuracy and relevance of background material, description of practical work and results, depth and soundness of discussion and conclusions, level of engineering achievement and the quality of the report's presentation
Conduct (20%) - Independent study, project and time management are key features of university learning. The level of your initiative & independent thinking and technical understanding are assessed through project meetings with your supervisor and your written logbooks


Entry requirements

A first or good second-class UK Honours degree or equivalent overseas qualification in electronic, electrical or communications engineering, or related physical science subject from a recognized academic institution.
Candidates whose first language is not English or who have not undertaken their undergraduate course in the UK must possess a recent UKVI-recognised English qualification.

Pre-Masters preparation course

The Pre-Masters Programme is a preparation course for international students (non-EU/UK) who do not meet the entry requirements for a Masters degree at University of Strathclyde. The Pre-Masters programme provides progression to a number of degree options.
To find out more about the courses and opportunities on offer, visit International Study Centre and discuss your education future. You can also complete the online application form. To ask a question please fill in the inquiry form and talk to one of our multi-lingual Student Enrolment Advisers today.


Careers

As communications now impact on virtually all areas of society, commerce and business, job opportunities are excellent, and you will be equipped for employment across a range of sectors including mobile/wireless, IT, defense, and big data.
Professional and technical occupations with international companies such as Samsung, Xilinx, British Telecom, MathsWorks, Nokia and Texas Instruments, as well as local companies such as Cirrus Logic, Leonardo, and Stream, are available.
The globalization of the communications sector and the evolution of many countries to 5G means if graduates wish to work abroad, this course provides an ideal passport to anywhere in the world.

Job titles include:
wireless communications engineer
wireless mobility engineer
graduate controls engineer
Last updated Sep 2019
About the School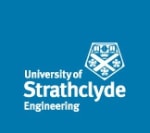 Our Faculty of Engineering is the biggest in Scotland. We're also one of the largest, best equipped engineering faculties in the UK.
Our Faculty of Engineering is the biggest in Scotland. We're also one of the largest, best equipped engineering faculties in the UK.
Read less