Program Description
Course details
In an increasingly interconnected global economy, all businesses have to compete within complex supply networks in order to survive and prosper. The effective management of supply chains and logistics is recognised as key to sustaining a company's competitive advantage, and this accredited course will enable you to successfully negotiate the uncertain economic environment now facing businesses across the world.
Tutored by industry specialists, you will develop your understanding of core business topics such as corporate strategy and the improvement of business processes, and you will become a skilled and knowledgeable procurement expert. Using established management tools and techniques, you will then be able to apply your knowledge of supply chain management and logistics to complex regional, national and international issues in a variety of settings.
If you are already a member of either of the accrediting bodies for this course, you could apply for accreditation of prior learning to gain exemptions from some modules.
Course Benefits
A major strength of our course is professional accreditation and the access and opportunity to develop career networks and contacts within these institutions. The additional work experience will contribute to your employability on completion of the course. As the course is accredited by the Chartered Institute of Purchasing and Supply (CIPS), and the Chartered Institute of Logistics and Transport (CILT), this will enable you to gain the academic element needed to achieve Professional Membership status of CIPS/CILT, and also offers free student membership of CIPS. If you are already a CIPS or CILTS member, you can apply for standard accreditation of prior learning, be exempt from some core modules and pay a reduced fee.
You will also have the opportunity to attend and engage in professional networks and regional events as part of the accreditation. You will learn with and from supply chain professionals providing you with valuable opportunities to develop your expertise and career networks.
At Leeds Business School we're dedicated to supporting your professional development - that's why we offer a guest lecture programme. Past speakers include the CEO of the London Stock Exchange, Shadow Chief Secretary to the Treasury, past Chair and President of the Academy of Marketing, Chief Executive of the British Bankers Association, the Chief Economist of Yorkshire Bank and the Editor of Cosmopolitan.
Entry requirements
Applicants should either have at least a second class honours degree or have equivalent experience or training, normally from within the work environment. All applications should be supported by a reference, either academic or professional. All applicants should satisfy our University English language requirements.
IELTS:
IELTS 6.0 with no skills below 5.5, or an equivalent qualification. The University provides excellent support for any applicant who may be required to undertake additional English language courses.
MATURE APPLICANTS
Our University welcomes applications from mature applicants who demonstrate academic potential. We usually require some evidence of recent academic study, for example, completion of an access course, however recent relevant work experience may also be considered. Please note that for some of our professional courses all applicants will need to meet the specified entry criteria and in these cases work experience cannot be considered in lieu.
If you wish to apply through this route you should refer to our University Recognition of Prior Learning policy.
Please note that all applicants to our University are required to meet our standard English language requirement of GCSE grade C or equivalent, variations to this will be listed on the individual course entry requirements.
Job Prospects
On completion of this accredited course, you will be well placed to pursue the increasing employment opportunities in supply chain management and logistics that exist around the world. You could develop a career in purchasing management, or your enhanced expertise could be applied to a variety of other business-related careers.
Supply Chain Analyst
Supply Chain Manager
Transport Planner
Purchasing Manager
Careers Advice
Our dedicated Jobs and Careers team offers expert advice and a host of resources to help you choose and gain employment. Whether you're in your first or final year, you can speak to members of staff from our Careers Office who can offer you advice from writing a CV to searching for jobs.
Fees & funding
UK & EU
The tuition fee for the year for students is £6500. The amount you will pay may increase each year to take into account the effects of inflation.
International
The tuition fee for the year for students is £12500. The amount you will pay is fixed at this level for each year of your course.
Facilities
Library
Our Library is open 24 hours a day, seven days a week, every day of the year, providing you with access to specialist books and journals, learning spaces, computers, multimedia facilities and media equipment hire. Tens of thousands of our Library's digital resources, including ebooks, ejournals and databases, can be accessed online at a time and place to suit you.
The Rose Bowl
The Rose Bowl has impressive teaching spaces, auditoriums, conference facilities and an outstanding local reputation as a business hub. The Rose Bowl puts our students at the centre of a dynamic business community.
Hydra Suite
You will use Critical Decision Immersive Simulations in this facility to develop effective leadership and group participant skills. The simulations replicate the complexities of real life scenarios that would challenge decision makers, aiming to improve your decision making, critical thinking and communication skills.
Last updated Jan 2020
About the School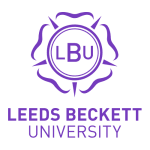 Studying at Leeds Beckett University you will be in the centre of an exhilarating community and be part of a social and economic environment that is shaping the city of Leeds for the future.
Studying at Leeds Beckett University you will be in the centre of an exhilarating community and be part of a social and economic environment that is shaping the city of Leeds for the future.
Read less