MSc Responsible Tourism Management
Program Description
Course details
Within the travel and tourism industry, there is an increasing focus on the need to adopt responsible business practices that improve the quality of life for communities and conserve the environment and local cultures. This course helps meet the resulting demand for managers with the ability to implement responsible tourism strategies within marketing, operations and product development.
You will explore domestic and international tourism and you will understand that the principles of responsible tourism are as applicable to the Yorkshire Dales as they are to The Gambia. In addition to developing your subject knowledge, you will learn how to plan, implement and evaluate responsible tourism policies and practices.
This is the only responsible tourism course in the world certified by the UNWTO.TedQual programme established by the United Nations World Tourism Organization. It is taught by staff with the first-hand experience in tourism management, research and consultancy, who will share their global expertise with you.
Course Benefits
To support your studies, you will be assigned a personal industry mentor. Our mentors are experienced tourism professionals and have all graduated from this masters course, so they understand your journey. Your mentor could assist you in a number of possible ways, including discussing career pursuits, giving advice on work placements, helping to improve your CV and providing tips on assignments, course material and work/life balance. We have over 20 mentors from areas as diverse as the Gambia Travel Foundation Programme, TUI UK & Ireland and VisitEngland, so we will attempt to match you with an appropriate mentor.
Our teaching is grounded in industry consultancy and research. The quality of our research is evident in the outstanding results achieved in the Research Assessment Exercise completed in 2014 in which Leeds Beckett came second in the country for sport and exercise science, leisure and tourism.
Staff teaching this course have played a leading role in the responsible tourism and hospitality movement through research and development work with the industry and government which enables our students to also play an important role in this sector. Lucy McCombes is a certified Travelife auditor and Dr Simon Woodward is chair of the ICOMOS-UK Cultural Tourism Committee and a Trustee of the Landscape Research Centre.
Entry requirements
Applicants should have at least a second class honours degree and a year's work experience in a relevant field including Travel, Tourism, Hospitality, Business, Economics, Marketing, Environmental Management, Ecology, Development, Cultural Heritage Management, Project Management or Planning.
Applicants who do not meet the academic entry requirements will be expected to have equivalent experience and training from a relevant work environment.
All applications should be supported by a reference, either academic or professional.
All applicants should satisfy our University English language requirements.
English Language Requirement: IELTS 6.0 with no skills below 6.0, or an equivalent qualification. The University provides excellent support for any applicant who may be required to undertake additional English language courses.
MATURE APPLICANTS
Our University welcomes applications from mature applicants who demonstrate academic potential. We usually require some evidence of recent academic study, for example, completion of an access course, however recent relevant work experience may also be considered. Please note that for some of our professional courses all applicants will need to meet the specified entry criteria and in these cases work experience cannot be considered in lieu.
If you wish to apply through this route you should refer to our University Recognition of Prior Learning policy.
Please note that all applicants to our University are required to meet our standard English language requirement of GCSE grade C or equivalent, variations to this will be listed on the individual course entry requirements.
Job Prospects
You will enhance your ability to operate effectively at a strategic level within conservation organisations and in both the public and private sectors, and you will have expertise and confidence to devise, implement and manage responsible tourism programmes. Graduates have gone on to work as sustainability and product managers for tour operators and have also taken senior managerial positions in government departments and with international non-governmental organisations.
Responsible Tourism Adviser
Sustainable Product Manager
Charity Development Consultant
Sustainable Destinations Manager
Careers Advice
Our dedicated Jobs and Careers team offers expert advice and a host of resources to help you choose and gain employment. Whether you're in your first or final year, you can speak to members of staff from our Careers Office who can offer you advice, from writing a CV to searching for jobs.
Fees & funding
UK & EU
The tuition fee for the year for students is £5950. The amount you will pay may increase each year to take into account the effects of inflation.
International
The tuition fee for the year for students is £11500. The amount you will pay is fixed at this level for each year of your course.
Facilities
Library
Our Library is open 24 hours a day, seven days a week, every day of the year, providing you with access to specialist books and journals, learning spaces, computers, multimedia facilities and media equipment hire. Tens of thousands of our Library's digital resources, including ebooks, e-journals and databases, can be accessed online at a time and place to suit you.
Headingley Campus
Our historic Headingley Campus is set in 100 acres of parkland with easy access to Leeds city centre.
Gym and Sports Facilities
Keeping fit is easy at Leeds Beckett - our fitness suites are easy to get to, kitted out with all the latest technology and available to all sports members.
Last updated Jan 2020
About the School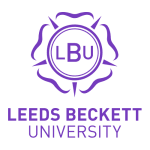 Studying at Leeds Beckett University you will be in the centre of an exhilarating community and be part of a social and economic environment that is shaping the city of Leeds for the future.
Studying at Leeds Beckett University you will be in the centre of an exhilarating community and be part of a social and economic environment that is shaping the city of Leeds for the future.
Read less