MSc Pharmaceutical Analysis
Home ›
MSc ›
MSc Pharmaceutical Analysis
Program Description
Acquire the skills, knowledge and hands-on experience for a career as a Pharmaceutical Analyst in Industry or Academia.
Who are you?
You are probably a recent physical or life sciences graduate – chemistry, pharmacy and biology.
But you could equally be at work and want to develop your professional skills. If you are, we offer this course part-time as well, one day per week.
Why study this course?
Our industrial partners are always telling us they need people like you. Analysts are among the most sought after professionals with some of the highest employability rates.
You will receive practical training on state-of-the-art separation techniques, such as HPLC/MS and GC/MS, in the purpose-built Pharmaceutical Analysis lab designed in partnership with Agilent (a world-leading instrument manufacturer)
Please note:
Applications for this course received after 30th June 2020 may not be accepted. In addition, a deposit will be required to secure a place.
Highlights
This programme is taught jointly between the School of Chemistry and Chemical Engineering and the School of Pharmacy by leading experts in the field.
Industry Links
Our industrial partners have influenced the course structure, to tell us what they need from the latest analytical graduates. We have guest lectures from industry to tell you about the issues they face, out in the field.
Career Development
Employability is a major perk of the course. Ireland, north and south, is a major hub for the Pharmaceutical industry.
World-Class Facilities
Everything is on-campus, and the course is very hands-on and interactive. You will receive practical training on state-of-the-art separation techniques, such as HPLC/MS and GC/MS, in the purpose-built Pharmaceutical Analysis lab designed in partnership with Agilent (a world-leading instrument manufacturer)
Student Experience
Dr Panagiotis Manesiotis, the course director, has a background in analytical and materials chemistry. His research covers Plastic antibodies: making from polymers what nature makes from proteins: creating more robust and less expensive antibodies. Environmental clean-up: engaging with the food industry and environmental protection agencies to recover valuable resources from waste and recycle them into useful materials – including phosphorus and nitrogen in food production waste, and even heavy metals from wastewater.
"Recent years have seen an exponential increase in the demand for highly-skilled analytical scientists, both in industry and academia.
This course offers advanced training in chemical analysis, with a focus on applications in the pharmaceutical sector."

Dr Panagiotis Manesiotis
Course Director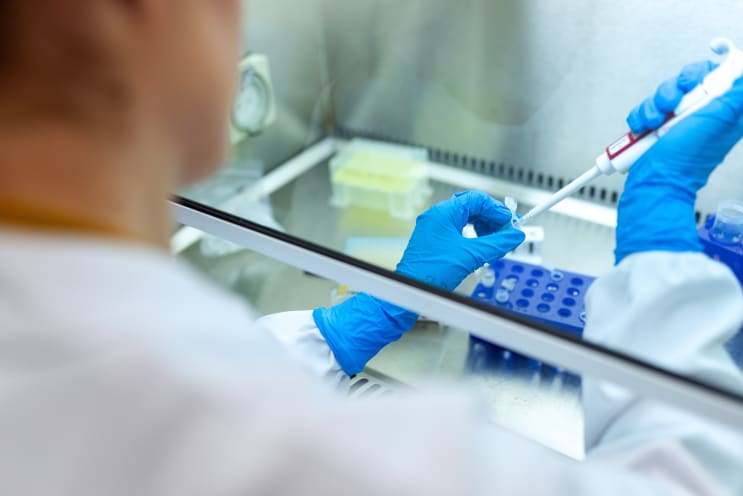 Course Structure
You'll learn the theory behind state-of-the-art analytical techniques and have an opportunity to practice your skills using the most modern instrumentation.
You'll be trained on techniques such as:
Liquid and gas chromatography (HPLC, GC)
Mass spectrometry (MS)
Thermal Analysis (DSC, TGA)
X-ray crystallography (PXRD, XRD)
Nuclear Magnetic Resonance (NMR) spectroscopy
You will also receive training on QA/QC aspects of the Pharmaceutical Industry. For your research project, you'll spend 2-3 months in a laboratory. You have the option to do this in industry, for example in Almac.
Indicative Number of Modules Per Semester
Full-time: Two Modules
Part-time: One Module
Indicative Proportional Mix of Time in Classes, Tutorials/Seminars/Labs, and Private Study in a Teaching Semester
Contact time:
Lectures/Seminars - 56 hours
Laboratory/Workshop classes - 48 hours
Study time:
Coursework - 50 hours
Preparation of written/oral reports - 96 hours
Private study/revision - 150 hours
Modules
The course comprises four taught modules, two of which will run during the entire academic year (September-May) and two semester-long modules; the first running September-January and the second February-May.
List of Indicative Programme Modules
Advanced Separation Science
Chemical, Biochemical and Spectroscopic Analytical Methods
Solid State Pharmaceutical Analysis Methods
Quality Assurance/Control in the Pharmaceutical Industry
Research Project
Teaching Times
Lectures/practicals will be run over a single day each week to accommodate day-release schemes. Teaching may be available outside normal teaching hours to support employed part-time students.
Career Prospects
This programme is designed to prepare students for employment as analysts in the pharmaceutical and related industries.
There is currently a high demand, both locally and internationally, for graduates with analytical skills in this sector.
Queen's postgraduates reap exceptional benefits. Unique initiatives, such as Degree Plus and Researcher Plus bolster our commitment to employability, while innovative leadership and executive programmes alongside sterling integration with business experts help our students gain key leadership positions both nationally and internationally.
Employment after the Course
Where you might be in five years' time?
You might be working as a laboratory analyst or senior analyst, in quality assurance or quality control or in an industrial R&D facility.
You could be managing graduate recruits of your own, signing off the analysis and the quality of drugs and releasing batches into the world.
You could study further towards obtaining a PhD and continue towards an academic career.
The main focus of this degree is pharmaceutical analysis, but your training could open up career pathways in other areas, such as the food industry or environmental protection.
Employment Links
Many of our previous students have gone on to work for companies such as:
Almac
Randox
Norbrook
Pfizer
Learning and Teaching
The course accommodates both full-time and employed part-time students.
Contact teaching hours (per week):
Full-time: 12-20 hours
Part-time: 8-12 hours
Assessment
Assessments associated with the course are outlined below:
Written examinations
Continuous assessment
Research project dissertation
Entrance requirements
Graduate
Normally a 2.2 Honours degree or equivalent qualification acceptable to the University in Chemistry, Pharmacy or a closely allied subject. Performance in key modules will be taken into consideration.
Applicants with relevant work experience will be considered on a case-by-case basis.
International Students
For information on international qualification equivalents, please check the specific information for your country.
English Language Requirements
Evidence of an IELTS* score of 6.5, with not less than 5.5 in any component, or an equivalent qualification acceptable to the University is required. *Taken within the last 2 years.
International students wishing to apply to Queen's University Belfast (and for whom English is not their first language), must be able to demonstrate their proficiency in English in order to benefit fully from their course of study or research. Non-EEA nationals must also satisfy UK Visas and Immigration (UKVI) immigration requirements for the English language for visa purposes.
For more information on English Language requirements for EEA and non-EEA nationals see: www.qub.ac.uk/EnglishLanguageReqs.
If you need to improve your English language skills before you enter this degree programme, INTO Queen's University Belfast offers a range of English language courses. These intensive and flexible courses are designed to improve your English ability for admission to this degree.
As a result of the COVID-19 pandemic, we will be offering Academic English and Pre-sessional courses online only from June to September 2020.
Academic English: an intensive English language and study skills course for successful university study at degree level
Pre-sessional English: a short intensive academic English course for students starting a degree programme at Queen's University Belfast and who need to improve their English.
Tuition Fees
| | |
| --- | --- |
| Northern Ireland (NI) | £6,140 |
| England, Scotland or Wales (GB) | £6,900 |
| Other (non-UK) EU | £6,140 |
| International | £20,800 |
All tuition fees quoted are for the academic year 2020-21. Tuition fees will be subject to an annual inflationary increase unless explicitly stated otherwise.
Terms and Conditions for Postgraduate applications
Due to high demand, there is a deadline for applications.
You will be required to pay a deposit of £400 pounds to secure your place on the course.
This condition of the offer is in addition to any academic or English language requirements.
Additional course costs
All Students
Depending on the programme of study, there may be extra costs which are not covered by tuition fees, which students will need to consider when planning their studies.
Students can borrow books and access online learning resources from any Queen's library. If students wish to purchase recommended texts, rather than borrow them from the University Library, prices per text can range from £30 to £100. Students should also budget between £30 to £75 per year for photocopying, memory sticks and printing charges.
Students undertaking a period of work placement or study abroad, as either a compulsory or optional part of their programme, should be aware that they will have to fund additional travel and living costs.
If a programme includes a major project or dissertation, there may be costs associated with transport, accommodation and/or materials. The amount will depend on the project chosen. There may also be additional costs for printing and binding.
Students may wish to consider purchasing an electronic device; costs will vary depending on the specification of the model chosen.
There are also additional charges for graduation ceremonies, examination resits and library fines.
Pharmaceutical Analysis costs
Students are required to buy a laboratory coat in year 1 at a cost of £15. Students have the option to hire a locker, at a cost of £5 per student per year.
How do I fund my study?
The Department for the Economy will provide a tuition fee loan of up to £5,500 per NI / EU student for postgraduate study.
A postgraduate loans system in the UK offers government-backed student loans of up to £10,609 for taught and research Masters courses in all subject areas. Criteria, eligibility, repayment and application information are available on the UK government website.
Last updated Nov 2020
About the School
Founded in 1845 as Queen's College Belfast, we became an independent university in 1908. Today, we are ranked in the top 173 universities in the world (QS World Rankings 2020) in the top 140 in the wo ... Read More
Founded in 1845 as Queen's College Belfast, we became an independent university in 1908. Today, we are ranked in the top 173 universities in the world (QS World Rankings 2020) in the top 140 in the world for graduate prospects (QS Graduate Employability Rankings 2020), and a member of the Russell Group of UK research-intensive universities, combining excellence in research and education with a student-centred ethos.
Read less