Program Description
Designed for the digital marketing environment, the MSc in Marketing encompasses elements of marketing management and strategy, consumer behaviour, digital marketing (including Google Analytics), marketing analytics (including SAS database training), research methods and international marketing.
The MSc Marketing programme has been designed to equip the next generation of marketing professionals with the necessary conceptual, analytical and practical skills required by firms to compete in the global marketplace.
Highlights
Professional Accreditations
Accreditation has been gained from The Chartered Institute of Marketing (CIM) – The leading professional body for marketers worldwide which exists to develop the marketing profession, maintain professional standards and improve the skills of marketing practitioners. Students of the MSc Marketing programme can register as students with CIM and will have access to all CIM resources including webinars and Marketing Expert (additional fee will apply). Students will be able to attend local CIM branch events and seminars, which offer networking opportunities and the chance to keep abreast of current marketing thinking and practice. Upon successful completion of the MSc Marketing programme, students will have a number of exemptions from CIM professional examinations. Students can undertake the CiM Certificate in Professional Marketing, which requires them to complete 1 online module (students are exempt from 2 other modules) or the CiM Diploma in Professional Marketing, which requires them to complete 2 online modules (students are exempt from 1 other module).
The Digital Marketing (featuring Google Analytics) module encourages students to work towards a Google Analytics Individual Qualification (GAIQ). This is a signal to employers that our MSc Marketing students have both the theoretical and practical skills to compete. The examination fee will be reimbursed by the School (subject to attaining the award during the module).
Industry Links
Students will have the opportunity to apply for a minimum 12 weeks of paid internship as an option in Semester 3, students will be required to undertake an action research project and submit a report based on this. This option is instead of undertaking a traditional research dissertation or an academic research project. This option, only available top high-performing students, provides the opportunity to apply and review academic and theoretical principles in practice. It also provides students with real-world experience of working in a marketing environment.
World-Class Facilities
The Marketing Analytics for Managers module features SAS software. SAS Institute is a provider of tools, technologies and services focused on business analytics. A recent study shows SAS dominates the global advanced analytics market. This again is a signal to employers that our students have the theoretical, practical and industry-standard software skills to compete.
Student Experience
Teaching methods and learning may include lectures, tutorials, seminars, case studies, computer/software demonstrations, non-book media (videos and podcasts), individual research, oral presentations, group projects, online discussion forums, industry visits, practitioner workshops, and internship opportunities.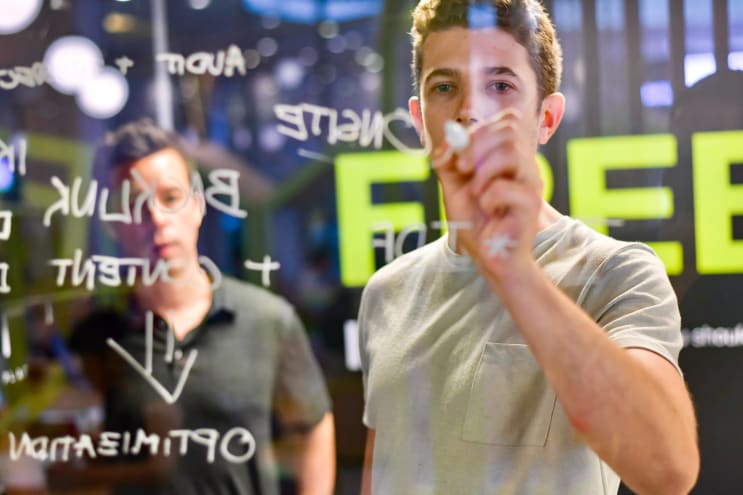 Course Structure
The course can only be taken on a full-time basis. Students undertake 4 modules in semester 1 (September to December) and a further 4 in semester 2 (January to April/May). In semester 3 (July to September) students either undertake the traditional dissertation, internship and work-based project or the academic research project.
Semester 1
Marketing Management
Strategic Marketing
Digital Marketing
Accounting
Semester 2
Consumer Behaviour
International Marketing
Marketing Analytics
Research Methods and Techniques
Semester 3
Select a total of 60 CATS
Dissertation (60 CATS)
Marketing Internship and Work-based Research Project (60 CATS)*
Academic Research Project + 2 taught modules (Contemporary Issues in Management and Business Governance and Ethics) (60 CATS)
Career Prospects
Graduates with a solid knowledge of contemporary marketing thought and best practices, coupled with a solid grounding in market(ing) research methods, tools and applications, are likely to secure employment in the following areas: digital marketing, marketing analytics, marketing research and new product introductions, key account management, export projects and related international expansion as well as brand management work.
Learning and Teaching
Teaching Methods
Teaching Times
Morning/Afternoon/Evening
Assessment
Assessments associated with the course are outlined below:
Students will complete individual student assignments, oral presentations, group casework, examinations, computer-aided assessment, multiple-choice tests and research work. Other innovative assessment methods are incorporated as appropriate.
Entrance requirements
Graduate
Normally a 2.1 Honours degree or equivalent qualification acceptable to the University in any discipline.
International Students
For information on international qualification equivalents, please check the specific information for your country.
English Language Requirements
Evidence of an IELTS* score of 6.5, with not less than 5.5 in any component, or an equivalent qualification acceptable to the University is required. *Taken within the last 2 years.
International students wishing to apply to Queen's University Belfast (and for whom English is not their first language), must be able to demonstrate their proficiency in English in order to benefit fully from their course of study or research. Non-EEA nationals must also satisfy UK Visas and Immigration (UKVI) immigration requirements for the English language for visa purposes.
For more information on English Language requirements for EEA and non-EEA nationals see: www.qub.ac.uk/EnglishLanguageReqs.
If you need to improve your English language skills before you enter this degree programme, INTO Queen's University Belfast offers a range of English language courses. These intensive and flexible courses are designed to improve your English ability for admission to this degree.
As a result of the COVID-19 pandemic, we will be offering Academic English and Pre-sessional courses online only from June to September 2020.
Academic English: an intensive English language and study skills course for successful university study at degree level
Pre-sessional English: a short intensive academic English course for students starting a degree programme at Queen's University Belfast and who need to improve their English.
Tuition Fees
| | |
| --- | --- |
| Northern Ireland (NI) | £7,000 |
| England, Scotland or Wales (GB) | £7,000 |
| Other (non-UK) EU | £7,000 |
| International | £19,900 |
All tuition fees quoted are for the academic year 2020-21. Tuition fees will be subject to an annual inflationary increase unless explicitly stated otherwise.
Additional course costs
All Students
Depending on the programme of study, there may be extra costs which are not covered by tuition fees, which students will need to consider when planning their studies.
Students can borrow books and access online learning resources from any Queen's library. If students wish to purchase recommended texts, rather than borrow them from the University Library, prices per text can range from £30 to £100. Students should also budget between £30 to £75 per year for photocopying, memory sticks and printing charges.
Students undertaking a period of work placement or study abroad, as either a compulsory or optional part of their programme, should be aware that they will have to fund additional travel and living costs.
If a programme includes a major project or dissertation, there may be costs associated with transport, accommodation and/or materials. The amount will depend on the project chosen. There may also be additional costs for printing and binding.
Students may wish to consider purchasing an electronic device; costs will vary depending on the specification of the model chosen.
There are also additional charges for graduation ceremonies, examination resits and library fines.
Marketing costs
Students have the option to undertake a consultancy project for their dissertation and are responsible for funding any travel, accommodation and subsistence costs.
How do I fund my study?
The Department for the Economy will provide a tuition fee loan of up to £5,500 per NI / EU student for postgraduate study.
A postgraduate loans system in the UK offers government-backed student loans of up to £10,609 for taught and research Masters courses in all subject areas. Criteria, eligibility, repayment and application information are available on the UK government website.
Last updated Jul 2020
About the School
Founded in 1845 as Queen's College Belfast, we became an independent university in 1908. Today, we are ranked in the top 173 universities in the world (QS World Rankings 2020) in the top 140 in the wo ... Read More
Founded in 1845 as Queen's College Belfast, we became an independent university in 1908. Today, we are ranked in the top 173 universities in the world (QS World Rankings 2020) in the top 140 in the world for graduate prospects (QS Graduate Employability Rankings 2020), and a member of the Russell Group of UK research-intensive universities, combining excellence in research and education with a student-centred ethos.
Read less