MSc Marketing and Digital in Luxury and Lifestyle
Home ›
MSc ›
MSc Marketing and Digital in Luxury and Lifestyle
Read more about this program on the school's website
Program Description
Accredited by the French Conference des Grandes Ecoles.
Both professional and academic, the MSc Marketing and Digital in Luxury and Lifestyle is designed to meet the requirements and needs of Luxury sector recruiters who today are looking for global 360° Marketing skills, as well as managers who perfectly embody the standards and characteristics of the Luxury market.
This program is structured around 4 main themes:
Luxury culture and knowledge of the sources of inspiration in the Luxury sector
Marketing and understanding the expectations of Luxury customers
Digital Marketing by integrating the concept of user excellence
Management in the Luxury sector and learning about the characteristics of the Luxury market
Christian Dior and Granville, Coco Chanel and the brand's flagship store in Deauville, the legendary "Le Normandie" ocean liner, the "Barrière" and Deauville Group, the Cosmetic Valley, the history of 'made in Normandy' luxury is well established. This geographical anchoring is the founding basis behind the MSc Marketing and Digital in Luxury and Lifestyle. Furthermore, thanks to EM Normandie's unparalleled expertise in the fields of marketing and digital, we have elected to place digital training at the core of the programme, so as to perfectly align with the issues currently faced within the luxury sector.

Élodie de Boissieu
Academic Director
Researcher in Marketing
Assets
A 360° marketing vision with a strong focus on digital issues within the luxury sector, with the aim of meeting the current expectations of industry recruiters.
An understanding of the culture of the luxury sector and its professions (history and standards associated with luxury products, expertise within the luxury sector, design, etc.), to enable students to embody the values of the industry.
Continuous professional immersion: lectures given by professionals with international experience in the luxury sector (courses, conferences organized by luxury goods manufacturers, visits to luxury stores, hotels and starred restaurants), consulting projects with luxury sector clients, internships, professional thesis.
An introduction to international trade, with the aim of embarking on a professional career, focused on all the world's luxury capitals: the program is taught in English and offers Chinese language courses (optional), study trips abroad, etc.
Program
The program of the MSc Marketing and Digital in Luxury and Lifestyle provides a 360° vision of the challenges and issues related to the Luxury industry.
Personal and Professional Branding

Personal and Professional Branding in Luxury
Research Methodology
Chinese Language (optional)

History and Sociology of Luxury

Contemporary Art and Design
French Touch and Know-how in Luxury
Comparative Strategies in Luxury
Experiential Luxury
New Luxury Customers

Management in Luxury

Production, Operations, Purchasing and Supply Chain in Luxury
Legal Environment (Intellectual Property and GDPR)
Finance Analysis
Ethics and Sustainability in Luxury
Human Resources Policy
Brand Management in Luxury - Consulting Project
Business Plan and Budget

Marketing in Luxury

Marketing in Luxury
Distribution Strategies and E-commerce in Luxury
New Product Development in Jewellery
Merchandising and "Net-chandising" in Luxury
Corporate Communications

Digital Marketing in Luxury

Digital and Mobile Marketing Strategies in Luxury and Consulting Project
Web Development (SEO, SEM, UX, Web Design)
Event Strategy in Luxury and Digital
Social Media, E-reputation and Influencers in Luxury
Challenge Digital Native Monobrand in Luxury
Digital Business and KPIs

Professional Experience
Admission
Selection based on the application file and individual motivation interview.
Please apply via the online application procedure.
Eligibility for application
The program is open to:
Students who hold a four-year bachelor's degree or equivalent.
No English language test score is required for students holding a degree from an English-speaking university. For other applicants, language requirements are TOEIC 790, IELTS 6, TOEFL 83.
Due to the Covid-19 situation and the closure of some Exams Centres, we do offer the possibility for the candidate to take a Language Test online, don't hesitate to contact us for more information: applyto@em-normandie.fr.
Admission procedure
Application files submitted are reviewed with special attention paid to the seriousness of the file and the quality of the academic and/or professional profile.
Shortlisted candidates are invited for an interview via Skype with a Head of Academic Programme. This interview helps clarify the applicants' profile, their projects, their objectives. The final admission decision (offered or denied admission) is communicated a few days after this interview.
Admitted candidates are notified formally and invited to make a down payment, later on, deducted from the tuition fees. This initial payment confirms the candidate's seat in the program and an unconditional letter of admission is then issued.
In order for our students to benefit from optimal learning conditions, places in our programs are limited. The number of remaining places is reviewed after each admission session. Whenever a cohort is full, admissions for the program are closed.
The application deadline for the 2020-2021 admission session is 15 May 2020.
In addition to the EM Normandy application form, international candidates must approach their local Campus France office to facilitate the process of obtaining their visa. Once the down payment has been received, the School will help International students with their visa procedures and search for accommodation.
Career
General information about the employment market
Valued at more than 250 billion euros (source: Les Echos Etudes, 2019) in 2018, the Luxury Sector is currently undergoing significant growth (+8.5% rate of annual growth, at constant exchange rates), driven in particular by the acceleration in domestic expenditure in Continental China. Set to account for half of the sales of luxury products and services between now and 2025, Asian consumers have a digital behavior that is much more advanced than that of traditional luxury customers (77% of Chinese purchase their luxury products from their mobile, according to consultancy company Bain & Co.). Henceforth, players within the Luxury Sector who are looking to earn or retain their position within this strategic market will be compelled to consider the digital ecosystem. Thus, identify atypical skills and profiles, marked by both an affinity towards luxury culture and advanced digital expertise.
Career Prospects
Product Manager
Brand Manager
Digital Marketing Manager
Customer Experience Manager
Events Manager
CRM Manager
Category Manager
Traffic Manager
eCommerce Manager
Community Manager
Tuition Fees for 2020-2021
MSc Marketing and Digital in Luxury and Lifestyle: €13,500
€50 charged to candidates in order to study their profile
As from September 2018, you will pay a €91 contribution to CEVC (Contribution Vie Etudiante et de Campus) by connecting to https://cvec.etudiant.gouv.fr/
€575 membership fee for Association Alumni EM Normandie, which will give you access to all their services and a life membership (not compulsory).
Fundings
Various options are offered to students to fund their studies:
Grants: Campus France
Paid student jobs offered by the School's Junior Enterprise and Jobs Services
Last updated May 2020
About the School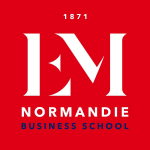 Over the last 25 years, the Chambers of Commerce of Caen and Le Havre have combined their efforts to set up a joint structure in Higher Education for the benefit of their respective towns and regions. ... Read More
Over the last 25 years, the Chambers of Commerce of Caen and Le Havre have combined their efforts to set up a joint structure in Higher Education for the benefit of their respective towns and regions. Today, this effort has given birth to the Ecole de Management de Normandie, a unified and strengthened business school ready to meet both the national and international needs of firms.
Read less