Program Description
Overview
Program Duration: One academic year (on campus) + Final Management Project (can be completed remotely while working)
Entry Requirements: Bachelor-level undergraduate degree in any subject. Fluency in English
Full Program Fees: €19,450 (Grenoble campus). See overseas campus pages for local fees
Campus locations: Grenoble, France and Berlin
Language: English
Financial Aid and Scholarships available
Why choose the MSc Marketing Management program?
Acquire the ability to make sound operational marketing decisions at a managerial level.
Gain the skills and knowledge needed to support marketing activity in an international environment.
Learn from experienced marketing professionals and academic experts alike.
Network with top companies to explore new career opportunities.
Earn your degree from a triple-accredited institution.
Program
This program is designed around core competencies you will need in developing a successful career in marketing; it covers 4 major areas: digital marketing, strategic management, marketing management and core business skills in 17 courses. Specific areas such as research, consumer behavior, and customer relationship management are also covered.
Course content places emphasis on current trends in marketing, as well as key issues that marketing professionals face.
The program combines academic theory and a practical approach through case studies and real live examples to provide a hands-on approach.
The continual development of critical thinking and analytical skills enables graduates to make sound strategic marketing decisions at managerial level in an international environment. The MSc Marketing Management also focuses on soft skills such as presentation techniques and intercultural communication - indispensable assets for effective management in multicultural environments.
Program Content*
The first year of the Master is a full-time year in Grenoble or Berlin.
The program covers four key areas of study for Marketers, each of the 17 modules follow a logical connection to the one before.
Year 1 - Campus Year
Introduction & Integration Week
Teambuilding event - meet your colleagues, find out how you will work
Academic Writing and Presentation Skills
Case-Based Group Learning
Moodle e-learning platform
Library and Computing Services
Networking, Career and Alumni Associations
Excel Skills Training & Examinations
Digital Marketing
Fundamentals of Digital – strategy, planning & channels
Digital Analytics
Content Marketing
Strategic Management
Strategic Marketing and Planning
Marketing Psychology and Consumer Behavior
Brand Management and Product Development
Managing Marketing
Qualitative and Quantitative Market Research
Marketing Management
Innovation through Design
Marketing Metrics and Pricing Policy
Customer Relationship Management
Project Management
Core Business Skills
Corporate Finance
Accounting
Intercultural Management
International Negotiations
Capstone Course
*The content of the program may be adapted from year to year to take into account the needs of industry. Class attendance is compulsory.
Year 2 - Final Management Project
At the end of the one-academic-year full-time part of the program, each student will be required to complete a Final Management Project of approximately 15,000 words in length, under the guidance of a tutor. This is an applied or theoretical research project that can be completed at a distance and in parallel with full-time employment or an approved internship. To successfully complete the Final Management Project, students are required to address a particular research question or knowledge gap in their chosen field of their study. This will be business oriented and coherent with the program's objectives. A student may choose to write their project on a topic grounded in their internship experience.
Integrative Marketing Case Study
Using an existing business, the Live Business Case will provide the students with the opportunity to reflect on and integrate all aspects of the taught program. Students will analyze a specific marketing problem in the company and use their skills and knowledge to contextualize issues and propose solutions. This takes place in small groups and in a limited time. Assessment for the case study will be based on a group assignment with a group presentation to the Company.
Foreign Languages
The program is taught in English but provides the possibility to learn a foreign language at the same time. No prior knowledge of French is required to attend the program. Learning a foreign language is a recommended (but not compulsory) program option for all students who are looking to work internationally. Non-French speakers have the option of studying French (beginner to advanced level), while French speakers may choose from a number of other languages at the beginner level.
Examples of MSc Marketing Management Graduate Internships
Accor Hotels, Adidas France, Altran, Amadeus SAS, British American Tobacco, B-Sharpe, Bulgari, Cartier International, Chanel, Coca Cola, Danone, Google, Hewlett Packard, HSBC, L'Oréal, Mondelez International, Nestle, Nike, Nissan, P&G, PWC, Salomon, Schneider Electric SAS, Siemens Transmission & Distribution, Tommy Hilfiger, Volkswagen, Warner Home Video, Xerox Research Center Europe
Interns put their marketing knowledge into practice not only in marketing departments but also in sales, B2B, exports, and press and advertising.
Testimonial
"As a graduate in International Relations with 5 years' work experience promoting International Education in Mexico, I recognized that to enhance my business acumen and career opportunities, I would my need to follow a Masters degree.
The MSc Marketing at Grenoble Ecole de Management offered an ideal academic and cultural opportunity to study in English at a top business European School.
Over the first year I gained vast and invaluable knowledge from an excellent international faculty and enjoyed studying in such a multicultural group.
During the second part of the program I felt privileged to be able to access the European job market and find an internship at Alcatel-Lucent Enterprise, a French technology company operating in over 100 countries around the world.
An international career had now become open to me as my internship turned into a job offer and I joined the Marketing and Communications division at the headquarters in Paris.
Soon after, I was offered a promotion to the position of Network Partner Programs Director and moved with Alcatel-Lucent to Milan, Italy. Thanks to my experience at GEM I now felt equipped with the international qualification and network to drive my career forward and reach unimaginable places."
Last updated Oct 2019
About the School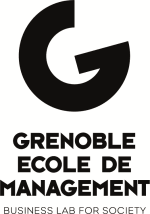 Grenoble Ecole de Management (GEM) has earned both national and international recognition. More than just a school, GEM represents an open-ended laboratory through which 8,000 students and 500 employe ... Read More
Grenoble Ecole de Management (GEM) has earned both national and international recognition. More than just a school, GEM represents an open-ended laboratory through which 8,000 students and 500 employees learn and work every day to solve complex problems and overcome major challenges for business and society.
Read less
Grenoble ,
Medellín ,
Grenoble ,
Tbilisi ,
Berlin ,
Moscow ,
Île-de-France ,
Singapore
+ 7 More
Less