Program Description
The MSc Management is an exciting one-year masters course open to applicants from all backgrounds, but primarily aimed at students who have not previously studied business and management.
Managers are agents of change, innovators and social and business entrepreneurs. Managers are critical, challenging, independent and creative thinkers. Managers have an impact on their environment.
The MSc Management will enable you to develop the necessary skills to foster different ways of thinking, different ways of viewing and understanding organisations.
Through lectures, case studies, seminars and group project-based work during the core modules, you'll be challenging established models of thinking, critically reflecting on contemporary management and looking at alternative ways of organising. Sustainability, innovation and social responsibility will be key themes during the course alongside skill-building in key areas such as marketing, accounting and human resource management. During the third semester alongside the business project, you'll meet speakers from industry and academia, who'll provide thought-provoking and inspirational perspectives from their own experience, facing and critiquing current business and management challenges.
Throughout your time in Manchester, you will have access to ongoing research by academics regarded as experts in their field. Course staff are involved in various research centres across the School and you will be encouraged to attend seminars that might be of interest. Within this forum of intellectual exchange, you will have the opportunity to hone your skills as a researcher, critic and independent thinker.
Whether your desire is to manage your own business or contribute to solving some of the world's problems, the course will provide knowledge and skills in key areas of management enabling you to take up a variety of positions across the private, public and not-for-profit sectors.
Course units details
The course consists of the following taught units:
Business Performance and Strategy
Foundations of Management
Introduction to Accounting
Marketing and Marketing Management
Comparative Employment Relations and International HRM
Innovation Management and Entrepreneurship
Organisational Psychology
Sustainability and Social Responsibility
Coursework and Assessment
Assessment across the course units varies and includes a combination of examinations, coursework, report and group project assessment and presentations.
During the third semester, students undertake a business project as part of their final assessment.
Entry requirements:
We normally look for a UK bachelor degree with a first or upper second class honours (2:1), or the overseas equivalent, in any discipline. Applicants should note that the MSc Management has been designed specifically as a conversion course for students with no previous experience of business and management. Although no prior knowledge of business and management will be assumed, the course will move at a fast pace to bring all participants to the same breadth of understanding.
When assessing your academic record, we take into account your grade average, position in class, references and the standing of the institution where you studied your qualification.
Last updated Jul 2019
About the School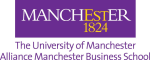 Alliance Manchester Business School is one of the UK's first two business schools, set up in 1965), and is now the largest campus-based business and management school in the UK. Manchester is recognis ... Read More
Alliance Manchester Business School is one of the UK's first two business schools, set up in 1965), and is now the largest campus-based business and management school in the UK. Manchester is recognised for its original thinkers: our long and proud history of research excellence continues the spirit of innovation and achievement for which the city is renowned.
Read less