MSc International Marketing and Business Development
Home ›
MSc ›
MSc International Marketing and Business Development
Read more about this program on the school's website
Program Description
The MSc International Marketing and Business Development programme has been specifically designed to allow you to develop your career internationally and to prepare you for communication with partners from a variety of cultures in a cross-cultural environment.
This is a programme that produces experts in a range of international business and marketing techniques. Students learn and apply on market research, business planning, negotiation, logistics and legal techniques involved in International Trade, etc. The programme is designed around skill blocks that help students become more versatile. Exposure to intercultural influences is one of the highlights of the course.
Yamen KOUBAA, PhD
Academic Director
Associate Professor in Marketing
Learning Objectives
Acquire all the theoretical and practical knowledge required to take up a key position in Marketing and/or Sales Senior Management, both in France and abroad.
Strong Points
Courses given entirely in English, while students are based in France in a very international environment.
Knowledge and competencies enhanced by a cross-cultural dimension
Daily practice in cross-cultural issues thanks to the presence of many different nationalities.
A real-life training in business negotiation on a daily basis.
Courses given by lecturers from a variety of countries and experts in Marketing, Sales, Procurement and Supplies, International Business, Cross-cultural Management and Web-marketing,
Rich professional events: Business Dating with professionals and alumni, Professional Colloquia, In-company Consulting Projects (Geodis, Love Hotel Saint Martin,...), meeting with Head Office Executives of large groups.
This programme is the subject of a partnership agreement between EM Normandie and AASTMT (Egypt).
Curriculum
Marketing Processes
International Operations Management
Cross-national Business
Market Research
International Marketing in Practice
French
Digital Marketing and Services Marketing
Marketing Innovation
International Business Development
Business Development in Practice
Admission
Selection based on application file and individual motivation interview.
Please apply via the on-line application procedure.
Eligibility for application
The programme is open to:
Students who hold a four-year bachelor degree or equivalent
No English language test score is required for students holding a degree from an English-speaking university. For other applicants, language requirements are: TOEIC 790, IELTS 6, TOEFL 83.
Due to the COVID-19 situation and the closure of some Exams Centres, we do offer the possibility for the candidate to take a Language Test online, don't hesitate to contact us for more information : applyto@em-normandie.fr.
Admission procedure
Application files submitted are reviewed with special attention paid to the seriousness of the file and the quality of the academic and/or professional profile.
Shortlisted candidates are invited for an interview via Skype with a Head of Academic Programme. This interview helps clarify the applicants profile, their projects, their objectives. The final admission decision (offered or denied admission) is communicated a few days after this interview.
Admitted candidates are notified formally and invited to make a down payment, later on deducted from the tuition fees. This initial payment confirms the candidate's seat in the programme and an unconditional letter of admission is then issued.
In order for our students to benefit from optimal learning conditions, places in our programmes are limited. The number of remaining places is reviewed after each admission session. Whenever a cohort is full, admissions for the programme are closed.
The application deadline for the 2020-2021 admission session is 15 June 2020.
In addition to the EM Normandy application form, international candidates must approach their local Campus France office to facilitate the process of obtaining their visa. Once the down payment has been received, the School will help International students with their visa procedures and search for accommodation.
Career Prospects
Prospects are very varied. After an induction phase in the company, graduates may target positions such as:
Product Manager
Category Manager
International Brand Manager
Regional Sales Manager
International Sales Manager
International Project Manager
International Marketing Consultant
Head of Exports/Imports…
Graduate employment data based on 2019 employability survey
75% net employment rate
74% in executive employment
78% on permanent contracts
78% of graduates found a job in less than 2 months
Average gross annual salary including bonuses for the last 4 Master's year groups: €40,150
Last updated May 2020
About the School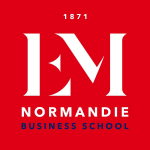 Over the last 25 years, the Chambers of Commerce of Caen and Le Havre have combined their efforts to set up a joint structure in Higher Education for the benefit of their respective towns and regions. ... Read More
Over the last 25 years, the Chambers of Commerce of Caen and Le Havre have combined their efforts to set up a joint structure in Higher Education for the benefit of their respective towns and regions. Today, this effort has given birth to the Ecole de Management de Normandie, a unified and strengthened business school ready to meet both the national and international needs of firms.
Read less