MSc Human Resource Management and Industrial Relations
Home ›
MSc ›
MSc Human Resource Management and Industrial Relations
Program Description
People are at the heart of any organisation, so the ability to manage and develop employees, ensure their welfare and understand changing employment legislation is essential to business survival. The course aims to produce well-rounded human resources practitioners with exemplary knowledge and relevant hands-on experience.
Accredited by the Chartered Institute of Personnel and Development (CIPD), the course is designed to:
Develop a critical appreciation of the theoretical foundations and empirical practice of HRM and IR
Expose you to a wide variety of organisational practices by use of teaching materials based on high-quality contemporary research conducted by lecturers and their own research for an independent individual dissertation
Enable you to develop practical skills in the subject area to equip you for a career in or further study of the HR/IR field and gives you a grounding in research methods which you can apply appropriately either in the business world or in academic research
Provide you with the opportunity to gain graduate membership of the CIPD (Chartered Institute of Personnel and Development) which is extremely advantageous in securing a career in HRM.
You have the opportunity to attend skills development workshops run by expert HR practitioners to acquire practical HR skills, to attend a live employment tribunal case, and to undertake a group project in an organisation to develop team working and practical HR and research skills.
CIPD Course recognition
This course is approved to the new equivalent advanced level postgraduate standard and you can enhance your studies by taking additional CIPD components that prepare you for CIPD membership. If you decide to do so, you can attend a series of skills workshops, hear from guest speakers, and complete a range of activities enabling you to develop practical HR skills.
You will join CIPD as a student member and on passing all of the modules of the Master's degree (including the dissertation) and the CIPD components, your CIPD membership will be automatically updated to Associate Member. Once you have applied your knowledge in the workplace, you can apply for Chartered membership.
Please note: There is a £450 administrative fee payable to Alliance Manchester Business School on arrival if you choose to register with the CIPD, plus you join the CIPD for two years - the year of your course, and the year of graduation. The current fee to join the CIPD is £178 for the 1st year and £138 for the 2nd year. Visit the CIPD website for further information.
If you are particularly interested in international human resource management and /or comparative industrial relations you might like to consider our MSc International Human Resource Management and Comparative Industrial Relations.
Special features
Student Prizes
The Business School presents three prizes associated with the CIPD programme. One is for best Portfolio, one for best Management Research Report and one for the overall best student. Further details of the prizes will be available during the programme.
Course units details
The course consists of both compulsory and optional taught units. Compulsory course units include:
Human Resource Management: Strategy and Practice
Industrial Relations
Multinationals and Comparative Employment Systems
Workplace Research and Analysis Skills
Employment Law
Employment Practice and Equality
Human Resource Management: Context and Organisation
Optional course units include:
Comparative Industrial Relations
Human Resource Management in Asia
International Human Resource Management
International Labour Law and Regulation
Coursework and assessment
Assessment across the course units varies and includes a combination of examinations, essays, coursework, assignment, report and group presentations. A dissertation of between 12,000 and 15,000 words is also normally undertaken.
Entry requirements:
We normally look for a UK bachelor degree with first or upper second class honours, or the overseas equivalent, in any discipline.
When assessing your academic record, we take into account your grade average, position in class, references and the standing of the institution where you studied your qualification. We particularly welcome applications from institutions of high ranking and repute.
Last updated Jul 2019
About the School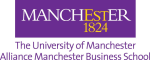 Alliance Manchester Business School is one of the UK's first two business schools, set up in 1965), and is now the largest campus-based business and management school in the UK. Manchester is recognis ... Read More
Alliance Manchester Business School is one of the UK's first two business schools, set up in 1965), and is now the largest campus-based business and management school in the UK. Manchester is recognised for its original thinkers: our long and proud history of research excellence continues the spirit of innovation and achievement for which the city is renowned.
Read less