Program Description
This MSc in Human Factors and Ergonomics aims to equip students with the knowledge and skills required to design products, jobs/tasks and environments from the human perspective. If you are interested in people, technology and design, then this could be the course for you.
In this course, you will learn about a range of human characteristics (physical, cognitive, social and emotional) as they relate to our interactions with jobs, environments, products, services and other people. You will graduate with a postgraduate qualification that is increasingly desirable in the industry and provides the necessary knowledge and skills to address human factors issues for the 21st century.
Key facts
This course is accredited as the educational qualification for Membership of theInstitute for Ergonomics and Human Factors.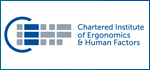 Many of our graduates have gone on to work in consultancies and high profile companies such as WS Atkins, Network Rail, Jaguar LandRover, BAE Systems, Rolls Royce etc.
There are many opportunities to continue your studies within the department through an extensive PhD programme within the Human Factors research group.
The Faculty of Engineering is ranked 3rd in the UK for research power under REF 2014, the British Government's Research Excellence Framework. More than 98% of engineering research ranked of international quality, with 85% graded as world-leading or internationally excellent.
Graduates of the Human Factors and Ergonomics MSc can get a full membership with the Human Factors and Ergonomics Society (HFES)after completing four years' work experience.
Course details
As technology becomes ever more complex and pervasive within our society, it is the 'human factors' in engineering design that often dictate success or failure.
The diversity in humans - in abilities, limitations, experiences, expectations, behaviours, and so forth - creates many challenges for researchers and practitioners in industry. By adopting a 'human-centred' approach, there may be many benefits for customers and/or employees, such as better usability for products, more efficient work processes, safer environments, more engaging product experiences, and so on.
By neglecting human factors and ergonomics issues, companies are likely to encounter major reliability failures, accidents, labour relations problems and unsuccessful introductions of products and technology.
Course content
This 12 month MSc course requires 180 credits of material, of which 120 are taken as taught modules in the autumn and spring semesters. These modules provide a theoretical basis on specific topics concerning human factors and ergonomics and then progress to allow you develop practical skills in the application of knowledge. Your learning will typically be structured around lectures, seminars, workshop, laboratory sessions and group work.
Over the summer period, you will undertake a 60-credit individual research project, which is intended to help you integrate your knowledge, methodology and practical skills in an area that reflects your interests. Many of our students conduct these projects in collaboration with an industrial company, based on our many research links within the Human Factors Research Group.
Part-time option and accreditation
It is possible to take the course part-time over two to three years and several students successfully follow this route each year. In this case, you can choose the modules that suit your individual circumstances for each semester according to the University timetable. Typically, a part-time student will need to be present at the University for two days/week during term time.
The course is accredited by the educational qualification forThe Institute of Ergonomics and Human Factors.
Modules
The MSc offers a range of modules designed specifically to provide fundamental knowledge and practical skills in human factors and ergonomics.
Core modules
Physical Ergonomics (autumn): 10 credits
Cognitive Ergonomics (autumn): 10 credits
Human-Computer Systems (spring): 10 credits
Contemporary Issues in Human Factors and Interactive Systems (spring): 10 credits
Studying Human Performance (autumn): 20 credits
Advanced Methods in Human Factors (spring): 10 credits
Simulation and Digital Human Modelling (autumn): 10 credits
Risk and Safety Science for Engineers (spring): 10 credits
Systems Engineering and Human Factors (autumn): 10 credits
Postgraduate Project (summer): 60 credits
20 credits of optional modules are taken from the group below in the spring semester.
You can also select optional modules in Psychology, Engineering, Management, IT, Health Sciences, or another discipline in a relevant subject, subject to the approval of the course director.
Optional modules
Advanced Methods in Psychology (spring): 20 credits
Biomechanics (spring): 10 credits
Applied Psychology: Road User Behaviour (spring): 10 credits
Fundamentals of Information Visualisation (spring): 10 credits
Information Visualisation Project (spring): 10 credits
Please note that all module details are subject to change.
The modules we offer are inspired by the research interests of our staff and as a result may change for reasons of, for example, research developments or legislation changes. This list is an example of typical modules we offer, not a definitive list.
Careers
Our graduating MSc students are very much in demand with employers.
A number of technology-driven companies (eg Jaguar LandRover, BAE Systems, Rolls-Royce, AWE)are in regular contact with staff in the department seeking highly qualified and capable individuals.
As well as offering you the chance to pursue a fulfilling career within the industry and related areas, this MSc course provides an excellent foundation for further research and a significant number of our students continue their studies to PhD level and beyond.
The University of Nottingham has been recognised as delivering a Gold standard in the Teaching Excellence Framework(TEF), which aims to recognise and reward excellent learning and teaching.
Average starting salary and career progression
In 2016, 87.5% of postgraduates in the department who were available for employment had secured work or further study within six months of graduation. The average starting salary was £24,300 with the highest being £26,000.
*Known destinations of full-time home higher degree postgraduates, 2015/16. Salaries are calculated based on those in full-time paid employment within the UK.
Career Prospects and Employability
The University of Nottingham has been named as the best university in the UK for graduate employment, by 2017 The Times and The Sunday Times Good University Guide.
The University of Nottingham is consistently named as one of the most targeted universities by Britain's leading graduate employers* and can offer you a head-start when it comes to your career.
Our Careers and Employability Service offers a range of services including advice sessions, employer events, recruitment fairs and skills workshops – and once you have graduated, you will have access to the service for life.
*The Graduate Market 2013-2017, High Fliers Research
Entry Requirements
Entry requirements: A high 2:2 or equivalent
IELTS: 6.0 (no less than 5.5 in any element)
Last updated Nov 2018
About the School

TheFaculty of Engineering at Nottinghamis known for its world-class research, inspirational teaching, and diverse academic community.
TheFaculty of Engineering at Nottinghamis known for its world-class research, inspirational teaching, and diverse academic community.
Read less