MSc Global Master in Industrial Management
Home ›
MSc ›
MSc Global Master in Industrial Management
Program Description
Why this course?
The Global Master of Industrial Management (GMIM) is a collaborative Masters between the University of Strathclyde Business School and MIP Politecnico di Milano, Italy.
GMIM is ideally designed for students with a technical or scientific background and seeks to develop the managerial skills and competencies needed to pursue managerial careers in internationally orientated manufacturing and service industries.
GMIM places great emphasis on fostering an integrative teaching approach. It aims to develop your ability to tackle issues in an interdisciplinary manner while providing you with an overview of general management concepts in an industrial context. These include marketing and accounting.
Through close collaboration with associated industrial and service companies, you'll have the opportunity to combine practical knowledge and skills with invaluable industry experience.
GMIM is delivered in an internationalised environment. You'll have the option to spend the four semesters of the course in up to four renowned academic institutions across Europe and Asia.
Term one begins in Glasgow at Strathclyde Business School in September. You'll then spend your second term in Italy, at Politecnico di Milano.
In term three you can choose to attend one of the following:
TUM School of Management, Germany
Beijing Jiaotong University School of Economics and Management, China
Toulouse Business School, France
Please note: the number of places available in each partner university is limited.
The student experience on each international campus is highly international and goes beyond the classroom. Students come from around 25 nations and participate in language courses, seminars with local managers and company visits in the host country.
What you'll study
GMIM prepares you for a career in industrial and technical management. It meets the need for technical university graduates to be able to assume broader tasks and responsibility in modern managerial roles.
The course does this through:
emphasis on relevant managerial topics that are highly beneficial for graduates of technical university programmes, such as operations and supply chain management.
the study of concentration streams, as chosen by you, according to your particular preference or region of interest. This allows you to focus your studies on a particular area of managerial theory.
your participation in the social, economic and cultural life of the host country, preparing you for working in an international economy across many countries.
Course structure
Term 1

Glasgow, UK

General Management (32 ECTS)

Term 2

Milan, Italy

Operations, Quality & Supply Chain

Management in the Digital Era (32 ECTS)

Term 3

Study at one of the following institutions:

Munich, Germany (limited number of seats available)

Entrepreneurship or Innovation and Technology Management (30 ECTS)

Beijing, China (limited number of seats available)

Doing Business in/with China (30 ECTS)

Toulouse, France (limited number of seats available)

International Business or Aerospace Management (30 ECTS)

Term 4

Master Thesis, anywhere in the world

Company-based or University-based
Course content
Accounting for Engineers
Managing People in Organisations
Marketing Management
Business Strategy
Quantitative Business Analysis
Spreadsheet Modelling and Demand Forecasting
Business Simulation Methods
Risk Analysis and Management
Big Data Fundamentals
Learning & teaching
The GMIM is 50% content and 50% context related. In addition to the delivery of managerial content, the program facilitates and stimulates student participation in the cultural, economic and social life of each of the countries where the study is undertaken.
Entry requirements
The ideal candidates for the GMIM programme are students with educational experience in a technical or scientific discipline.
The minimum educational requirement for the programme is a bachelor degree or recognised equivalent from an accredited institution of at least three years of full-time study (180 ECTS).
In addition, students should display strong work and leadership ethics, and be prepared to meet the challenges associated with an intensive Masters degree in a multicultural environment.
Fees & funding
2019/20
Scotland/EU: €17,500
Rest of UK: €17,500
International: €19,500
Please note: the fees shown are annual and may be subject to an increase each year.
Careers
Examples of companies involved in students' master thesis and post-programme hiring:
ABB
Accenture
Arbikie Highland Estate
Arcelor Mittal
Automotive Lighting italia S.p.A.
BMW
Bombarider
Cisco Systems
CONAI – Consorzio Nazionale Imballaggi
Decathlon France
EFMD
Ernst&Young Consulting
Garuda Indonesia
General Electric
GIS International
Henkel AG & Co. KGaA
IKEA
Infineon technologies
Italcementi
Lamborghini
L'Oréal
Materialise
Medtronic italia S.p.A
ONU
P&G
Porsche
SAS
Siemens
Sony
Telefonica
The Lean Six Sigma Company
UPS
VivaSanté
Whirlpool
Last updated Sep 2019
About the School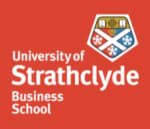 Strathclyde Business School(SBS)is a pioneering, internationally renowned academic organisation that shapes anddevelops the business minds of tomorrow. Strathclyde is one of a small percentage worldwi ... Read More
Strathclyde Business School(SBS)is a pioneering, internationally renowned academic organisation that shapes anddevelops the business minds of tomorrow. Strathclyde is one of a small percentage worldwide to be triple accredited, holding accreditation from the international bodies, AMBA, AACSB and EQUIS.
Read less
Glasgow ,
Athens ,
Zürich ,
Singapore ,
Dar es Salaam ,
Manama ,
Kuala Lumpur ,
Petaling Jaya ,
Muscat ,
Muscat ,
Dubai ,
Abu Dhabi ,
Milan ,
Munich ,
Beijing ,
Toulouse
+ 15 More
Less