MSc Geospatial Engineering with Building Information Modelling
Home ›
MSc ›
MSc Geospatial Engineering with Building Information Modelling
Read more about this program on the institution's website
Program Description
Key information
Degree: Geospatial Engineering with Building Information Modelling MSc
Types of study: Full-time / Part-time
Duration: 12 months full-time; 24-36 months part-time
Start date: September 2020
©University of Nottingham Ningbo China
Course overview
BIM is growing that is used within the Architecture, Engineering and Construction industry worldwide. BIM uses digital techniques to create and use intelligent 3D models to communicate building project decisions. Geospatial Engineering is a technical system to implement the collection, storage, management, calculation, analysis, display and description of geospatial information data. The results help to understand what is happening in a space which can increase efficiency in building planning and design. However, there is an impact on the operation of an asset that can help also digitalization process and contribute to Construction 4.0, Industry 4.0 and Smart Cities.
This programme will be run entirely at the University of Nottingham Ningbo China (UNNC). It is a collaboration between the Department of Architecture and Built Environment and Civil Engineering. In particular, research and teaching support will be provided by two leading research laboratories including Design Studio, GNSS Lab, BIM-GIS Lab and Digital Design Lab. These laboratories are working closely with leading AEC consultants (Arup, WSP BP), international professional institutions (BRE, ICES, CIBSE) and leading BIM software vendors (Autodesk, Bentley, Leica, Tekla, Trimble).
Students will learn how to use and operate a wide variety of state-of-the-art software, as well as surveying equipment including servo-driven total stations, laser scanners, GNSS, digital photogrammetry and ISO19650. In collaboration with Building Research Establishment (BRE) in the UK, we run a complimentary training in ISO19650 (BIM and Information Management) as part of continues professional development for our students at additional cost. This training will advance your CV and your employability too at the international level. The teaching team comprised of experts in Surveying, BIM, Project Management and Geospatial Engineering.
Special features
Advantages of studying this programme at the University of Nottingham Ningbo:
Gain a complete understanding of theories behind Geospatial Engineering and Digital Construction
Be familiar with the state of the art digital technologies for Geospatial, Surveying and nD Information Modelling and its technologies and devices such as HoloLens (MR), Virtual Reality and Gamification
Ability to apply their skills directly within the surveying and AEC industry
React quickly to new technologies and innovations (Integration)
Communicate ideas effectively in written reports, verbally and presentations to groups (collaboration)
Exercise original thought, as well as gain interpersonal, communication and professional skills
Be Innovative, Critical Thinkers and Collaborative - Team workers
Participate in real AEC project work
Plan and undertake individual projects
Teacher's profile
Our MSc core teaching staff belong to the Faculty of Science and Engineering exploring geospatial engineering, surveying, construction and project management, organisation and technology. However, from time to time visiting lecturers, site visits and other activities complement the operation of the course.
Course structure
The course is divided into three core areas: Geospatial Engineering, Digital Information Modelling and Management (GDM).
The studies at the MSc in Geospatial Engineering with Building Information Modelling (BIM) last for 12 months.
The students will have blending teaching approach following a unique Pedagogical Photoreal Virtual Environment to teach Engineering that was developed within The University of Nottingham Ningbo China by our staff. In more detail, the taught modules are listed below.
Assessment: For all the above modules students will be assessed in a way to develop those skills are required from the industry. In particular, students have to participate in exams, reports, assignments, essays, and a Major Project for your Masters.
Opportunities: Our MSc students have the opportunity to join the 1st of its kind training in ISO19650 in collaboration with BRE. This will help our students to be employable at the international level from a recognized organization worldwide. This two-day classroom course provides an overview of information management using BIM as outlined in ISO 19650 parts 1 and 2. By doing so, this course ensures that the key considerations of effective information management using Building Information Modelling (BIM) have been sufficiently understood. This course has been developed by BRE's dedicated BIM team using their in-depth knowledge of BIM, international and local standards to provide an understanding of what information management using BIM is, the key terminology used when describing information management, as well as what 'BIM according to the ISO 19650 series entails. This is complementary to your studies at a special and competitive price. The graduates from the programme will be awarded a dual certificate of attendance by both The University of Nottingham and BRE.
Year 1
Autumn compulsory modules
Fundamentals of Satellite Positioning (10 Credits)
Geodetic Reference Systems (10 Credits)
Analytical Methods (10 Credits)
Building Information Modelling & Management (10 Credits)
Spring compulsory modules
Global Smart City with Integrated BIM (10 Credits)
Spatial Data Acquisition Practical (10 Credits)
BIM and Project Cost and Time Management (10 Credits)
ABEE4049 BIM and Its Future (10 Credits)
Summer compulsory module
Geospatial Engineering and BIM Research Project (60 Credits)
Full-year module
Spatial Data Acquisition (20 Credits)
CIVE4110 Research Project Literature Review and Planning (20 Credits)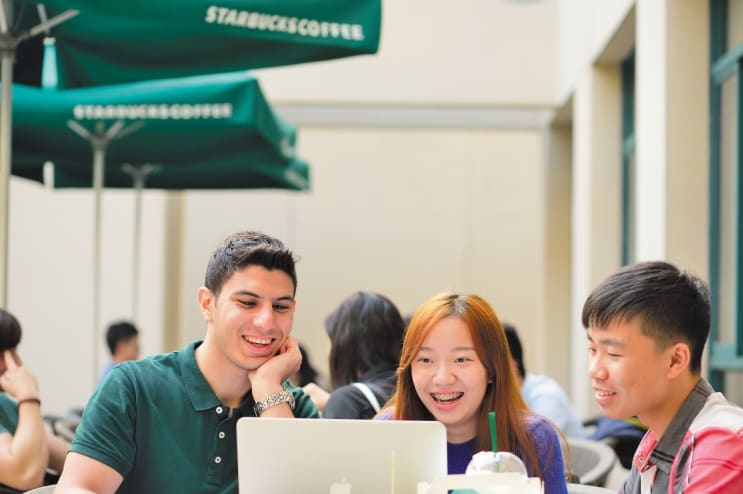 ©University of Nottingham Ningbo China
Accreditations
MSc in Geospatial Engineering with Building Information Modelling (BIM) is accredited by The Chartered Institution of Civil Engineering Surveyors or ICES in the United Kingdom that is the leading professional association in the field of civil engineering surveying.
We are BRE Authorized Training Center in Building Information Modelling (BIM) for the International Standard ISO19650.
Careers and further study
In China, BIM has attracted an increasing amount of concern and lots of AEC companies or institutes desire to recruit talented people with relevant BIM skills and experience. Graduates from this program would be expected to find decent jobs in local and international AEC companies. During the academic period, students have opportunities to visit and communicate with large AEC companies, and even enrol as interns after graduation. For those who wish to pursue their academic careers, this postgraduate programme prepares them well for higher-level research and to continue onto PhD level. In certain cases, students are working on research projects. More recently our graduate Ryan Jonathan won gold at the recent (2019) National Intelligent Construction Technology and Innovation Competition, with the project entitled "Architectural Design Intelligence based on Gamification" that was lead by Dr Georgios Kapogiannis (MSc Course Director).
Our Careers Development Service will work with you to explore your options. They will invite you to attend recruitment events featuring potential employers and will suggest further opportunities, such as relevant work experience placements and skills workshops.
As a graduate from our prestigious MSc in Geospatial Engineering with BIM you can work for public/private professional consultants, entrepreneur, software engineer and developer, asset management of organisations, within the design, engineering, and construction enterprises, and research organisations with significant project portfolios in the built environment. A number of our students continue their MSc studies as a foundation for MPhil/PhD research.
Our graduates are working for world-leading AEC companies or organizations within the public or private sectors such as Arcplus East China, Shanghai Municipal, Bank of Ningbo, WeWork, Hefei High Tech Zone Huoqiu Modern Industrial Park Investment Co. Ltd, Century 3, Zhejiang Cinda Real Estate, Shenzhen Xiakou Technology Co. Ltd, Powerchina Huadong Engineering Corporation, Lingxiou Education, Nanjing University of Information Science and Technology and Popsmart in China, the University of Nottingham in the United Kingdom and Total Bangun Persada in Indonesia.
Our graduates are working as Project Construction Director; BIM Engineer for engineers, clients and suppliers; (BIM) Project Managers; Design Technologists, Financial Managers and Lecturers/Professors in the discipline of Digital Construction Engineering.
10% of our graduates continue their studies to PhD Level to world-leading universities either self-funded or with scholarships such as The University of Nottingham Ningbo China.
If you are interested to conduct research at PhD level in the broader theme of Geospatial Engineering integrated with Building Information Modelling could conduct with the Graduate School
Scholarships, sponsorships and bursaries
To encourage academic excellence, we offer a comprehensive and expanding range of full and partial scholarships.
Historically over 40% of our postgraduate students were awarded scholarships for their entry. Once enrolled, current students are eligible for additional merit and/or performance-based scholarships and awards, which covers approximately 32.5% of our whole student body.
Entry requirements
We consider applicants on the basis of academic merits as well as English language proficiency. Although the entry requirements vary depending on the course, as a general rule, you are expected to hold an honours degree at 2:1 level or above (or international equivalent) in an appropriate subject. Evidence of relevant personal, professional and educational experience may also be taken into consideration.
For mainland Chinese applicants, the minimum average score is 80 if you graduate from the domestic university of Project 985, 211 or double first-rate; the minimum average score is 85 if otherwise.
The entry requirement for applicants from Hong Kong, Macao and Taiwan can be found on our website.
If you are an international applicant, please check the country-specific requirements on our website.
English language requirements
If your first language is not English or your entry qualification was not obtained in the English medium (from an approved institution) you are required to provide evidence of your proficiency in English. The minimum English language requirements for MSc Geospatial Engineering with Building Information Modelling(BIM) are IELTS 6.0 with no less than 5.5 in any element or PTE Academic 55 (minimum 51) Alternative test scores may also be considered. Check the course prospectus to find specific requirements on your English language qualification. Please also note that meeting minimum admissions requirements does not guarantee admission.
Last updated Sep 2020
About the School
The University of Nottingham Ningbo China (UNNC) was the first Sino-foreign university to open its doors in China. Established in 2004, with the full approval of the Chinese Ministry of Education, we ... Read More
The University of Nottingham Ningbo China (UNNC) was the first Sino-foreign university to open its doors in China. Established in 2004, with the full approval of the Chinese Ministry of Education, we are run by the University of Nottingham in partnership with Zhejiang Wanli Education Group, a key player in the education sector in China.
Read less