Program Description
Football is a global, multi-billion-pound business that shows no sign of slowing down. Bumper TV deals and huge transfer fees means more money than ever is flowing through the game, ensuring it's vital that there are personnel ready to jump straight in and shape its future.
Location: UCFB Wembley, UCFB Etihad Campus
Overview
This in-depth programme is designed for those who wish to develop an appreciation of key areas shaping the current landscape of the football industry. The programme provides opportunities to engage in different aspects of football business including areas such as governance and regulation, consumer engagement, operational management and business development. From TV deals to player transfers, football is now a global, multi-billion-pound industry that is in need of more industry specific qualified individuals.
The football industry is one of many opportunities for budding professionals, and also poses numerous challenges on a personal and business level. Due to the unique nature of the football industry, it is essential to have the knowledge and experience to be able to deal with a range of ever-changing scenarios. This programme will allow students to be aware of the diverse and often unique situations that impact on the football business, as well as recognise best practice and ethical choices.
Teaching locations for this degree include:
UCFB Wembley
UCFB Etihad Campus
In addition to our teaching locations, we also use specialist facilities throughout the academic year as well as additional facilities where required.
"The ability to use UCFB's network is great as so many of the staff members and alumni are interconnected to the sporting industry all around the world."
Mihir Pandya, Media Monitoring & Response Management at National Basketball Association (NBA)
Modules
Semester 1
Governance and Regulation in Football
Engaging the Football Consumer
Semester 2
Football Operations Management
Business Development in the Football Industry
Semester 3
Dissertation and Research Methods
Entry requirements
Applicants should hold a 2:1 honours degree or a recognised overseas equivalent. Applicants may be accepted with a 2:2 honours degree (or equivalent) provided that they can otherwise demonstrate a strong profile with 50% or above in their dissertation module.
Professional experience and industry qualifications can be assessed for applicants without the standard entry requirements.
All applicants will be provided with an opportunity to be assessed and to discuss their suitability for the programme with the academic team.
All applicants are also provided with information relating to student services, with whom they can make contact, should they require additional support or advice as well as information related to appropriate bursaries and funds.
Applicants from non-majority English speaking countries will be asked for an English qualification which tests Speaking, Listening, Reading and Writing and will be asked to achieve an overall IELTS score of 6.0 (minimum of 5.5 in each section) or recognised equivalent.
If you are unsure whether you meet the entry criteria for this programme, or whether you require IELTS results, please email mastersenquiries@ucfb.com with a copy of your most recent CV including nationality, visa status if applicable, and undergraduate degree transcripts. Candidates with a strong CV may qualify for a supplementary admissions interview to support their academic application.
International students
UCFB cannot currently sponsor non-EU students' visas.
You will not need a visa to study in the UK if:
You are a British citizen

You are a citizen of a European Economic Area (EEA) member state or Switzerland

You have a visa to stay in the UK for another purpose that allows you to study
If you are still unsure whether you would need a visa to study in the UK, or for more information, please contact compliance@ucfb.com. You can also study one of our Online postgraduate degrees.
How to apply
To apply for this programme please complete the application form, then return the completed form and relevant documents as instructed to mastersenquiries@ucfb.com.
Career Prospects
The programme has been developed for those with aspirations towards senior management positions within the core functional departments of the football industry, spanning financial and accounting roles or operational roles within football, including the ability to rise to senior managerial roles due to the management aspect of the degree.
Last updated Mar 2020
About the School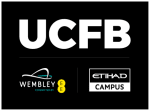 UCFB is a world first in sports education, offering university degrees in the football and sports industry. We provide an exceptional environment to live and learn in, with state-of-the-art facilities ... Read More
UCFB is a world first in sports education, offering university degrees in the football and sports industry. We provide an exceptional environment to live and learn in, with state-of-the-art facilities in two inspirational campuses in London and Manchester, which have the iconic Wembley and Etihad stadiums at their heart.
Read less