Read more about this program on the school's website
Program Description
​​​A unique graduate programme, the Master of Science in Financial Engineering (MFE) empowers you to succeed as a dynamic professional in the world of high technology finance. ​Learn from world-class faculty and industry seasoned professionals how to implement solutions in areas such as risk management, product structuring, quantitative trading, quantitative research, and financial information technology. Stay ahead of industry developments in this multi-disciplinary program that is also offered in collaboration with Carnegie Mellon University, USA.
The 1-year programme is rigorous and intense. The programme is designed for those with a strong drive and focus to penetrate the top tiers of the finance industry. The curriculum emphasizes teamwork and communication in real-life corporate settings, seamlessly integrating current financial theory and computational methods with practical knowledge. You will get opportunities to learn from experts from a diversity of disciplines, spanning finance, computing, and mathematics. Close interaction with both faculty and industry professionals will enable you to amalgamate real-life experience with academic research to enrich your understanding of today's financial world.​
Program Overview
​​​​​You will be required to complete:
20 core courses
4 elective courses
The curriculum will be taught over 3 trimesters (1 year). If you wish to undertake the program on a part-time basis, you will require 6 trimesters (2 years).
Each trimester is divided into 2 mini terms of 7 weeks each, with two recesses, one in December-January, and another in April-May (Exact dates to be confirmed).
Carnegie Mellon University Term
Students who have the opportunity to attend the CMU term will spend the first 5 mini terms in Nanyang Business School in Singapore and the final 7-week mini-term (Mini Term 6) at Carnegie Mellon University (CMU) in the US (subject to US visa approval if applicable).
The CMU term is optional for both full-time and part-time students. Students who opt-out of the CMU term will complete the remaining courses at NTU to fulfill graduation requirements. Tuition fees are unchanged for students who opt-out of the CMU term.
On the successful completion of CMU term courses, you will be awarded a Certificate in Computational Finance by CMU.
Class Hours
All classes are held on campus at NTU. Each course will have a total of 21 hours of instruction. For each course, you will meet for 3½ hours per week for 6 weeks. Examinations will be held in the 7th week. To cater to working professionals taking the course, classes for full-time and part-time students are conducted in the evenings on weekdays and on selected Saturday mornings or afternoons.
On average, full-time students take 4-5 classes a week and part-time students take 2-3 classes a week.
Period of Candidature
Students are required to complete the program within the periods stipulated below:
| | |
| --- | --- |
| Minimum Candidature ​ | |
| ​Full-Time | 12 months (3 trimester or 6 mini terms) |
| Part-Time | ​24 months (6 trimesters or 12 mini terms) |
| | |
| --- | --- |
| Maximum Candidature ​ | |
| Full-Time | ​24 months (6 trimesters or 12 mini terms) |
| Part-Time | ​48 months (12 trimesters or 24 mini terms) |
Exemptions
You may apply for exemptions of up to a maximum of 3 core courses, subject to approval. The period of application will be advised by the MFE Office.
​​​Why MSc Financial Engineering
​​The MSc Financial Engineering program aims to equip participants with concepts and techniques in Finance, Computer Science, and Mathematics. Participants will learn how to apply sophisticated engineering tools to financial problems, utilizing complex analytical and quantitative methods to tackle challenging problems in high-technology finance.
Highlights of the MFE program
Opportunity to spend a 7-week term at Carnegie Mellon University, USA
Expertise from 2 NTU schools - Nanyang Business School (NBS) and School of Physical and Mathematical Sciences (SPMS)
World-class faculty
Insights from industry professionals
Strong alumni network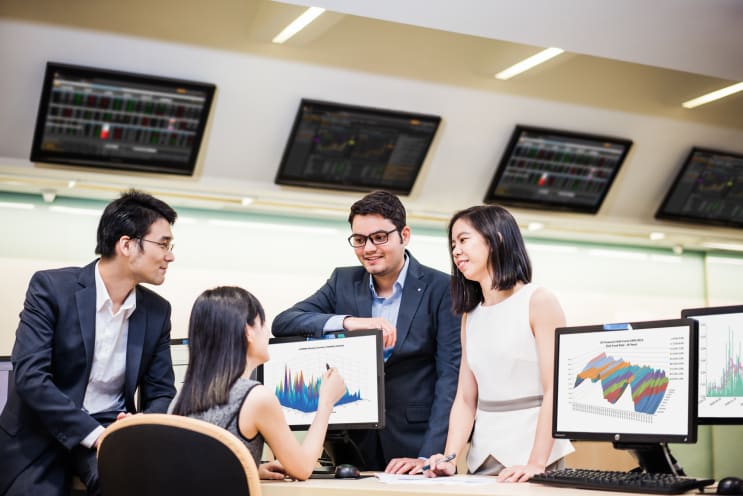 Admission Requirements
A good undergraduate degree in applied mathematics, applied science, statistics, computer science, engineering, economics, or other quantitative fields. We will also consider applicants from other disciplines.
A good GMAT or GRE​ score.
Work experience is preferred but not required.
TOEFL / IELTS score is required if the medium of instruction during your undergraduate studies was not in English.
Notes on GMAT and GRE:
To request GMAT score report to be sent to us, please indicate Program Code: V24-ZV-17 (2006 onwards) or search under: Nanyang Technological University; Nanyang Business School; MSc (Financial Engineering)
For GRE, please indicate Institution code no. 0291 (Nanyang Technological U, Grad Studies); Department code no. 4399 (Business-Other)
Career Development
​​​​Let us be the accelerator in your career journey​
GSCDO is here to translate your NBS experience into the right job fits amidst a constantly changing and evolving corporate landscape. We ensure that you get the best start on your career journey.
A wide range of activities is organized throughout the academic year with you in mind. We are constantly pushing the boundaries to gear you up for a rewarding, yet fulfilling career.
1-on-1 Career Counselling
Our specialized team of career advisors will work closely with you to develop and implement a robust career action plan. You can get expert advice on job search, resume and cover letter, as well as salary negotiation.
Career Resources
Exclusive to NBS students, CareerFIT is a one-stop portal that makes event registrations, internships, and job searches time-efficient. You can upload your resumes and submit job applications with just a single click.
Resume Book
This publication is sent to recruiters every month for them to identify and connect with candidates who would be a good fit for their organizations.
Career Skills Workshops
We roll out practical workshops covering personal branding, effective networking, technical interviews, and business case.
Recruitment Events
Many leading businesses come to NBS regularly to find interns and potential full-time employees. There are also internship and career fairs, recruitment talks and speaker series for you to maximize your exposure to employers and make impactful connections
Global Opportunities
We have also extended our outreach with companies outside Singapore to bring more employment opportunities to you.
Internships
We encourage you to pursue experiential learning opportunities during your studies. As such, we source for internships (part-time and full-time) that allows you to apply your financial engineering knowledge in a real-world setting. In this way, you will gain a tremendous competitive edge in the job market upon graduation.
Tap Into Alumni Network
The NBS alumni network spans more than 90 countries and includes about 50,000 graduates. Tap into the power of this community by connecting with alumni on LinkedIn or at get-together sessions organized by GSCDO. Many are accomplished professionals who are eager to mentor you and share experiences in NBS that facilitated their success.
Last updated Jul 2020
About the School

Young and research-intensive, Nanyang Technological University (NTU Singapore) is ranked 13th globally. It is also placed 1st amongst the world's best young universities for the sixth consecutive year ... Read More
Young and research-intensive, Nanyang Technological University (NTU Singapore) is ranked 13th globally. It is also placed 1st amongst the world's best young universities for the sixth consecutive year.
Read less