Program Description
Overview
Program Duration: One academic year (on campus) + Final management project (can be completed remotely while working)
Entry Requirements: Bachelor-level undergraduate degree in any subject. Fluency in English
Full Program Fees: € 23,450 (Grenoble campus)
Campus locations: Grenoble, France and Singapore
Language: English
Financial Aid and Scholarships available
Objectives
Understand the strategic impacts of financial decisions: The program covers the fundamentals of finance, as well as advanced topics in corporate finance, financial management, and financial markets.
Develop Your Financial and Soft Skills: Its aim is to provide students with strong technical and analytical skills in the principles and application of finance, as well as solid industry knowledge and multicultural exposure.
Prepare your career in the sector of finance: The MSc Finance prepares students for careers in the financial sector such as investment and commercial banking, asset management, financial services and consulting, or for corporate finance positions within international companies at a managerial level.
The program provides an excellent preparation for the Chartered Financial Analysts® (CFA) exams, as it is based on the CFA® Candidate Body of Knowledge (CBOK) and is part of the CFA® University Affiliation program. It also covers related fields such as management control systems, economics, corporate governance, and private equity investment. Students on the program also benefit from access to the Fitch Learning online CFA® preparation platform for the CFA® exam level 1.
Why choose the MSc Finance program?
Learn about both market and corporate finance from an international perspective.
Access cutting-edge learning facilities, like the Bloomberg trading room on our Grenoble campus.
Learn valuable intercultural skills while studying in an international and multicultural environment.
Tailor your education to your professional goals with a selection of specializations.
Earn your degree from a triple-accredited institution.
Program
The MSc Finance program begins in the Fall semester of each year and requires full-time attendance during one academic year for completion of coursework. The second year is dedicated solely to the Final Management Project.
Program Content*
The program is taught entirely in English by both academics and professionals, all with extensive experience in finance. The teaching style is very interactive and the emphasis is placed on group work.
Year 1 - Campus Year
Introduction Session (E-Learning Modules)
Fundamentals of Accounting and Finance (Online)
Fundamentals of Excel and Statistics (Online)
The Fundamentals of Finance
Corporate Finance and Investment Decisions
Accounting and Financial Statements Analysis
Economics for Finance
Quantitative Methods for Finance
Mastering Financial Management
Mergers and Acquisitions and Company Valuation
Management Control Systems
International Financial Management
Ethics, Professional Standards and Corporate Governance
Advanced Finance
Digital Finance
Derivatives
Fixed Income Investments
Asset Management
Capstone Course
Research Methodology and Project Workshop (Online)
Integrative Case Study
*The content of the program may be adapted from year to year to take into account the needs of industry. Class attendance is compulsory.
Specializations**
Quantitative Finance (Grenoble)
Algorithmics for Financial Modelling
Market Risk Management
Commodities and Energy Markets
Financial Market Trading
Investment Banking (Grenoble or Singapore)
Algorithmics for Financial Modelling
Project Finance
Private Equity, LBOs and Venture Capital
Financial Strategy and Advanced Valuation
Financial Management (Grenoble)
Advanced Accounting and Financial Statements Analysis
Corporate Financial Management
Private Equity, LBOs and Venture Capital
Global Business Operations - the Serious Game
**Subject to a minimum number of participants. If students choose to follow a specialization on a different campus, transportation, accommodation, meals, and personal items are at the student's own expense.
Year 2 - Final Management Project
At the end of the one-academic-year full-time part of the program, each student will be required to complete a Final Management Project of approximately 15,000 words in length, under the guidance of a tutor. This is an applied or theoretical research project that can be completed at a distance and in parallel with full-time employment or an approved internship. To successfully complete the Final Management Project, students are required to address a particular research question or knowledge gap in their chosen field of their study. This will be business oriented and coherent with the program's objectives. A student may choose to write their project on a topic grounded in their internship experience.
Recognition
Graduates from the MSc Business Development also receive a certificate conferring them the title of Manager Financier (Financial Manager). This title is recognized by the recognized by the French State through France Compétences, an agency belonging to the French Ministry of Labor.
It is a recognition that the graduate's core financial management skills conform to the standards established by the Ministry of Labor for managers of financial activities. For students planning to work in France following their studies, this recognition presents a competitive advantage.
CFA Institute University Affiliation Program
The program provides an excellent preparation for the Chartered Financial Analyst®* (CFA) exams, as it is based on the CFA Candidate Body of Knowledge (CBOK) and is part of the CFA Institute University Affiliation program.
*Chartered Financial Analyst is a registered trademark owned by CFA Institute.
Some of our MSc Finance Graduate Job Titles
Investment Banking Analyst, Asset Manager, Financial Controller, Treasurer, Derivatives Trader, Internal Auditor, Sales Specialist in Trading, Commodity Markets Manager, M&A Analyst, Debt Capital Markets Analyst, Financial Advisor, Buy-side/Sell-side Analyst, Financial Auditor, Credit Analyst, Structured Finance Associate
Employers of our MSc Finance Graduates
Airbus, Amazon, Barclays Capital, Bloomberg, BNP Paribas, Cadbury, Credit Suisse, Deloitte, Deutsche Bank, Ernst & Young., European Central Bank, General Electric, Goldman Sachs, HSBC, Hewlett-Packard, JP Morgan, KPMG, Nike, PWC, Royal Bank of Canada, Schneider Electric, Société Générale, Thyssenkrupp, UBS
Testimonials
VISIT OUR WEBSITE TO CHECK OUT THE GEM FINANCE SOCIETY BLOG
"The MSc Finance provided me with a solid systematic knowledge of both Corporate Finance and the Financial Market.
I particularly enjoyed the study-friendly, cooperative and very international learning environment. Being in a class of 17 different nationalities helped me to cultivate my cross-culture communication skills, which have proved essential to me as I enter the globalized world of business. The program enabled me to enhance my theoretical knowledge, whilst at the same time gaining practical experience, which has largely improved my competitiveness and employability.
After taught part of the program, an alumnus presented me with the opportunity to do an internship in Deutsche Bank within Wealth Management Department in Luxembourg. One year later, I moved to London and started my first job in Bloomberg in Financial Analytics and Sales department.
As a GEM graduate I continue to benefit greatly from offers of employment around the world from the School's careers centre service and I also feel that the alumni network is continuously being strengthened over time, to the advantage of all graduates."
Last updated Oct 2019
About the School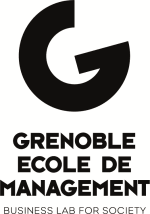 Grenoble Ecole de Management (GEM) has earned both national and international recognition. More than just a school, GEM represents an open-ended laboratory through which 8,000 students and 500 employe ... Read More
Grenoble Ecole de Management (GEM) has earned both national and international recognition. More than just a school, GEM represents an open-ended laboratory through which 8,000 students and 500 employees learn and work every day to solve complex problems and overcome major challenges for business and society.
Read less
Grenoble ,
Medellín ,
Grenoble ,
Tbilisi ,
Berlin ,
Moscow ,
Île-de-France ,
Singapore
+ 7 More
Less