MSc Digital Marketing Management
Home ›
MSc ›
MSc Digital Marketing Management
Program Description
Why this course?
Strathclyde's MSc in Digital Marketing Management (DMM) has been developed in collaboration with industry in response to a growing need for graduates with digital marketing skills. The program aims to enable you to become one of the next generations of digitally-skilled professionals.
Based in Strathclyde Business School's highly-acclaimed Department of Marketing, the course curriculum draws on leading academic experts from across the business school. The course also benefits from the University's established relationships with industry and the involvement of industry partners in the development and delivery of the program. This approach ensures that DMM meets the changing needs of the digital workplace and enables you to acquire the latest knowledge, best practice and the specialist skills to develop your career in digital marketing.
The eMarketing in Practice class is developed and delivered in collaboration with digital marketing professionals from a leading digital media agency. Experts will share their knowledge of digital marketing in practice, offering you an understanding and hands-on experience of established digital media, as well as emerging media.
The extent of industry collaboration and involvement in our Digital Marketing Management program makes it an exceptional choice for your career progression.
In the Digital Transformative Project, you'll take part in a Digital Marketing Clinic where local businesses will present their digital marketing challenges and operational issues. You'll assist businesses to develop a formal solution via a digital transformation plan.
What you'll study
You'll study 10 compulsory classes over the two semesters and also enter into the preparation and early stages of the Digital Transformative Project. The entire focus of the summer term will be your Digital Transformative project.
The program will provide you with a comprehensive understanding of digital technologies and their application for business purposes. Teaching and learning methods include lectures, case studies, presentations, workshops, and a 'hands-on' real-life business project. Extensive independent study and group participation will be required for realizing the potential benefits of the program.
Core to the program is its industry relevance and responsiveness, as well as academic thinking, theories, and cutting-edge marketing and management practice.
Entry Requirements
A first or upper second-class Honours degree, or overseas equivalent, in Marketing or a Business degree with a significant Marketing component.
Previous study of business and marketing is required for students to be able to contribute appropriately to class interaction and group work and to fully benefit from the skills development that goes beyond the basic aspects of marketing and management. Work experience in digital marketing and/or management is also advantageous to these studies, but not compulsory.
Students for whom English is not their first language must have a minimum of 6.5 IELTS score, with no individual score lower than 5.5, for entry to this program.
Pre-Masters preparation course
The Pre-Masters Programme is a preparation course held at the University of Strathclyde International Study Centre, for international students (non-EU/UK) who do not meet the entry requirements for a Masters degree at University of Strathclyde. The Pre-Masters programme provides progression to a number of degree options.
Upon successful completion, you will be able to progress to this degree course at the University of Strathclyde.
Careers
The involvement of industry partners in the programme's development and delivery aims to ensure that the curriculum is relevant to the continuously changing needs of the digital workplace. As a result of this uniquely dynamic university-industry collaboration, you'll have the opportunity to acquire up-to-date knowledge and the specialist skills with industry best practice.
Successful completion of this Masters programme will significantly enhance your employment prospects in the digitalised marketplace. You will be qualified to apply for a wide range of positions (e.g. Marketer, Manager, Strategist, Consultant, Data Analyst etc.) in industry sectors such as finance, the health sector and the public sector, where employers are willing to pay a high premium for employees who are able to fill the digital skills gap in the workplace.
Last updated Sep 2019
About the School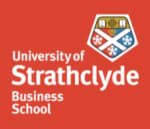 Strathclyde Business School(SBS)is a pioneering, internationally renowned academic organisation that shapes anddevelops the business minds of tomorrow. Strathclyde is one of a small percentage worldwi ... Read More
Strathclyde Business School(SBS)is a pioneering, internationally renowned academic organisation that shapes anddevelops the business minds of tomorrow. Strathclyde is one of a small percentage worldwide to be triple accredited, holding accreditation from the international bodies, AMBA, AACSB and EQUIS.
Read less
Glasgow ,
Athens ,
Zürich ,
Singapore ,
Dar es Salaam ,
Manama ,
Kuala Lumpur ,
Petaling Jaya ,
Muscat ,
Muscat ,
Dubai ,
Abu Dhabi ,
Milan ,
Munich ,
Beijing ,
Toulouse
+ 15 More
Less