Program Description
Overview
Also available as Distance Learning.
The constant advancement of technology and the introduction of cloud services, smart devices, and wireless communications as well as the increasing penetration of the Internet in our everyday activities and the sharing of sensitive information through it, have created a need for information assurance and data security.
This program will appeal to people with an interest in understanding cybersecurity issues with emphasis on areas such as cyber warfare, cyber defense, ethical hacking, network forensics, and information security management. The program will provide students with the specialized knowledge required, including theory, technologies, and relevant design techniques, as a prerequisite for designing secure networks.
During the program, students will have the opportunity to apply their theoretical knowledge through specialized physical, virtual, and remote security laboratories in which they will be able to carry out activities such as reconnaissance, network scanning, and exploitation exercises, and investigate the usage and behavior of security systems such as Intrusion Detection Systems. As part of the program, students will also develop generic and domain-specific research techniques and skills required for successfully completing their final year MSc Thesis project.
Modules
Compulsory
Master's Project – Dr. Josephina Antoniou
Critical Analysis – Dr. Josephina Antoniou
Ethical Hacking – Dr. Eliana Stavrou
Digital Forensic Investigation – Dr. Gabriel Panis
Information Security Management – Dr. Eliana Stavrou
Cyber Warfare – Dr. Eliana Stavrou
Cyber Defence – Dr. Eliana Stavrou
Career Options
Typically, Cybersecurity professionals can be employed by telecommunication, IT and technology companies, network operators and network equipment vendors, consultancy agencies, and government departments, as well as any other organization that needs to protect its IT infrastructure and operations. Cybersecurity is part of nearly every discipline from defense and intelligence to healthcare and aerospace.
Entry Requirements
Postgraduate Students
Bachelor's degree or equivalent (at least Lower Second Class).
Proof of English Language knowledge of IELTS 6.5 level and above, or any other equivalent.
Important Notes
Students who do not meet the above minimum entry criteria are subject to an interview from the Head of School of the program of study they are applying for.
Students who do not have any official English language qualification can take the University's English entrance exam.
Take the UCLan Cyprus English Language Admissions Test
We now offer the online Password English test, which is an internationally recognized English Language University Admissions test created by researchers involved in the development and validation of Language assessments such as IELTS and Cambridge suite.
The Password Knowledge test will test your Reading, Vocabulary, Grammar and Writing and you will be awarded a CEFR-aligned level certificate specifying a score between 3.0 and 7.0 and above. The test can be taken online or at the UCLan Cyprus campus.
You can take the test whether you are a prospective student or not, and you can use your certificate and grade for proof of your English Language Level either at entry at English universities or institutes or at a job application.
In order to take the test, you need to inform our Admissions Office who will guide you on how the test works online, when you can take it, how you can prepare for it, and any steps you need to take in advance, such as the payment of the test fee of €45.
Let's help you prepare for our English Language Entry Test
If you are a student who is thinking of joining UCLan Cyprus yet concerned about the English level or the English Language Certificate and Test, then our English Preparation Courses are perfect for you. Our courses have a 98% success rate and we will take you through all the necessary content to get you to the level you need to secure your place here at UCLan Cyprus.
Last updated Nov 2020
About the School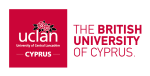 The University of Central Lancashire, Cyprus (UCLan Cyprus), has been established since 2012, in Larnaka. It is located in Pyla, Larnaka, and it is now in its seventh year of operation.
The University of Central Lancashire, Cyprus (UCLan Cyprus), has been established since 2012, in Larnaka. It is located in Pyla, Larnaka, and it is now in its seventh year of operation.
Read less