MSc Cultural and Creative Industries
Home ›
MSc ›
MSc Cultural and Creative Industries
Program Description
The MSc Cultural and Creative Industries aims to provide students with a deep theoretical and empirical knowledge of the creative/cultural industries sector. It deals with every branch of the cultural sector: music, cinema, books, the visual arts and the performing arts. It thus prepares the students to careers in the cultural/creative industries.
Why join this programme
At the end of the program, students will be able to develop a career in the creative and cultural industries. They will have the opportunity to meet and collaborate with many professionals in the arts sector. To name a few, the Centre Pompidou, Musée de Rouen, Netflix and Canal+ producers, Editions du Seuil, Editions de la Découverte, Centre National du Cinéma, Believe Music, Warner, Uzik.
5 Good Reasons to Join the Programme
Develop critical and creative thinking while feeding interest in the cultural and creative industries.
Discover an original approach focused on the art, including an aesthetic perspective, from rap music to auteur cinema and impressionism, etc.
Build strong knowledge linking theoretical lectures based on the arts to lectures by highly qualified professionals.
Immerse into an original pedagogy using new technologies, teamwork and creativity.
Benefit from an efficient network of alumni working in the cultural industries giving life to an active community.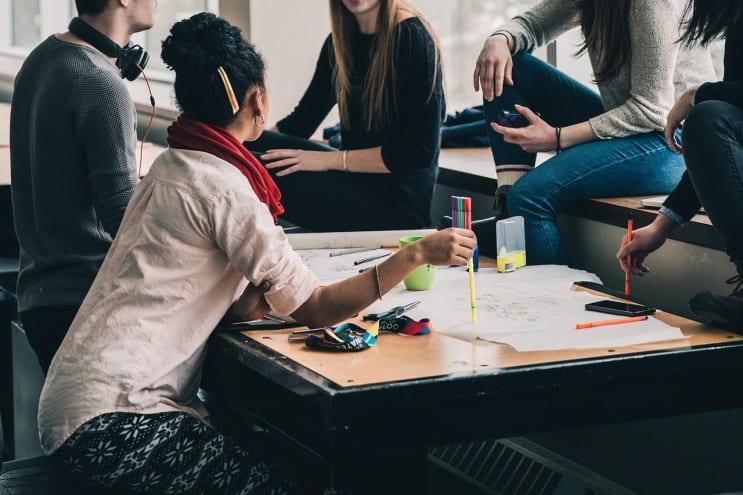 StockSnap / Pixabay
Curriculum
The program delivers lectures that have both academic and professional backgrounds. It not only focuses on the management of the arts, but it also looks at the economic, social and cultural issues raised by the current transformation of the creative/cultural industries. This is achieved by developing a strategic vision, market research skills, as well as exposure to the leading product digitalisation methods.
Layout of the programme:
This 450- hour programme partakes some core courses and it includes a mandatory professional experience:
Core courses
Cultural marketing and digitalization
Strategies in the arts (arts, market and society)
The art market in the world
Music: strategies and opportunities in the digital revolution
Majors, Independents, Globalisation: the movie industry
The performing arts: project management and organizational agility
Value and reputation: how to create value in arts
Contemporary issues: the publishing industry
Cultural policies and public cultural institutions
Intellectual property and contracts in the creative industries
Corporate Social Responsibility (CSR): innovation for social change in the arts
Professional experience
Internship
Mission
Employment
Business creation thanks to NEOMA BS incubator
Final dissertation (and oral defence)
Career Opportunities
A few of the possible jobs to which you can aspire:
Cinema and TV production
Sales manager in the cultural industries
Marketing and communication manager in the cultural industries
Fundraising and sponsorship
Executive and administrative positions in artistic institutions (museums, foundations, theatres, etc.)
Examples of internships or jobs:
Product Manager Interface (TV Canal+)
Sales assistant Co-production
Marketing assistant international sales (Wild Bunch)
Product manager (Centre Beaubourg)
Category Manager (Glénat Publishing)
Product Manager (Stock Publishing
Press & Communications Officer (in a museum)
Assistant of production 3B Production
Project manager (Firstage Productions)
Head of Marketing (Aranametrix)
Operations officer (Soundcharts)
Assistant operations E-Commerce (Ubisoft)
Chargé€ de mission (Fondation Culture & Diversité)
Admissions
Careers in the arts are vocational and creative. We look for creative and passionate students.
Undoubtedly, if you are to choose this MSc, it is essential to:
be interested in the arts;
have a critical perspective and intellectual curiosity.
Eligibility:
4-year Bachelor degree (Origin of the academic background: economy, business, science)
Proof of English language ability is required during the application process (TOEIC, TOEFL, IELTS 6, etc.)
Calendar
Recruitment is carried out on a rolling admissions basis. However, given the limited number of places, candidates are advised to apply as early as possible.
Admission is decided on the application to be filled out online.
Application fees: €100
Last updated Nov 2019
About the School

NEOMA Business School trains passionate people, inspired and inspirational economic players who yearn for meaning, and are fully capable of building tomorrow's society: the architects of tomorrow. ... Read More
NEOMA Business School trains passionate people, inspired and inspirational economic players who yearn for meaning, and are fully capable of building tomorrow's society: the architects of tomorrow. Welcome to NEOMA Business School. Be passionate. Shape the future.
Read less