MSc Business Analytics: Operational Research and Risk Analysis
Home ›
MSc ›
Business ›
MSc Business Analytics: Operational Research and Risk Analysis
Program Description
Learn how to overcome the major challenges facing the industry, business, and the public sector today, and influence the decision-making processes of the future. This course gives you the cutting edge analytical approaches, methodologies and tools you need to confidently tackle problems and improve outcomes.
It allows you to specialize in a diverse range of areas including
Consulting skills
Big data and web analytics
Information systems concepts and tools
Decision behavior and psychology of decision making
Financial modeling
Operations management and process change and improvement approaches
Project management
Supply chain management, logistics, and procurement
Traditional operational research and applied mathematics and statistics
The aim of the course is to give students a solid quantitative foundation alongside practical problem-solving techniques. Much of your learning involves real-life scenarios using case studies, individual and team consulting-based assignments, presentations, and software tools. Much of the coursework takes the form of consulting-style cases, some done in small teams and including presentations.
The core of the course is formed by four analytics units covering fundamental toolkit areas of decision sciences, applied operational research and statistics. The approach is to consider the application of these analytical methodologies and toolkits to common problem areas across business and management. You then chose four other units from a broad range of options, according to your interests, background and intended career directions.
Aims
The course is intended to provide management, engineering, science, mathematics, economics or similar graduates who have a solid quantitative foundation with deeper analytical skills and an understanding of how these are applied to business and management problems.
Special features
We run a core module on Data Analytics which will introduce students to SAS Enterprise. A coursework prize for this project will be sponsored by SAS.
Recent highlights included a case study run by British Airways, a presentation from SAS on the Future of Analytics and ongoing dissertation projects with Unilever and LBM.
Course units details
The course consists of both compulsory and optional taught units. The core courses unit introduce you to mathematical principles and practical tools for Optimization, Decision Making, Data-Mining, Statistical Analysis, Simulation & Risk Analysis. Specific software packages include SAS, SPSS, Minitab, AMOS, Eviews, Excel, Excel Solver, SIMUL8, iThink, Risk Solver, IDS.
Compulsory course units include:
Mathematical Programming and Optimisation;
Applied Statistics and Business Forecasting;
Simulation and Risk Analysis;
Data Analytics for Business Decision Making;
Risk, Performance and Decision Analysis.
Optional units include:
Decision Behaviour, Analysis and Support;
Global Operations Management;
Programming in Python for Business Analytics;
Strategic Project Organising;
Supply Chain Logistics Management;
Global Supply Chain Management;
Knowledge Management and Digital Strategy
Coursework and assessment
Assessment varies depending on course units taken. It may include a combination of coursework, group project assessment, and presentations, report, assignments, in-class tests and examination. The dissertation normally ranges between 12,000 and 25,000 words.
Entry requirements:
We normally look for a UK bachelor degree with first or upper second class honors, or the overseas equivalent in a quantitative subject such as mathematics, statistics, physics, engineering, computing, management science or economics.
When assessing your academic record we take into account your grade average, position in class, references and the standing of the institution where you studied your qualification. We particularly welcome applicants from institutions of high ranking and repute.
Last updated Oct 2020
About the School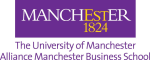 Alliance Manchester Business School is one of the UK's first two business schools, set up in 1965), and is now the largest campus-based business and management school in the UK. Manchester is recognis ... Read More
Alliance Manchester Business School is one of the UK's first two business schools, set up in 1965), and is now the largest campus-based business and management school in the UK. Manchester is recognised for its original thinkers: our long and proud history of research excellence continues the spirit of innovation and achievement for which the city is renowned.
Read less