Read more about this program on the school's website
Program Description
The MSc Accountancy programme leverages on the School's long tradition and track record of more than 50 years in training executives in accounting and finance-related fields for leadership roles in Singapore and beyond. Each year, we admit two cohorts of around 40 students each with keen interest and enthusiasm to deepen their skills and knowledge in accounting and to advance their career in this field.
Our comprehensive curriculum, which includes Data Analytics and Digital Forensic ensures our participants are equipped with holistic skill sets to take on the challenges and succeed in the fast-evolving accounting landscape. The courses are taught by our senior faculty, and selected courses are co-taught with the Big Four partners for added industry relevance.
The MSc in Accounting program is accredited by the Singapore Accountancy Commission (SAC) to qualify for the Singapore Chartered Accountant (Singapore CA) Qualification and Institute of Singapore Chartered Accountants (ISCA).​ Graduates from the program can advance directly to the Professional Programme of the Singapore CA Qualification. The School's strong connections with international accounting bodies such as ICAEW, CPA Australia, ACCA, CIMA, to name a few, allows our graduates to fast track their professional accounting qualification journey.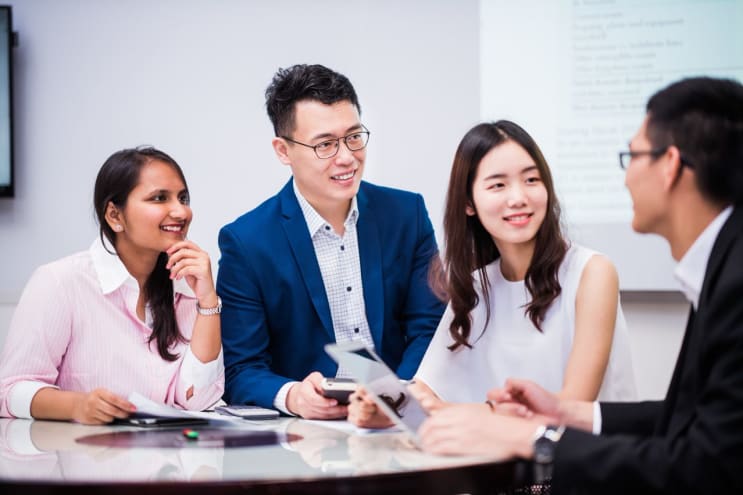 Program Overview
The MSc Accountancy is offered as a full- or part-time program. Full-time students complete the program in a year, part-time students, in 2 years.
The program covers 15 courses. Up to 2 waivers are allowed, based on previous extensive coverage in your undergraduate program, subject to approval from the School. Waivers will be substituted with Master's level electives. All our courses are conducted in English, on NTU's vibrant campuses in Singapore. Our classes are held during weekdays evenings at an easily accessible location at the One-North campus opposite Buona Vista MRT station and/ or on Saturday at the picturesque NTU main campus in Jurong West. From July 2019, weekday morning/afternoon classes at NTU's main campus will also be offered to participants in the full-time program.​
The MSc Accountancy program is also accredited by the Singapore Accountancy Commission (SAC) and Institute of Singapore Chartered Accountants (ISCA).​
Why MSc Accountancy
​​The MSc Accountancy* program is the pathway for non-Accountancy graduates to join the Accountancy sector and for career advancement in accounting and finance functions.
Graduates of this program become eligible to take the Singapore CA Qualification professional exams which open the avenue for them to become a Chartered Accountant of Singapore.
Not only will students obtain both a global perspective and an Asian focus on business and accounting issues, but they will also be highly sought after by the Big 4 and other accounting firms, and will be well-positioned to build a career in that sector.
Admissions
​Applicants who wish to apply to the Nanyang MSc Accountancy are required to meet the minimum admission requirements below:
A good Bachelor's degree from any discipline
A good GMAT/GRE score
TOEFL/IELTS for applicants whose first degree was taught in a language other than English
​​Work experience is a plus but not required
* GMAT/ GRE waiver will be considered on a case-by-case basis if you have 5 years and above of relevant work experience in a major organization.​
Career Development
​​Let us be the accelerator in your career journey​
Our objective is to empower you to better understand yourself and make the best of our resources and network. Throughout the academic year, GSCDO organizes a wide range of activities exclusively for MSc Accountancy students.
We are constantly pushing the boundaries to ensure that you are ready for the job market. Here are the services we thoughtfully designed with you in mind:
Career Advisory
Our specialized team of career advisors will work closely with you to develop and implement a robust career action plan. You can get expert advice on job search, resume and cover letter, as well as salary negotiation.
Career Resources
Exclusive to NBS students, CareerFIT is a one-stop portal that makes event registrations, internships, and job searches time-efficient. You can upload your resumes and submit job applications with just a single click.
Resume Book
This publication (both in English and Chinese) is sent to recruiters every month for them to identify and connect with candidates who would be a good fit for their organizations.
Career Skills Workshops
We roll out core workshops on how to develop a unique personal brand, network effectively, optimize your online presence, shine at interviews, crack a business case, etc.
Recruitment Events
Many leading businesses (including the Big 4) comes to NBS regularly to find interns and potential full-time employees. There are also internship and career fairs, recruitment talks and speaker series for you to maximize your exposure to employers and make impactful connections
Global Opportunities
We have also extended our outreach with companies outside Singapore to bring more employment opportunities to you.
Internships
We encourage you to pursue experiential learning opportunities during your studies. As such, we equip you with many resources and opportunities to land part-time or full-time internships.
Tap Into Alumni Network
The NBS alumni network spans more than 90 countries and includes about 50,000 graduates. Tap into the power of this community by connecting with alumni on LinkedIn or at get-together sessions organized by GSCDO. Many are accomplished professionals who are eager to mentor you and share experiences in NBS that facilitated their success.
​The institutional code for the following tests are:
​GMAT: V24-ZV-83
GRE: 3802
TOEFL: 9705
Last updated Jul 2020
About the School

Young and research-intensive, Nanyang Technological University (NTU Singapore) is ranked 13th globally. It is also placed 1st amongst the world's best young universities for the sixth consecutive year ... Read More
Young and research-intensive, Nanyang Technological University (NTU Singapore) is ranked 13th globally. It is also placed 1st amongst the world's best young universities for the sixth consecutive year.
Read less