MSc (Building) in Construction Project Management
Home ›
Master ›
MSc (Building) in Construction Project Management
Program Description
Applications for 2017 are now closed
The Wits MSc Project Management in Construction offers a world-class education featuring international and internationally trained staff as well as some of the leading experts in the local industry. Our instructional spaces provide modern state-of-the-art facilities for postgraduate teaching backed by fully equipped IT laboratories featuring industry standard software. We offer you the opportunity to gain a postgraduate built environment qualification in one of the largest urban settings on the African continent enabling you to develop your academic and industry skills in Gauteng; the economic dynamo of Southern Africa that provides a unique mix of first world infrastructure alongside developing world challenges.
Career opportunities
On completion of the MSc (Building) Project Management in Construction programme, one is prepared for a wide range of high-level career opportunities in the public and private sectors and an opportunity to fast track to more challenging positions in the industry. It could also prepare one for further study at Wits or other leading academic institutions. The Project Management in Construction programme provides practitioners with the opportunity to build and reflect on their existing professional experience whilst taking a range of modules that expose the students to advanced professional knowledge and skills to enable them to play a leading role in the management of enterprises and projects in the construction sector. Working alongside other professionals from a variety of built environment professions provides a context where practitioners can expose themselves to new concepts and cutting-edge ideas in the provision of built infrastructure, drawing on local and international best practice including; digital technologies such as building information modelling; sustainability and the adaptation of the built environment to climate change, and other construction industry developments locally and around the world.
The curriculum
The taught MSc degree in Project Management in Construction is directed towards applicants with an Honours degree in Construction Management, Quantity Surveying, Civil Engineering and other built environment professions who seek to occupy more management as opposed to design-oriented positions in the industry. Direct entry to the MSc by Research is open to candidates with honours from all built environment professions who can demonstrate proficiency in Research from their previous studies. For those with qualifications below Honours or equivalent, a period of relevant industry experience is also required, the duration of which depends on the highest academic qualification achieved by the applicant. The MSc (Building) Project Management in Construction is offered as a full time (1 Year) as well as part-time (2 Years).
The taught modules within the programme are:
• Construction Planning and Control • Construction Economics and Finance • Construction Contracts Law and Management • Project Management • Construction Safety and Quality Management • Research Methodology
Why Wits?
Wits University has a reputation built on research and academic excellence. Wits are one of only two universities in Africa ranked in two separate international rankings as a leading institution in the world and are the only university in the country that features in the top 1% in the world in seven defined fields of research according to the 2007 ISI international rankings. In keeping with this tradition, The School of Construction Economics and Management has ambitions to be one of the leading institutions in research and teaching of construction management and project management on the African continent. The programme is designed to measure up to the highest international standards in terms of coverage, instructional approaches and the quality of research training and professional accreditation is being sought from relevant SA Registration Councils as well as international accreditors such as the RICS and CIOB who already accredit our undergraduate and Honours programmes.
Application and admission
Admission requirements Entry into the taught MSc programme in Project Management in Construction requires an Honours degree in a cognate built environment discipline (e.g. Construction Management, Quantity Surveying, Civil Engineering or Architecture) or equivalent. Applicants with qualifications at a lower level are treated as being 'differently qualified' and will be interviewed so that relevant industry experience can be taken into consideration. Entry into the Research degree programme will require applicants to have a Postgraduate Diploma or a BSc Honours degree. Applicants will be required to submit a CV and official copies of academic transcripts. Research degree applicants will be required, in addition to the above, submit an outline research proposal in an area covered by the School's research priorities.
Selection process Applications are closed at the end of October for enrolment in February of the following year. We will endeavour to process all applications and inform applicants of the outcome within two months of the close of applications. In exceptional cases, we may invite applicants whose profile does not fit the normal criteria for an interview to better judge their suitability. These interviews will take place in November. All applicants will know the outcome of their applications in December.
Last updated Jun 2019
About the School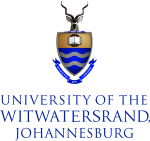 Wits is strategically located in Johannesburg, a world class city, with countless opportunities for students and staff to engage with and present solutions that will contribute to our country's knowle ... Read More
Wits is strategically located in Johannesburg, a world class city, with countless opportunities for students and staff to engage with and present solutions that will contribute to our country's knowledge-base and build our future. With its more than 130 000 graduates in its 91-year history, Wits has made and will continue to make its mark nationally and internationally.
Read less