Program Description
In the competitive real estate industry, having an edge is critical to advancing your career. As any real estate professional will tell you, success in this booming industry relies on both what you know and who you know. At Sy Syms, we will deliver to you the what and the who that you need for your career in Real Estate to take off.
In the 12-month Sy Syms Master's in Real Estate program, you will master the fundamentals of financial analysis and modeling, analytics and quantitative evaluation, hard asset development and deal-making, while building a vast professional network in NYC.
Practicum
The Real Estate Practicum is the capstone of the MSRE program. It always takes place after the Spring semester and involves a comprehensive 4-week session in which students will work in groups of 4 from within their class. The focus of the practicum may change from year to year and will always be topical and current. In some years, the focus may be on Financial Derivatives and Case Evaluation. In others, the objective may be to put the student into the position of evaluating a project, working with Architects, Financiers, and Development experts to develop a building from the ground up and then to 'pitch' the actual sponsor. The model of the Hines Competition where interdisciplinary teams work together to form a cogent financial plan and sound architectural design to address the objectives of the 'sponsor' has been successful in the past, with past projects including evaluations of the 50 Hudson Yards and the Chrysler Building. This 6 credit intensive program will often involve work with architects and specialists from our network of affiliated graduate schools of Architecture and Design.
Alumni Involvement in Placement
The vast YU Real Estate alumni network serves to cultivate the program and our students and has committed to helping us to place our students. Their commitment to the success of the program and your success are interlaced. They give readily of their time and expertise in Real Estate Symposium, final practicum critiques, and ultimately in the placement of our students.
The Sy Syms Edge
Our flexible classes are catered towards the working professional.
Our comprehensive core curriculum builds a foundation for success in any business.
Our renowned full-time professors inspire you through academic excellence. Impressive adjuncts bridge theory with real-time business practice.
Our student body includes a diverse variety of professionals from every business sector.
Your classes will be small and personalized, allowing you to make lifelong business connections.
Graduate with the expertise to:
Make a contribution to the practice of Real Estate in its myriad forms.
Make strategic decisions informed by detailed financial analyses.
Analyze investments using financial modeling and other analytic tools to determine value, volatility, and risk for a variety of properties.
Understand the structure, role, and use of derivatives in real estate investment.
Utilize modern portfolio theory and techniques to manage real estate portfolios with respect to macroeconomic factors and real estate market trends.
Curriculum
The 36-credit program focuses on grounding students in the principles and practice of real estate. By taking a number of different courses, students will have the opportunity to discover which aspects of real estate engage them the most.
All students begin their experience at Sy Syms with a required three-week (3 credits) intensive quantitative and analytics training module. The sessions meet for five consecutive days across three modules:
Review of finance with calculator and Excel focus
Review of statistics with Excel and Stata/R focus
Review of economics
Graduate Management Admission Test (GMAT) or GRE is required.

At three weeks, a comprehensive diagnostic exam is given, similar to what would be expected in an investment banking training program. Following the training module, students take foundational core courses, electives tailored to their interests, and an experiential capstone where they work on a full-fledged real estate development in New York City.
The required courses for the MSRE program are 3 credits each (unless otherwise specified) and include:
Real Estate Finance and Investments
Urban Economics
Real Estate Analytics (1.5 credits)
Real Estate Capital Markets
Valuation and Market Analysis
Real Estate Legal Cases
Statistics/Econometrics
Management and Organizations
Practicum (6 credits)
The set of electives varies from year to year. Each is a 1.5 credit ½ semester course and can include:
Advanced Seminars
Construction Management and Architecture
Negotiations
Real Estate Entrepreneurship
Sustainable Design and Architecture
Property Management and Leases
Marketing Management
Real Estate Accounting
Urban Design, Zoning and Land Use
Last updated Feb 2020
About the School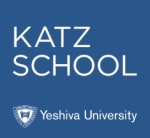 The Katz School at Yeshiva University gives students the opportunity to further their intellectual and professional pursuits and become a part of one of U.S. News and World Report's top 80 universitie ... Read More
The Katz School at Yeshiva University gives students the opportunity to further their intellectual and professional pursuits and become a part of one of U.S. News and World Report's top 80 universities in the United States.
Read less