MS in Quantitative Economics
Read more about this program on the school's website
Program Description

Professionals who can understand real-world problems and provide objective results using mathematical analysis are in constant demand in the United States and around the world. Our MS in Quantitative Economics blends mathematics, economics, and business to develop in-depth analytical, statistical, and computational skills you can apply to macro-labor economics, public finance, monetary policy, financial economics, market design, and more.

Classes are held in midtown Manhattan, giving you easy access to professional networking opportunities in some of the world's most prominent companies.
Get the Quantitative Edge
Our unique quantitative focus will help you distinguish yourself from others in business, real estate, government, consulting, and NGOs. We teach
model-based quantitative analyses via simulation, computation, and estimation;

a broader scope than many applied economics programs; and

the mechanisms behind economic and social institutions through institutional, geographic, and historical lenses.
Curriculum
The MS in Quantitative Economics is an intensive 30-credit, 12-month, full-time program covering both the theory and practice of quantitative economics. You will receive rigorous training in micro and macroeconomics, financial economics, and statistical and computational aspects of the field. We keep classes small to foster personal interaction between and among faculty and students and to give you hands-on experience with our department's latest and most cutting-edge research. Browse MQE syllabi.
Econometrics classes are complemented with hands-on lab sessions. All students will take an independent study designed in collaboration with their faculty advisor.
Program of Study
Fall Semester 1
Mathematics for Economists

Mathematical Statistics

Macroeconomics 1

Microeconomics 1
Spring Semester 1
Econometrics

Macroeconomics 2

Microeconomics 2

Elective*

Elective*
*Students may opt to skip electives this semester and take them in a second fall semester abroad, extending their program by three additional months.
Katz electives include Quantitative Microeconomics, Financial Economics, Corporate Financial Economics, Market Design, Topics in Game Theory and Industrial Organization, and Monetary Economics.
Summer Semester 1
Students have the option to complete a 3-4 month research internship in a research laboratory or equivalent environment or to complete a research paper under the supervision of a faculty member. Students who complete the internship must also submit a written report.
Fall Semester II: Study Abroad
Students who skipped electives in the spring semester may take two electives at Universite Pantheon-Sorbonne (Paris 1) in Paris, France. The MSc in Models and Methods in Quantitative Economics offers a variety of options for electives. The program is housed at the Maison des Sciences Economiques in downtown Paris.
This option is ideal for those who want to apply for a Ph.D. program, specialize in fields not covered by Katz electives, or pursue a business career in Europe.
Who Should Apply
The masters in Quantitative Economics is ideal for those with backgrounds in economics, mathematics, engineering, science, and related fields looking to immerse themselves in the methodologies of business.
Our graduates have gone on to careers in the field as well as doctoral programs at the University of Rochester, the Toulouse School of Economics, and other prestigious universities. We have the resources to help you through the competitive world of Ph.D. admissions.
Careers
Graduates of the program will be prepared to apply to doctoral programs or for careers as
Economists,

Econometricians,

Financial Analysts,

Quantitative Analysts,

Compliance Managers,

and more.
Faculty
Quantitative Economics faculty members are active researchers working on issues spanning macro and microeconomics, at both the theoretical and empirical levels. Our faculty publish work in prestigious international scientific journals, such as American Economic Review, Econometrica, Quarterly Journal of Economics, Review of Financial Studies, Journal of Economic Theory, and Journal of Mathematical Economics. They also participate in study groups and co-organize conferences sponsored by the NBER, the Cowles Foundation, and other institutions of international renown.

Alessandro Citanna, Ph.D., Professor of Economics and Director of the MS in Quantitative Economics Program
Dr. Citanna has a Ph.D. in Economics from the University of Pennsylvania and a Laurea in Economics and Social Sciences at Bocconi University, Milan, Italy. He started and directed the Quantitative Economics and Finance program at HEC-Paris and Ecole-Polytechnique, where he taught for over ten years. He has also taught Economics at Columbia Business School and the Tepper School of Business at Carnegie Mellon University, and Finance at McGill University in Montreal. Dr. Citanna has published widely in top scientific journals, including Econometrica and the Journal of Mathematical Economics, where he currently serves as co-editor. In 2016, he was given a project grant from Alliance Columbia U-Paris I-Ecole Polytechnique and in 2006 he was awarded a grant by the National Science Foundation. The University of Pennsylvania and HEC-Paris awarded him a series of prizes and fellowships since 1993 for outstanding teaching and scholarship.
Admissions
Successful candidates have a bachelor's degree including coursework in multivariate calculus or its equivalent, basic linear algebra, advanced calculus, real analysis or its equivalent.
Applicants must complete the online application and submit the following items:
Official transcripts from all undergraduate and/or graduate institutions. Unofficial transcripts may be submitted for initial review but must be followed with official copies.

Resume.

Personal statement describing your goals in pursuit of this program.

Two professional or academic recommendation letters.

Applicants who have completed a bachelor's degree from an institution in a non-English speaking country must also submit official TOEFL scores. Our TOEFL code is 1698.
Last updated Oct 2019
About the School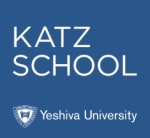 The Katz School at Yeshiva University gives students the opportunity to further their intellectual and professional pursuits and become a part of one of U.S. News and World Report's top 80 universitie ... Read More
The Katz School at Yeshiva University gives students the opportunity to further their intellectual and professional pursuits and become a part of one of U.S. News and World Report's top 80 universities in the United States.
Read less