Program Description
Yeshiva University's MS in Cybersecurity is a STEM-approved 30-credit master's degree, focused on the technology and management competencies for planning, implementing, upgrading, monitoring, and auditing cybersecurity protocols and procedures. The degree is aligned with industry certifications: CISSP, CISM, and ISACA-CRISC, and teaches you state-of-the-art technologies and practices. You'll get hands-on experience with threat mitigation, detection, and defense. You will also have the opportunity to gain practical experience through internships, CPT and STEM OPT.
Protecting an organization's information assets and technology infrastructure is critical, and requires hiring teams of cybersecurity professionals to protect against increasingly frequent attacks. According to a recent Gartner report, worldwide spending on information security products and services is forecast to reach $124 billion in 2019, an increase of almost 22% from 2017. Fueling this growth is the rapid evolution of cyber threats through the expansion of mobile device usage, the Internet of Things (IoT), machine learning, artificial intelligence, and drones. Additionally, evolving privacy and cybersecurity standards and regulations, such as the Health Insurance Portability and Accountability Act (HIPAA), and the EU General Data Protection Regulation (GDPR) are driving demand for a new breed of cybersecurity professionals.
STEM Optional Practical Training (OPT)
The master's in Cybersecurity is a STEM-approved degree. International students may be eligible for up to 36 months of OPT. The program also offers several opportunities for Curricular Practical Training (CPT).
Learn to Protect Against Hackers and Cyber Attacks
Gain cybersecurity know-how in systems architecture, operating systems, applications, endpoints, securing data, networking, and software development.
Analyze threat landscapes and security frameworks, as well as legal, compliance, and audit frameworks.
Develop internal and external communication strategies to promote a cybersecurity culture.
Prepare for certifications CISSP, CISM, and CEH, among others.
Curriculum
30 credits | Master of Science | Full or Part-time | On-Campus | STEM OPT
Required Courses
Cybersecurity Foundations
The architecture of Secure Operating Systems, Applications, and Devices
Network, Data and Communications Security
Risk Management and Cybersecurity
Leading Technology Organizations
Cybersecurity Audit, Assessment, and Testing
E-Discovery, Digital Evidence & Computer Forensics
Elective
Elective
Cybersecurity Capstone
Total: 30 credits
Electives
Business Continuity Planning and Crisis Communications
Project Management
Cybersecurity and Cyberterrorism
Psychology of Threat Actors and Their Motives
Special Topics
Internship
Independent Study
Careers
ISACA, a cybersecurity advocacy group, announced a global need for two million cybersecurity professionals by 2019 across a number of industries including finance, healthcare, IS/IT consulting, government, construction, manufacturing, retail, and legal. Annually, 40,000 cybersecurity jobs go unfilled. A scan for cybersecurity jobs over $100,000 yields over 20,000 openings for CISO's and CSO's as well as in positions such as Cybersecurity Engineer, IT Security Director, Info Assurance Specialist, and Cybersecurity Analyst.
Cybersecurity in New York City
New York City is the place to be for cybersecurity. NYC is investing millions to grow its cybersecurity ecosystem by attracting startups, building infrastructure, and creating a centralized cyber command. NYCEDC is backing a CyberCenter to host New York City's first cybersecurity-dedicated accelerator. Startup companies from around the world are locating in New York. Jerusalem Venture Partners, an Israeli cybersecurity venture fund, is opening its New York office to attract more Israeli companies to the city. In addition, Israel-based D-ID and Intezer will join Team 8, landmark cybersecurity think tank, which recently opened a hub in New York. Additionally, according to a recent Indeed.com Cybersecurity Spotlight Report, NYC ranks as number 2 on the list of US cities with the most cybersecurity job postings and is in the top 3 for having the highest salary for information security specialists.
The Yeshiva Difference
Real-world experience with opportunities for internships and fieldwork.
Flexible evening courses, so you can work full-time while completing your degree.
One-on-one executive coaching.
Small classes where you'll get to know everyone by name.
Convenient Midtown Manhattan location surrounded by leading blue chips and startups.
YU is an academic powerhouse, ranked a Top 100 University by US News & World Report.
Who Should Apply?
The MS in Cybersecurity is ideal for students with a variety of backgrounds including IT/IS, computer science, engineering, science, and business, as well as early and mid-career professionals with relevant on-the-job experience. Applicants may transfer up to six (6) graduate credits into the program.
Last updated Feb 2020
About the School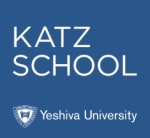 The Katz School at Yeshiva University gives students the opportunity to further their intellectual and professional pursuits and become a part of one of U.S. News and World Report's top 80 universitie ... Read More
The Katz School at Yeshiva University gives students the opportunity to further their intellectual and professional pursuits and become a part of one of U.S. News and World Report's top 80 universities in the United States.
Read less