MS in Accounting (University of North Carolina at Greensboro)
Home ›
MSc ›
MS in Accounting (University of North Carolina at Greensboro)
Program Description
Set yourself apart
If you're interested in obtaining your CPA license and working in public accounting or industry, the Bryan School's MS in Accounting (MSA) may be the right program for you.
We accept students into our program from varied academic and professional backgrounds. You need not have earned a bachelor's in accounting prior to admittance. If you are contemplating changing careers and entering the high demand field of accounting, the UNCG MSA offers the flexibility and career connections that you need.
The mission of the MSA program is to provide an opportunity for students to pursue intensive studies in accounting and related subjects. Through our exclusive internship program, career services support, and hands-on learning in the classroom, the program provides students with a foundation for successful careers in public accounting and industry.
The MSA program also serves as the department's primary vehicle for preparing students to seek qualifications such as a Certified Public Accountant (CPA). All students will complete advanced financial accounting, taxation and auditing courses as part of the program.
Professional success rests on a solid foundation
Morgan Perry (MSA '13) is an Audit Manager at Dixon Hughes Goodman (DHG) in High Point. Before advancing to her current position, she worked as an assurance associate and senior associate following her internship at DHG as an assurance intern while in graduate school.
Perry works with construction clients to provide the best possible service on audits and reviews and provides support on tax and IT issues. A key part of her job is building relationships and she is often on site, working shoulder to shoulder with her clients. "I typically spend several weeks at the client office to understand what drives their business. No day or week is ever the same because we're always working on different issues," Perry explains.
The rigorous coursework at the Bryan School provided a solid foundation for the realities of the accounting profession.
Tuition, Costs and Financial Aid
We charge tuition and fees based on a sliding scale, dependent on the classification of your courses as graduate or undergraduate and the number of credit hours you are enrolled for.
Admissions
Applications are accepted at any time during the year and admission decisions are made on a rolling basis. Applicants must hold a bachelor's degree from an accredited college or university and satisfy all general admission requirements of the UNCG's Graduate School. Applicants completing their undergraduate degrees may apply for admission in their senior year.
Requirements
Applications are considered complete and will be reviewed by the program committee for an admission decision once all of the following documents are received by The Graduate School:
Completed application and application fee
Official transcript from an accredited college or university indicating baccalaureate degree
Official GMAT* or GRE Score
Resume
Personal Statement**
Three letters of recommendation
TOEFL (or equivalent) for non-native English speakers
Please note – weaker performance in one area may be offset by particularly strong performance in another area. Students entering our program during the 2016-17 academic year had an average GMAT of 565 and average GPA of 3.43.
Last updated Apr 2018
About the School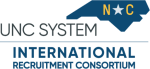 UNC International represents a group of 11 high-quality universities within the University of North Carolina System.
UNC International represents a group of 11 high-quality universities within the University of North Carolina System.
Read less