MS Marketing Strategy and Business Development
Home ›
MSc ›
MS Marketing Strategy and Business Development
Program Description
objectives
Train in marketing, multi-channel marketing, communication and sales.
To enable students to acquire knowledge and to develop their know-how and their know-how, necessary for an integration and an evolution in company.
Develop the ability to take initiatives to act as a leader and to work in a team: qualities essential to the professional success of future managers
Strong points
A program offering a double-competency: in marketing / commercial strategy
A course adapted to ESC, IEP, Engineers, Academics or Cadres in training recovery
Educational content created from real business cases
A professional training: mission, challenge in company, business dating, professional conferences ...
A promotion on a human scale
Modules and materials
The MS Marketing and Business Strategy is based on solid academic training provided by speakers with an academic background and extensive professional experience. The curriculum is based on an alternation between courses, competitions and corporate missions. Its vocation is to train in marketing, multi-channel marketing, communication and sales. Learning by doing is the foundation of our pedagogy, through missions or challenges.
This training is provided on the Le Havre campus. It has been designed to enable students to acquire knowledge and develop their know-how and their skills, which are necessary for enterprise integration and development. It develops the ability to take initiatives to act as a leader and to work in a team: qualities essential to the professional success of future managers. The option combines learning phases in the form of seminars delivered by professional speakers and phases where the student is fully active in his training (1 mission, 3 challenges).
Module 1: Knowledge of self and the group
This module aims to learn the basics of interpersonal relationship in a professional setting. This will help you understand the basics of building leadership and how to position yourself in a group to succeed and thrive.
Module 2: Trade Negotiation
This module, very operation, will allow you to perfectly integrate effective techniques to carry out a commercial interview and conclude your sale effectively (preparation, customer targeting, identification of expectations, method of argumentation, closing techniques)
Module 3: Industrial Marketing (in English)
Totally in English, this course aims to understand the specific issues of industrial marketing through fundamental knowledge and practical cases.
Module 4: Marketing and Business Strategy
In this module, you will learn the mindset and methods of marketing in an operational way. You will answer the following questions: how to set up a customer orientation in the company? How to manage customers in difficult situations or crisis? What are the impacts of loyalty methods?
Module 5: Customer Relationship Management and e-marketing
In this module you will answer the following questions: What are the differences between an RCMP-based business development model and others? What are the challenges and constraints of a business model adapted to web-marketing activities? How to integrate the Internet and mobile dimensions into a corporate strategy?
Module 6: Communication Strategy and Brand Management
In this module you will learn about the fundamentals of communication strategy and brand strategy (creative strategy, brand architecture, perspective and future, etc.).
Module 7: Marketing Strategy
A very operational module, you will use your knowledge to define the most appropriate strategy for your competitors. Supervised by experts, you will need in a simulation to define your strategic choices to be the most effective.
Module 8: CSR
You will understand the issues for the CSR business and identify the role of marketing in implementing a sustainable development approach.
Module 9: English
Module 10: Career Path
Module 11: Memory Methodology
Conditions of admission
Bac 5 without experience or Bac 4 with 3 years of professional experience. Possible derogation according to jury's assessment
Output level
Label awarded by the Conférence des Grandes Ecoles
Admission
International applicants (who need a visa) must send their application no later than 1 July.
In parallel with the application file EM Normandie , international candidates must set up a Campus France file in order to facilitate obtaining their visa.
If you are accepted into the program, you will be required to pay a deposit of € 2,500 (deductible tuition fees) to reserve your place in the training. You will be accompanied in your visa and accommodation by the International Relations Department once you have paid the deposit.
Career Opportunities
Sales manager, sales team manager, product manager assistant, product manager, marketing manager, communication manager, web marketing manager, department manager, point of sale manager ...
Last updated Dec 2018
About the School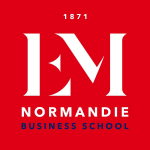 Over the last 25 years, the Chambers of Commerce of Caen and Le Havre have combined their efforts to set up a joint structure in Higher Education for the benefit of their respective towns and regions. ... Read More
Over the last 25 years, the Chambers of Commerce of Caen and Le Havre have combined their efforts to set up a joint structure in Higher Education for the benefit of their respective towns and regions. Today, this effort has given birth to the Ecole de Management de Normandie, a unified and strengthened business school ready to meet both the national and international needs of firms.
Read less