MS Human-Centered Interaction Design
Home ›
MSc ›
MS Human-Centered Interaction Design
Program Description
Introduction
"One of the biggest and fastest-growing career fields in today's technology sector." – Fortune Magazine
It's a wonderful thing when one of the fastest-growing tech-related career fields is accessible to you – even if you don't hold a tech-related degree. In fact, having a liberal arts, humanities, or social and behavioral science background actually makes you a better fit for the Human-Centered Interaction Design (HCID) field than the techies!
HU's HCID master's degree program is about designing processes, apps, and environments to make more fulfilling and useful experiences for people. It requires creativity, empathy for people, and strong problem-solving skills.
For example, once you've completed your MS degree, your work could involve:
Designing food-ordering kiosks that are intuitive, easy to use, and people-friendly
Using your knowledge to redesign the experience of a museum to allow visitors flexible and enriching interaction with exhibits.
Reconfiguring an MRI room in a hospital to engage children rather than intimidate them
The career possibilities are endless and the industry is clamoring for those qualified to bridge the gap between environments, technologies and the public. When you graduate with your HCID master's degree, you'll be ready to begin a career in user research and interface design, interaction design, business analysis, or information architecture. You'll be able to improve life for millions of people by making technology options and human interactions that provide a gateway to a fuller, more satisfying life rather than a frustrating barrier.
Your HCID program is held on HU's Philadelphia campus with a sprinkling of online classes and hybrid classes that meet on the occasional weekend. There are two program start dates each year. Ultimately, you will gain the skills to design effective and engaging interfaces, interactions, and user experiences that leverage the best of digital technologies and bring them seamlessly into complex human environments.
According to the Harvard Business Review, there is strong corporate interest in "design thinking" as a way to open businesses to new markets through innovating new human-centered products and experiences. With an HCID master's degree from Harrisburg University – Philadelphia, you'll be ready to enter this exploding field. Within just a few years after graduation, you could be earning in the six figures while doing work that is stimulating and highly valued.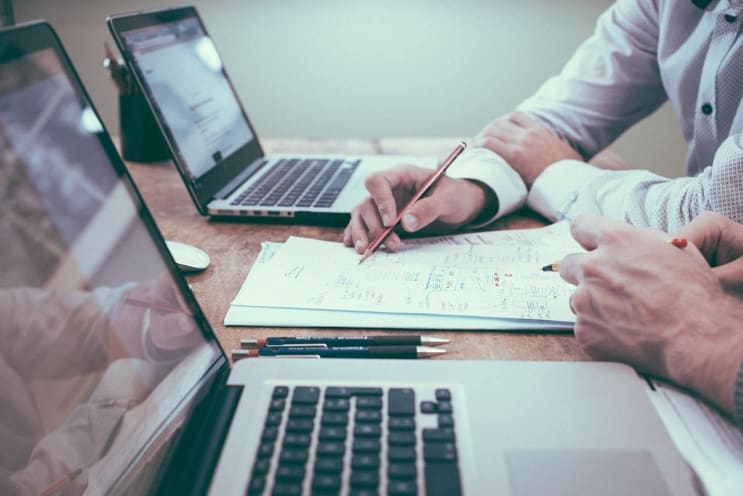 Free-Photos / Pixabay
Master of Science in Human-Centered Interaction Design (HCID)
The 36-semester hour graduate program in Human-Centered Interaction Design intends to promote the human-centered collaborative mindsets that are part of the 21st-century push to design-driven business frameworks. The HCID master's program is interdisciplinary, bringing together the application of knowledge drawn from the social and behavioral sciences, information science, software engineering, and project management. The degree promotes design thinking, and a focus on user needs as primary innovation drivers for successful digital products, services, and experiences.
The degree is intended to train individuals with liberal arts, humanities, business and technology backgrounds for careers in the rapidly growing field of UX research, digital service design, and interactive product strategy and design. Job titles possible for students after graduation would include UX Researcher, Interaction designer, UX designer, Information architect, Interactive systems designer, Digital systems analyst, and Digital services (or UX) manager.
The Masterclass
To scaffold the bridge between existing training and experience, and the new design-focused interactive field, the HCID program will employ a unique introductory approach to intensive skill and knowledge building approach called Masterclass. The Masterclass in HCID will function as a pre-entry exposure and training certificate program. It will serve two functions:
Expose and introduce existing degree holds to the history, perspectives, contexts, and methods that form the foundations of Design practice; and
Evaluate each new cohort interest in and capacity for interdisciplinary creative thinking and digital medial production.
The student from non-interactive, non-business backgrounds will undertake the Masterclass (non-credit bearing). If the student achieves a satisfactory grade, the student will be admitted to the HCID program. If the student does not meet the standards, the student will be given a professional certificate in HCID.
Program Goals
Demonstrate foundational knowledge of theories and applications from human behavior and design science.
Communicate, collaborate and coordinate effectively across diverse populations and media.
Effectively research people, document problems and determine research relevance.
Develop and reflect on the emerging role of professionals as design thinkers.
Design and produce engaging interventions facilitated by digital technologies.
Human-Centered Interaction Design Requirements
The following courses comprise the Master of Science in Human-Centered Interaction Design - 36 semester hours. The semester hour value of each course appears in parentheses ( ).
Complete all of the following Core courses – 18 semester hours:
IMED 500 Design Perspectives (3)
IMED 504 Methods for Design Research (3)
IMED 510 Human Sociotechnical Interactions (3)
IMED 520 Users & Populations (3)
IMED 540 Design Tools & Processes (3)
IMED 570 Designing Patterns & Contexts (3)
Complete the following experiential courses – 6 semester hours:
IMED 695 Design Research Studio (3)
GRAD 699 Graduate Thesis (3)
Complete the following concentration:
Individualized Concentration:
The Master of Science in Human-Centered Interaction Design student must take 12 elective credits (9 credits of existing courses with advisor consultation/approval and a 3 credit IMED 680 Special Topics course). Existing course offerings across Harrisburg University's master's degree programs will provide the student with opportunities to deepen their skills and knowledge of cognate areas in Analytics, Healthcare IT, E-Business, and IS/IT Management, dependent on the student's interest. Upon acceptance to the program, the student will receive one-on-one advising to craft an appropriate program of study that balances the core focus in HCID, with complementary training from other Harrisburg University graduate programs. The intent is to provide the student with personally relevant training in subject and skill areas that align with the student's career goals.
Admission Process
Email HMS@harrisburgu.edu to request program details and application instructions.
The admission process at HU is designed to help you make good decisions about your educational choices and to make sure you explore all the enrollment options at the University, so you find the plan that works best for you. The process is meant to be informative and encouraging–not to present an intimidating barrier to your educational plans. Just as every student receives personal attention in the classroom, every applicant receives thorough consideration and guidance during the enrollment process.
The University seeks students from a variety of backgrounds who can contribute to a vibrant and diverse University community. Students can demonstrate their academic potential through a variety of means. No one particular factor can measure a student's potential, therefore the University gives consideration to all aspects of your admissions application.
Last updated Nov 2019
About the School
There's so much that's great about Harrisburg University. It's hard to choose what's the best reason to attend college here.
There's so much that's great about Harrisburg University. It's hard to choose what's the best reason to attend college here.
Read less