MPhil in Chemical and Biomolecular Engineering
Home ›
Master ›
MPhil in Chemical and Biomolecular Engineering
Program Description
The program is offered by the Department of Chemical and Biological Engineering with the following research foci and state-of-the-art facilities, providing students with an ideal environment for research.
Research Foci
Chemical and Biological Engineering is a highly diversified engineering and science discipline. The Department's research can be classified into five major areas:
Advanced Materials
Nanomaterials, graphene, 2D materials, zeolites, novel polymers, polymer composites, DNA self-assembly process, polymer interfaces, and surfaces as well as polymer/ceramic membranes. In-depth studies are being carried out in nanomaterial synthesis and characterization, rheology, non-Newtonian flow, heat and mass transport, and process control associated with the injection-molding process.
Biomolecular Engineering
Molecular-level design and engineering of nature-derived and artificial materials for regenerative medicine, drug deliveries and therapeutics, novel sensing strategies, and diagnostic platform for point of care, synthetic and systems biology, omics technology, and bioinformatics.
Energy Technologies
Energy storage and conversion technologies including fuel cells, advanced batteries, solar cells, electrolyzers, and supercapacitors. The main research activities include optimization of energy systems, development of advanced materials and critical components, understanding reaction mechanisms, and modeling/ simulation.
Environmental Engineering
Air pollution formation and abatement, deodorization of indoor air, catalytic and advanced oxidation, electrocoagulation and electrooxidation, advanced methods for wastewater treatment, hazardous wastes and micro-contamination, waste minimization, and cleaner technologies.
Product and Process Design
Design optimization, chemical processes, biochemical processes, environmental fate and transport, and surface phenomena and effects. The design of high value-added products, such as food additives and pharmaceuticals, is also an active research area.
Facilities
The Department has state-of-the-art analytical instrumentation, including high-performance liquid chromatography, gas chromatographs with a mass selective detector, flame ionization detector, inductively coupled plasma spectrometer, organic carbon analyzer, UV/ visible spectrophotometer, Raman and FTIR spectrometers, differential scanning calorimeter, capillary rheometer, and universal testing machine. In addition, each area of research has specific facilities available to it.
The University's central facilities provide relevant supports, including an electronic support shop, instrumentation pool, machine shop, and the Design and Manufacturing Services Facility. There are also advanced computing facilities, including a massively parallel processing computer.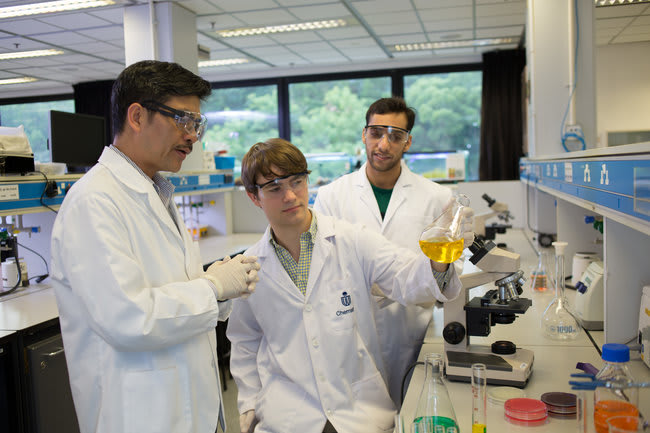 Admission Requirements
i. General Admission Requirements
Applicants seeking admission to a master's degree should have:
Obtained a bachelor's degree from a recognized institution, or an approved equivalent qualification.
ii. English Language Admission Requirements
You have to fulfill English Language requirements with one of the following proficiency attainments*:
TOEFL-iBT: 80#
TOEFL-pBT: 550
TOEFL-Revised Paper-Delivered Test: 60 (total scores for Reading, Listening and Writing sections)
IELTS (Academic Module): Overall score: 6.5 and All sub-scores: 5.5
*If your first language is English, and your bachelor's degree or equivalent qualification was awarded by an institution where the medium of instruction was English, you will be waived from fulfilling the above English Language requirements.
#refers to the total score in one single attempt
For more program information, please refer to pg.ust.hk/programs
Last updated Oct 2020
About the School

Located at the Clear Water Bay of Hong Kong, the Hong Kong University of Science and Technology (HKUST) is a research-focused institution that ranks first among top young universities in the world (Ti ... Read More
Located at the Clear Water Bay of Hong Kong, the Hong Kong University of Science and Technology (HKUST) is a research-focused institution that ranks first among top young universities in the world (Times Higher Education Young University Rankings, 2020). With an international outlook and global reputation, the university aims to be a leading university, both locally and internationally, through excellence in teaching and research. With the unprecedented demand for high-end talent in support of the development of Hong Kong and the world, The Hong Kong University of Science and Technology (Guangzhou) (HKUST(GZ)) will be set up in Nansha, south of Guangzhou, to synergize with its Clear Water Bay (CWB) counterpart, nurturing talents and facilitating collaboration amongst Hong Kong, the Guangdong-Hong Kong-Macao Greater Bay Area (GBA) and beyond on education, research and knowledge transfer.
Read less