MGBM - Track 2: Innovation and Entrepreneurship
Home ›
Master ›
MGBM - Track 2: Innovation and Entrepreneurship
Program Description
Master of Global Management (MGM) - Innovation and Entrepreneurship
Overview
The program is a full-time pre-experience postgraduate degree program. It is tailor-made for fresh engineering, science or management graduates, both Chinese and international, who are interested and determined in gaining knowledge and skills to encourage innovation management and harness the power of technology within global organizations or Chinese business context. Upon completion of this program, students will become not only equipped with skills to take a leadership role in innovation and technology management but also with cutting-edge knowledge and practical sense of doing business in China.
Research Orientations
1. Engineering Economics and Project Evaluation 2. Venture Capital and Entrepreneurship 3. Investment Decision-making Analysis 4. Technological Innovation Management
Duration of Learning
Total 2 – 2.5 years, including 1 to 1.5 years for program courses and at least 1 year in preparation for a thesis for master degree. All the required courses must be finished within 4 years.
Credits
Master candidates shall earn no less than 28 credits, including 6 credits for public courses, 12 credits for core courses, 8 credits for elective courses and 2 credits for compulsories. Students who don't have a background in economics or management must select the catch-up courses, which will not be granted any credit.
Note: 18 credit hours per credit; 2 or 3 credits per course.
Highlights
New approaches to innovation based on the science of management, driven by the communication and the caliber of fully leveraging technology and information.
Gain advanced knowledge and practical sense of doing business in China through an interesting line up of lectures, workshop, and seminars delivered by renowned scholars and industry experts.
Exposure to Real-life Business: engage with real challenges in China-based companies seeking for fresh solutions to their existing business challenges and sharpen your career path through the International business consultation project.
Start your venture on campus: Our Innovation and Entrepreneur center "Tongji Venture Valley" provides students with the platform to bring ideas to life and gives daily contact with a start-up culture.
Possible to get a double degree within 2.5 years of study: one Master degree from Tongji plus one Master degree from international partner institutions such as ESCP Europe, EMLYON Business School, EBS, HHL Leipzig, Politecnico di Milano and etc.
One-on-one mentoring with a designated faculty member for thesis writing for degree-seeking students.
A wealth of extracurricular activities on campus: e.g. Shanghai City tour, Cultural activities like paper-cutting, Chinese calligraphy, dumpling-making, Shadow-boxing, one-day excursion to water-town, Chat with Dean, Chinese buddy program, New year party, International Food Carnival, Chinese Festival Revelry, Chinese corner and etc.
Timetable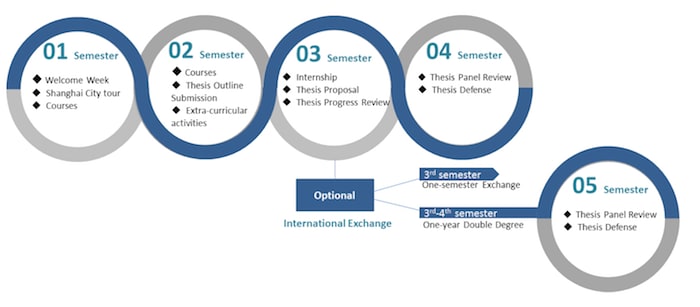 Students' Nationality
For the students' nationality, we take the statistics for the most recent three academic years as an example. Besides the Chinese master students, each academic year, international students from more than twenty countries study in the program. They joined in the master degree-seeking program, master double degree program and non-degree program. The proportion of international students and Chinese students is about two to one. Please find the following graph concerning the students' nationality.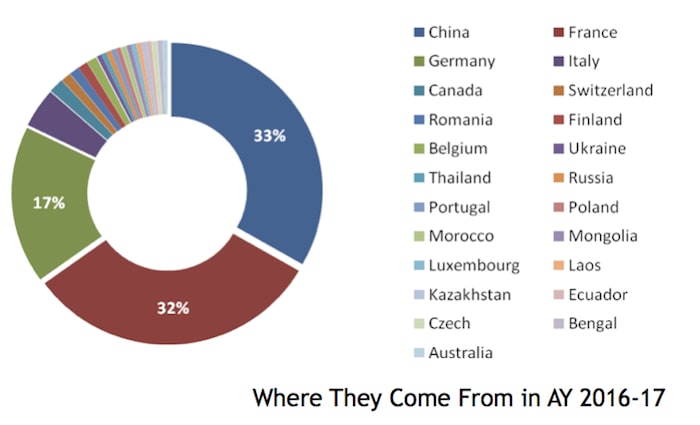 Diploma and Certificate
Upon completion of the all the degree requirements for the MTEM study at Tongji, the students will be conferred Master's Degree of Science in Management and a Graduation Certificate from Tongji University.
Contact Us
email to: tongji_sem_yu@hotmail.com, semtj@tongji.edu.cn
Add.: International Cooperation Office of SEM, Room 1301, Tongji Building A, No. 1500, Siping Rd. Tongji University, Shanghai, P.R. China, 200092
Last updated Feb 2019
About the School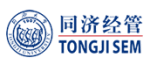 Tongji University began programs in Economics and Management in 1956, and was one of the earliest universities in China to launch such programs. The School of Economic Management was founded in 1984, ... Read More
Tongji University began programs in Economics and Management in 1956, and was one of the earliest universities in China to launch such programs. The School of Economic Management was founded in 1984, and merged with the Business School to become the School of Economics and Management (hereinafter referred to as SEM) in 1998. At present, SEM covers the main disciplines of Economics and Management through the Department of Management Science and Engineering, the Department of Construction Management and Real Estate, the Department of Business Administration, the Department of Accounting, the Department of Public Administration, and the Department of Economics and Finance. Corresponding research institutes and laboratories have also been established in second-level disciplines.
Read less