MFA in Literary Translation
Read more about this program on the school's website
Program Description
What can I do with BU's MFA in Literary Translation?
Graduates of MFA in Literary Translation will be equipped with the skills, connections, and portfolio to find translation work and to pursue a wide variety of international careers, not only in literary but also in technical, legal, and humanitarian fields. They will be well qualified to work as editors in literary publishing, as many Boston University MFA and Ph.D. graduates have gone on to do.
For those desiring further graduate study, the MFA provides an exceptionally strong foundation from which to begin a Ph.D. in comparative literature, language & literature, or area studies or social science field.
"What makes a good translator?"
The BU Master of Fine Arts in Literary Translation gives students the tools to read more carefully and write more thoughtfully across languages. Located in the heart of Boston's vibrant literary scene, the program is built around BU's storied literary translation seminar, which brings leading literary translators to Boston to talk technique with our students. The two-semester curriculum includes courses in translation history and theory, language-specific workshops, and advanced literary study. A collaborative workshop brings together students translating from different languages. Students work closely with faculty mentors to produce a publisher-ready translation. The BU MFA in Literary Translation is the only program of its kind to include a specially designed course in English style for translators.
We currently accept students translating from Arabic, German, Greek, Japanese, Latin, Persian, or Spanish into English.
Coursework
The MFA in Literary Translation requires eight one-semester courses (4 credits each) and a substantial final translation project. It is designed to be completed in two semesters.
Fall:
GRS TL 500 History and Theory of Translation (4 credits)
Literature Elective 1 (500-level or above, chosen in consultation with advisor) (4 credits)
GRS TL 505 Literary Style Workshop (4 credits)
GRS Language-Specific Translation Workshop (500-level or above from the approved list of translation workshops) (4 credits)
Spring
GRS TL 541 Translation Today (4 credits)
GRS TL 551 Topics in Translation (4 credits)
Literature Elective 2 OR an approved Linguistics course (500-level or above, chosen in consultation with advisor) (4 credits)
GRS TL 540 Translation Seminar (XL540, redesigned) (4 credits)
Final Translation Project: Capstone (no-credit requirement)
TL 500 Theory and History of Translation. Introduction to the history of translation and the main trends in the field of Translation Studies. Students will learn about the history of translation, from Cicero and St. Jerome to Google Translate, and will become familiar with the main theories and approaches to translation from Schleiermacher on. Theoretical readings will be accompanied by articles by working translators, including concrete examples. Class discussions will help students develop an analytical and critical framework for approaching translation and understand the debates that inform the field today.
TL 505 Literary Style Workshop. Sharpens students' sense of American English collocations, usage, and typical patterns of cohesion and coherence, and familiarizes students with reference and training resources in this area. You will explore the centrality of text type or genre in translation and study examples of a distinctive style, both in English-language writers as well as in stylistically diverse translations into English of a single source text. Students acquire analytic frameworks and vocabulary for describing stylistic choices and effects, and for justifying their choices as translators.
Language-Specific Translation Workshops. Boston University offers language-specific translation workshops. Those include LY572 (Arabic), LG 610 (German), CL 691 (Greek), LJ 686 (Japanese), CL 651 (Latin), LZ 611 (Persian), and LS 606 (Spanish) While the specific requirements and class structure may differ from course to course, they all teach practical skills of translating different types of texts. Each student is required to complete a final translation project.
TL 540 Translation Seminar. In this course, students practice translating and work on individual translation projects. The class meets twice a week, once for a translation workshop and again for a lecture by an invited speaker, followed by a discussion. During the first half of the semester, the workshop focuses on analyzing existing translations of poems or short passages from different languages; students may not know all relevant languages but are provided with the information needed to attempt their own translations. Students are guided to be fully aware of the strategies they employ and the choices they make in diction and style. Translations are later peer-reviewed and discussed in class. During the second half of the semester, students work on individual translation projects, which are mentored by a faculty expert. Projects are presented in class, including progress reports and problems encountered during translation.
TL 541 Translation Today Students attend weekly lectures by invited speakers, followed by a discussion. The second class meeting focuses on concrete issues arising from the material presented in the Friday lecture. Readings and handouts are provided by the invited speaker or assigned by the instructor. When possible, the material is made available before the Friday lecture to allow students to prepare questions and topics for discussion with the speaker following each lecture. Since invited speakers work in a variety of languages and genres (poetry, drama, essay, fiction, and beyond), students will be able to engage directly with a variety of materials and approaches.
TL 551 Topics in Translation Studies: Topics will vary. Professor J. Keith Vincent will teach the first iteration, "Lives of Translators," in Spring 2021. Asking why it matters who translates, students will read biographies and memoirs of literary translators to understand how aspects of the translators' identities shaped their work and its reception, and what we can learn as translators from the life stories, work habits, translation strategies, and career paths of great translators. Translators include Constance Garnett, C.K. Scott Moncrieff, Helen Lowe-Porter, Gregory Rabassa, Michael Henry Heim, Arthur Waley, Edward Seidensticker, Barbara Wright, and Kate Briggs. The course will also explore "transfiction": fictional representations of translators in literary works such as Samuel Delaney's Babel 17, Rabbih Allameddine's An Unnecessary Woman, and others.
Elective Literature Courses
Students may choose from among any graduate literature courses offered in Romance Studies, Classics, or English, and from both undergraduate and graduate literature classes offered by World Languages & Literatures, with the understanding that in case of undergraduate classes, requirements will be adjusted for the graduate level. All electives have to be approved by the Program Director.
Below is a small sample of literature offerings for each language. Students are encouraged to check course listings on their own and consult with their advisors to find other course offerings.
Arabic
GRS LY 650 Introduction to Arabic Literature
GRS LY 741 1001 Nights in the World Literary Imagination
German
LJ 653 Romanticism
LJ 661 German Poetry
Greek
CL 691 Graduate Greek Seminar
CL 724 Greek Drama
Japanese
LJ 660 Haruki Murakami and His Sources
LJ 680 Japanese Women Writers
Latin
CL 651 Graduate Latin Seminar
CL 710 Classical Tradition in Modern Literature
Persian
GRS RN 648 Rumi and Persian Sufi Poetry
GRS XL 743 Alexander the Great in the East
Spanish
CAS LS 552 Lorca and His Contemporaries
CAS LS 554 Jorge Luis Borges
The Capstone Project is a substantial literary translation into English produced in close consultation with a faculty mentor. In addition to the translation itself, you will write a translator's preface in which you introduce the text and the author, articulate your goals as a translator, and talk about the challenges you faced in translating.
Tuition
The department of World Languages & Literature offers merit scholarships to our MFA in Literary Translation applicants based upon the strength of each applicant's credentials. All admitted domestic and international applicants are considered for a scholarship of up to 50% of full-time tuition and will be notified of the scholarship offer in the admission letter.
The Graduate School of Arts & Sciences Financial Aid Office, located at 705 Commonwealth Avenue, Suite 112, is a resource for current and prospective GRS students and can provide assistance with scholarship and federal loan processing. Students are welcome to contact GRS with any questions regarding tuition or financial aid at grsaid@bu.edu or (617) 353-2696.
Tuition & Fees (2019-2020)*
Full-time Students (12-18 Credits/Semester)
Tuition (per semester): $27,360
Student Service Fee: $344
Health & Wellness Fee: $438
Total: $28,142
Part-time Students (Less Than 12 Credits/Semester)
Tuition (per credit): $1710
Student Service Fee (per semester): $60
*Tuition and fee rates change annually. Tuition for the 2020-2021 academic year will be set in late spring 2020.
Apply
To apply you will need:
A personal statement describing your level of proficiency in the language you wish to translate from, your experience in literary translation and what you hope to gain from the MFA
A translation sample (10-12 double-spaced pages) accompanied by the relevant passage of the original text
A sample of critical writing in English (8-12 double-spaced pages)
Three letters of recommendation
Transcripts of B.A., B.S., or Master's degree (B.A/B.S. must be completed prior to September 2020)
TOEFL scores if appropriate
The application deadline is February 15.
Last updated Jan 2020
About the School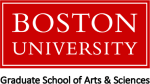 Welcome! Arts & Sciences is Boston University's largest academic division, the heart of a world-class research university. Our faculty in the Graduate School of Arts & Sciences are among the w ... Read More
Welcome! Arts & Sciences is Boston University's largest academic division, the heart of a world-class research university. Our faculty in the Graduate School of Arts & Sciences are among the world's most respected professors, researchers, and professionals in their disciplines. Our alumni are leading innovation and research and making an impact in their fields. Our campus is Boston, a city vibrant with history, culture, and diversity, and teeming with potential for connections and careers.
Read less