MEng SpaceTech – Master of Engineering in Space Systems and Business Engineering
Home ›
Master ›
MEng SpaceTech – Master of Engineering in Space Systems and Business Engineering
Program Description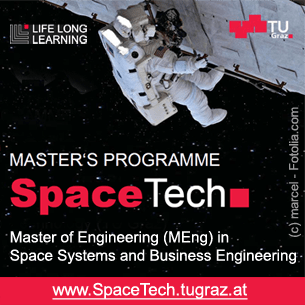 The aerospace sector is a fast-growing market. Multinational corporations are conducting research on cutting-edge technology to successfully develop new products and services. Some examples include satellite services in the communication, navigation and remote sensing fields, aerospace transportation, space tourism or the future mining of extraterrestrial materials. Through the university program "SpaceTech", participants are trained by experts in the fields of Space Systems and Business Engineering and prepared to take on key roles and management responsibilities in the international environment of the space industry.
Quick Facts
Next start: March 2020
Duration: 3 semesters (18 months)
Final degree: Master of Engineering (MEng) in Space Systems and Business Engineering
ECTS credits: 90
Language of instruction: English
Participation fee: € 34,000 (VAT free)


Self-payers: please contact us to evaluate the availability of stipends/scholarships
The participation fee does not cover costs for travel, accommodation, and meals.

Number of participants: limited to 18
Course location: European Space Centers:

TU Graz, Austria (Apr 2020)
CNES Toulouse, France (Jul 2020)
NASA GSFC Greenbelt, MD, USA (Oct 2020)
DLR GSOC Munich, Germany (Jan 2021)
ESA ESRIN Frascati, Italy (Apr 2021)
ESA ESTEC Noordwijk, Netherlands (Jun 2021)
TU Graz, Austria (Sep 2021)
Content
You gain comprehensive knowledge on the current state of international research in the following fields:
Applied Project Management for Space Systems
Business Engineering
Space Mission Analysis and Design
Telecommunications
Earth Observation
Systems Engineering
Navigation
Human Space Flight
In addition, you acquire leadership and social skills, perform case studies (Central Case Project – CCP) and complete a Master's thesis. The course content is taught by internationally recognized experts from the respective fields.
Target Groups
This postgraduate university program is appropriate for
Experts with several years of experience working in the aerospace sector and
International mid-career professionals seeking top-level expertise in space systems and business engineering.
Admission Requirements
Bachelor's or Master's degree (BSc or MSc) in a technical, scientific, business or law field
Typically 5 (at least 3) years of professional experience working in the aerospace sector
Good command of the English language
Lessons
Preparatory online course
Followed by 6 sessions with mandatory attendance, each lasting two weeks and located at the 6 European Space Centers
Central Case Project (CCP) conducted in a team
Completion of the Master's thesis
Final session with mandatory attendance, which includes the exam and award of the degree (MEng SpaceTech)
By combining online lessons with lessons taught on-site, the course has been optimally designed to the needs of working students. "Specialists from the aerospace industry can both expand their technological knowledge, but also prepare to take on leadership positions and become familiar with modern business practices in an international environment by taking this training course". Otto Koudelka, program director
Career Options and Qualifications
Graduates have a comprehensive knowledge of aerospace applications and mechanical engineering, have acquired expertise that can be applied in their professional life and have gained experience working in responsible and multicultural teamwork collected. The potential occupations include diverse management positions in the aerospace industry– in either corporations or various aerospace agencies.
Application
Next program will begin March 2020 Application deadline: 15 January 2020
Required documents:
Completed and signed application form
Curriculum vitae including a portrait photo
Copies of relevant certificates
Send an inquiry if you are interested in filling out the form on the right. You can also send application forms by e-mail or mail to directly:
TU Graz Life Long Learning
c/o Dipl.-Ing. Peter SCHROTTER
Rechbauerstraße 12
8010 Graz, Austria
Please mention that you have read about the program on Masterstudies.com.
The program director will decide which applications will be accepted after examining the application documents and interviewing the applicants.
Last updated Sep 2018
About the School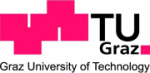 In world-wide competition with comparable institutions, Graz University of Technology pursues top teaching and research in the fields of science and engineering. An integral part of putting together e ... Read More
In world-wide competition with comparable institutions, Graz University of Technology pursues top teaching and research in the fields of science and engineering. An integral part of putting together excellent education and training programs is knowing about the needs of society and the economy. Ultimately, the quality of the education and training at Graz University of Technology is carried by the strength of its knowledge-oriented and applied research. Numerous competence centres, the Christian-Doppler laboratories, special research fields, research focuses, and large EU projects are only a few examples of the University's extremely active and successful research.
Read less