Program Description
A postgraduate program in two years specialized in International Design Strategy, a single master's degree in design
Because of its economic, social and cultural uniqueness, São Paulo has appeared as the ideal learning field for our 3rd international studio, after Shanghai and Delhi. In association with the prestigious Mackenzie University, founded in 1870 (11 faculties, 42,000 students), we offer a program hosted within the School of Architecture and City Planning.
Main themes
Immersion environment
Urban Design in the context of high population density
Social Design adapted to multiculturalism
Curriculum
The MDes programs, established over two years, are organized in four semesters validated by 30 ECTS each. A consequent and increasing personal working time is expected for each module.
Semester 1
Students spend this semester abroad in an internship as a junior designer (13 weeks minimum). They follow before this internship a module including a welcome seminar and methodology-transculturality (80 hours), language courses and local culture (30 hours).
The goal of this semester for students is to highlight and expand professional knowledge in the context of another culture.
Semester 2
During this semester, students learn how to manage complex design projects, deepen their knowledge of the economic, social and cultural aspects of the field covered in their program, build and apply a methodology and support their end-of-term project. studies, the subject of which they themselves define.
Semester 3
Continuation and finalization of the end-of-studies project summarizing all the professional skills acquired. It can be conducted in collaboration with a company and/or research laboratory of a partner university. This personal end-of-studies project must be related to the program in which students are enrolled.
Supervision is ensured in the form of workshops under the direction of a referent designer, to which punctual speakers are associated. Writing a thesis in the theme of the project.
Semester 4
The study program ends with a minimum of sixteen weeks (and a maximum of six months) internship within a company, in France or abroad.
Trainees work as junior designers and support all or part of a project.
The student must demonstrate his ability to integrate into a team, manage a project and develop all the sequences of the project for its smooth running. It allows the student to articulate all of his studies with what will be his first professional experience.
Depending on the professional project of the student, this internship can also take place within a company that the student will create, or even within a research laboratory.
São Paulo, Brazil
São Paulo is a creative, hyperactive, seductive and warm city, where design, architecture, communication, events and innovation agencies abound. "Sampa", the largest urban center in the southern hemisphere, is the economic center of Brazil, a young democracy and a market of more than 200 million inhabitants. The city is considered as one of the most culturally diverse in the world.
A unique two-year program
Located in the heart of a downtown campus, the Brazil Studio offers a bilingual program that allows accelerated acculturation to Portuguese and the Brazilian context.
This MDes program, leading to the master's level degree (Diplôme de design) certified by the Ministry of higher education, deals with topics related to immersion environment (mobility, health, distribution, education, food, access to energy, waste management, environmental issues) and its specific characteristics (high population density, multiculturalism, natural resources and local crafts, democratic construction, etc.).
Beyond the acquisition of the design profession skills through the experimentation of project management and the experience of complexity, the aim of this program is to offer the opportunity for young graduates to begin an international career.
The MDes program covers four full semesters of accredited curriculum, with 30 ECTS (European Credit Transfer System) credit rewarded per semester. During the first semester, beginning in September, students participate in an orientation seminar before starting their internships. The second semester offers a densely packed schedule of instruction and projects, lead by teaching staff and professional designers. The third semester is dedicated to focused, individual work on a thesis and a personal design project related to Transcultural Design. The fourth semester releases students into a final internship experience, ideally also conducted in Brazil, or at least otherwise international context, and ends with a thesis defense in which each student presents him- or herself as a professional designer.
Last updated Sep 2020
About the School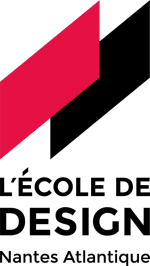 Partner of the Chamber of Commerce and Industry of Nantes, L'École de design Nantes Atlantique is a private institution for higher education dedicated to design professions, in association with l'Univ ... Read More
Partner of the Chamber of Commerce and Industry of Nantes, L'École de design Nantes Atlantique is a private institution for higher education dedicated to design professions, in association with l'Université de Nantes.
Read less