MArch in Architectural Design (International)
Home ›
Master ›
MArch in Architectural Design (International)
Program Description
MArch in Architectural Design (International)
This two-year course is for international students who are looking for a challenging programme of study that meets the Royal Institute of British Architects (RIBA) Part 2 educational criteria.
The course runs parallel to the MArch/Pg Diploma in Advanced Architectural Design. It shares the same curriculum so you'll join students on this course in an exciting and challenging environment.
You'll develop skills in advanced design, analysis and architectural critique designing complex buildings in a variety of contexts and address social, cultural and environmental issues.
This course demands a high level of design ability and self-motivation.
You'll study
Year 1
The first year of study is centred on consolidating your architectural design skills.
You'll be introduced to the idea of architecture as a responsive solution to fundamental social issues.
You'll take a subject class in an area of expertise aligned to the research in the department and research and produce a dissertation on a topic of personal interest related to design.
Year 2
You'll undertake a significant architectural project on which you're required to take a standpoint on contemporary architectural issues. This is developed through a theme that reflects your own interests and creative ambitions and is supported by subject classes.
You'll also attend a taught course in professional studies and a series of guest lectures.
Students progressing from the Diploma to Masters undertake an additional semester of study to pursue an aspect of the thesis project to a greater level of detail.
Study trips provide opportunities for intensive examinations of the culture and built fabric in a variety of urban and rural locations both in the UK and overseas. Recent trips include Barcelona, Rome, Paris and Venice and the less familiar Gdansk, Toledo and Monte Caruso.
Study abroad
You'll have the opportunity to study abroad, subject to academic performance. The department has the most expansive international exchange programme in the UK. We've agreements with 22 institutions across Europe, Canada, the Far East and South America.
Course content
Year 1
Compulsory classes:
Design Studies 4A – To Care (Part 1)
Design Studies 4B – To Care (Part 2)
Cultural Studies 4
Elective classes:
Year 2
Compulsory classes:
Design Studies
Cultural Studies 5
Professional Studies 5
Elective classes:
Special Study Project 5: Choose from this list based on your interest and to support your design thesis and Masters dissertation

Experimental Media, Narrative & Film
The History & Theory of Architectural Conservation
The Theory of Architectural Conservation
Urban Design History
Urban Theory
Urban Landscape Design
Sustainability
International Workshop
Dissertation
Learning & teaching
The course is made up of studio design work, lectures, special projects and workshops.
The focus of the study is on design project work including the analysis, synthesis and appraisal of design ideas. You'll then show your understanding of these ideas through drawings, physical and digital models, written and graphic work.
Each part of the course allows you to explore and develop projects related to your own interests in contemporary architecture.
Assessment
Full-time students are examined over Years 1 and 2 on all aspects of the course.
The MArch degree normally requires further assessment over the summer semester. This will be an aspect of the diploma project that is explored to a greater level of detail.
Careers
Career opportunities for Architecture graduates range from working in large multidisciplinary practices to smaller specialist firms.
Many of our graduates are employed by highly respected practices throughout the world, while others have set up their own businesses.
The department has a growing reputation for developing entrepreneurial graduates who go on to make their mark in the sector independently in practices such as Page and Park, Tog Studio and Lateral North.
Entry requirements
first or second-class Honours degree in Architecture or equivalent agreed on academic standard. This course is aimed at Students who have gained their first degree in architecture from a university overseas. Students with a degree in architecture from a UK/EU university should apply for the MArch Advanced Architectural Design
an academic portfolio will be required containing all relevant design work from your previous course of study
English Language Requirement
IELTS 6.5 or equivalent
Last updated Sep 2019
About the School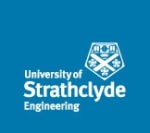 Our Faculty of Engineering is the biggest in Scotland. We're also one of the largest, best equipped engineering faculties in the UK.
Our Faculty of Engineering is the biggest in Scotland. We're also one of the largest, best equipped engineering faculties in the UK.
Read less