Read more about this program on the institution's website
Program Description
With academics following in the footsteps of architectural giants like Frank Lloyd Wright, Le Corbusier and Norman Foster, by winning the RIBA Royal Gold medal and the RIBA International Prize, UCD Architecture guarantees exposure to superlative pedagogy from globally acclaimed architects. Delivered by a School with over 100 years of experience, this elite Master of Architecture has RIAI & RIBA accreditation and has obtained substantial equivalency with NAAB.
This programme and the UCD School of Architecture has additional distinguishing features which make it an attractive and exclusive place to study:
Number 1 choice for Irish high-school leavers
Ranked in the top 50 Architecture Schools in Europe by Domus
Global recognition QS Top 100 in Planning
Accredited and internationally recognised teaching programmes
Vibrant doctoral programme
Research Excellence
Dedicated studio space for each student
Why UCD Architecture?
Architecture at UCD is highly attractive to students due to the exposure to world-leading researchers and significant career prospects.
O'Donnell + Tuomey, RIBA Gold Medal Winners 2015
UCD is ranked in the top 1% of higher education institutes worldwide.
Degrees with high employability with dedicated careers support.
Alumni & Adjunct Professors, Shelley MacNamara & Yvonne Farrell Grafton Architects, Winners of RIBA International Prize
Ireland's largest and most international university.
Established in 1854 with 160 years of teaching and research excellence.
What will I study?
Stage 1 Core:
Design Technologies
Architectural Design
Research & Innovation in the Designed Environment
Stage 1 Options:
Chose two options from below
Realising Built Projects
Conservation History, Theory and Policy
Urban Design Theory (UDT)
Sustainable Building Systems
Sustainable Design & the Occupant
Introduction to Urban Design
Agency: Design / Build
Parametric Design
Irish Timber & Sustainability
Environmental Risk and Behaviour
Psychology of Landscape
Planning, Society and Diversity
Rural & Landscape Planning
Urban and Regional Development
Governing Nature
Stage 2 Core:
Professional Studies
M.Arch Dissertation
Masters Design Thesis
Comprehensive Design Studio
Reflective Portfolio Module
Testimonials
What past graduates have to say:
Vision and Values Statement
This programme is aimed at students who wish to develop a career in architecture. It is a national and international professionally accredited academic programme that will equip graduates to work worldwide in architectural design and in creative and research practice. We encourage and support students to be active, motivated and autonomous learners, who have a critical and reflective approach to architectural design, practice and research.
This studio and lecture-based programme, led by academics and practitioners at the forefront of the discipline, aims to provide an engaging, exciting and innovative learning environment that encourages students to develop their individual professional capacities while placing equal emphasis on research and critical enquiry. We do this through design projects, academic writing, technological and constructional investigations and practical experiments, valuing innovation, investigation and original creative work underpinned by due regard for rigour, depth and precision. Students are provided with a firm foundation in advanced methodologies and skills and develop a close familiarity with the broader disciplinary, regulatory and societal frameworks within which professionals must operate.
The programme uses teaching, learning and assessment approach such as individual and group design projects, live-projects, case students, scenario-based learning and written research and dissertations. Each has a focus on individual development and reflective learning while developing effective group-work, written, verbal and visual communication and presentation skills
Programme Outcomes
Act competently and independently and have the ability to integrate knowledge and handle complexity, formulate judgments with incomplete or limited information, and to reflect on wider professional issues.
Apply their knowledge and problem-solving abilities to the design of an architectural project in response to functional brief and site conditions, including an understanding of social and physical contexts and show this in visual and written documents.
Articulate their knowledge of local and global architectural history and precedent and have explicit in their work the ability to use such knowledge to inform future design and research work.
Communicate and present their design and research questions and the knowledge and rationale underpinning their conclusions at public fora to professional and non-professional audiences, clearly and unambiguously
Embed in their own work their knowledge of the regulatory and building control policy framework that underpins and influences practice and, be aware of the impact of such frameworks on current and future practice.
Evidence an informed and independent view of the role of the architect and the value of architecture to society, communicate and articulate the potential of architecture with regard to the quality of life, environmental performance and climate change, health and well-being, economy etc
Integrate their knowledge of specialized research methods in architecture into their work and be capable of using such methods with rigour, depth and precision to understand, evaluate, and analyse scenarios in architectural theory, design and assembly.
On successful completion of the programme students should be able to: Embed in the visual and written work evidence of their ability to use conceptual and critical thinking and know the appropriate use of both.
Understand structural, environmental, envelope, services and life-saving systems to the extent that the student can clearly evidence their ability to synthesise these within a comprehensive building design programme.
Use analogue and digital methods of visual communication, drawing, presentation, model making, and show judgment in utilising such methods appropriately in order to achieve their design intentions and ambitions
Utilise a range of investigative and design skills, showing in their work their ability to use the appropriate skill at the appropriate stage and an ability to synthesise knowledge to achieve original and excellent design outcomes.
Career & Graduate Study Opportunity
The MArch qualification is RIAI (and European Union), and RIBA accredited and has International Certification with the NAAB. It will equip graduates to work in architecture anywhere across the world, whether in major global centres or in particular regional contexts. This triple accreditation makes this Masters course unique and offers unrivalled opportunities to graduates. Graduates are involved in architectural practice and in other forms of professional creative practice, as well as in areas of policy and consultancy. Many graduates also go on to further postgraduate study, in UCD and elsewhere. Past students in the course's connected programmes have gone on to become international or national experts in their selected fields.
Fees, Funding and Scholarships
MArch Architecture (T273) Full-Time
EU: Year 1 - € 8085
EU: Year 2 - € 8085*
non-EU: Year 1 - € 25600
non-EU: Year 2 - € 25600*
*Second Year Fee applies to Students in 2nd Year in 2020 and who were 1st Year Students on the programme in 2019/20
***Fees are subject to change
Please note that UCD offers a number of graduate scholarships for full-time, self-funding international students, holding an offer of a place on a UCD graduate degree programme.
Entry Requirements
Portfolio Submission is essential
A bachelor's degree in architecture or another approved equivalent degree (NFQ Level 8) with minimum upper second class honours or international equivalence (2.1 or UCD GPA 3.08 or equivalent) is required.
Applicants whose first language is not English must also demonstrate English language proficiency of IELTS 6.5 (no band less than 6.0 in each element), or equivalent
These are the minimum entry requirements – additional criteria may be requested for some programmes.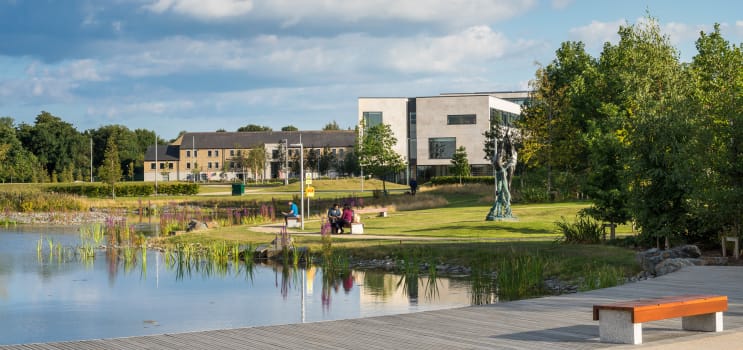 Last updated Nov 2020
About the School

UCD is one of Europe's leading research-intensive universities; an environment where undergraduate education, masters and PhD training, research, innovation and community engagement form a dynamic spe ... Read More
UCD is one of Europe's leading research-intensive universities; an environment where undergraduate education, masters and PhD training, research, innovation and community engagement form a dynamic spectrum of activity. As Ireland's largest university, with its great strength and diversity of disciplines, UCD embraces its role to contribute to the flourishing of Ireland through the study of people, society, business, economy, culture, languages and the creative arts, as well as through research and innovation.
Read less