MA/MFA in Theatre for Young Audiences
Home ›
Master ›
MA/MFA in Theatre for Young Audiences
Read more about this program on the school's website
Program Description
About this course
Duration:

13 months full-time, flexible part-time pathways

Term Start:

October 2020

Entry Requirements:

A good honours degree (usually a 2.1) and/or equivalent professional experience in a related field. You will be required to attend an interview.
This programme is for those who are interested to make and perform theatre by, with and for young people. As one of the UK's leading drama schools, Rose Bruford College offers a unique opportunity to study and train in this increasingly popular and dynamic area of theatre practice.
Programme Director Jeremy Harrison talks about this programme and our Actor Musicianship MA/MFA
Below is an example of our collaborative work with Oily Cart
Watch 2019 Student Jo Frater's TEDx Talk with ConfiCo Performance
Why choose this course?
The Programme at a glance:
From the start of your studies, you will work with young audiences in Schools and Colleges across the South East Region.
You will undertake an industry placement with opportunities to study abroad and participate in the major UK and European festivals of Theatre for Young Audiences

Opportunities to publish research through the College's TYA research centre.

You will work with and study the practice of leading TYA figures from the UK and internationally

Membership through the College of TYA-UK, the UK arm of ASSITEJ – the international association of theatre for children and young audiences.

Employability & Industry
Rose Bruford College is committed to enabling its graduates to have sustained careers. The programme develops skills which will enable graduates to work as theatre makers, performers and facilitators of work for, with and by children and young people. In addition, the MA in Theatre for Young Audiences is a transferable qualification which can be used to access further postgraduate research and Doctoral (PhD) study.
"This MA allows you to explore the growing challenges of Theatre for Young Audiences by putting your work in practice. I immediately was able to realise that Theatre for Young Audiences, is just as challenging, if not more, than Theatre for Adults. By questioning and reflecting upon this area of theatre this course enables a broad understanding of theatre for young audiences, whether through practical workshops in acting, musicality, circus skills, storytelling, teaching, directing or writing. This course allows you to make contact with those involved in this vocational field and work alongside the creative partners within TYA. You work with great people in a lovely environment, therefore, all in all, I definitely recommend this course." Amber-Rose May (MA TYA)
Students on the programme have had the opportunity to visit international festivals (including ASSITEJ Congress Copenhagen, Imaginate Festival Edinburgh, and Takeoff), work with leading companies and theatres (including Catherine Wheels, NIE, Oily Cart, Tall Stories, Unicorn Theatre, Action Transport Theatre, Polka Theatre, Half Moon Theatre, and Travelling Light), and with world-class practitioners (including Tony Graham, Mark Storor, Alex Byrne, and David Wood).
Recent placements have included:
Punchdrunk

Imagination Stage, Washington DC

Trusty Sidekicks, New York

Olive Branch Theatre's Western Sahara Refugee Project

Unicorn Theatre, London

Polka Theatre, London

Half Moon Theatre, London

Birmingham Rep

Theatre Centre, London.
Fee and Application Information
Accreditation
Mode of study: Full-Time or Part-Time
How to Apply
Please apply online
Webinar
View our recent webinar with Programme Director Jeremy Harrison.
International Interviews
We hold international interviews and auditions throughout the year.
2020 Audition Dates for Applicants
Below are our Sidcup audition dates for reference. You must apply first before you can attend an audition.
Time TBC
Saturday 16 May

Saturday 6 June
2020 Course Fees
MA Option (13 months study)
UK/EU fees £12,500

International Fees: £18,000
MFA Option (2 years study)
UK/EU Fees

Year 1: £13,000


Year 2: £7,000
International Fees

Year 1: £16,000


Year 2: £7,000
Alumni Discount
A 5% alumni discount is available for Rose Bruford College BA (Hons) alumni undertaking a full time 13 months MA programme or the first year of an MFA programme.
The Department for Business Innovation and Skills provide a loan for eligible UK/EU students of up to £10,609 per student for postgraduate Masters study.
Course content
Full time
Given the advanced practice‐based nature of the programme potential students will be expected to possess a range of existing performance skills in order to be eligible to join the programme. Therefore, the focus of the learning and teaching is not about training, but about developing your existing skills with a focus on understanding, creating and producing theatrical events and performances within the context of an ensemble theatre company. Much of your study will, in consequence, be self‐directed and focussed on researching the field and developing your own modes of practice.
The degree is made up of 5 modules, 4 x 30 credit modules and 1 final double-weighted 60 credit module. Normally each module is studied over a 2‐3 month period culminating in a practical performance based project. Additionally, you will be expected to submit a critical reflection related to the module based upon your personal research and related to and your professional development.
Contact time with staff is high for a Masters degree ‐ although contact may vary from module to module depending on the intensity of performance-related work. You can expect to devote the remainder of your time to personal study, research or collaborative working or focussing on the work-based learning elements of the programme.
There is some requirement for evening and weekend working.
Part-time
Part-time delivery closely mirrors the full-time programme but takes place over two years. In the first year you will study 3 x 30 credit modules and in the second 1 x 30 credit module plus the double-weighted (60 credit) final module.
Classroom (lecture‐based and seminar work) takes place in evenings and some weekends alongside the full‐time students so that you can share experiences and learn collaboratively. Practical work will normally take place in short blocks arranged where possible to coincide with school holidays or over weekends and bank holidays as appropriate.
Last updated Apr 2020
About the School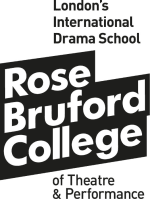 Welcome to Rose Bruford College of Theatre and Performance. Our goal is to inspire, excite and train you as a creative artist and practitioner who can use reflective practice and research, along with ... Read More
Welcome to Rose Bruford College of Theatre and Performance. Our goal is to inspire, excite and train you as a creative artist and practitioner who can use reflective practice and research, along with the world-class teaching we provide, as tools to become an independent thinker and a fulfilled and successful working professional.
Read less