Read more about this program on the school's website
Program Description
Theology and religion is a diverse subject area that is vital for understanding the contemporary world.
The MA in Theology and Religion is designed to accommodate the study of religions and spiritualties, past and present, and prepares you for professions which depend upon an advanced understanding of how religious histories, ideas, texts, and practices permeate all societies. It also provides ideal preparation for further research at the doctoral level.
The programme has a wide range of modules and you can create your own pathway by choosing those that are most relevant to your interests. We cater for interests in historical traditions, ritual and practices, contemporary spiritualities, world religions, religious texts, politics, histories and ethical issues.
You will be encouraged to be critically robust in the analysis of your own and others' presuppositions, to work independently with the guidance of module tutors and thesis supervisors, and to approach your studies in ways that demonstrate awareness of and engagement with the multi and interdisciplinary nature of issues under discussion.
Students are trained to interrogate their own presuppositions and those of others in a critically robust manner, to approach the study of theology and religion in ways that show sensitivity to the multi-disciplinary theories and issues. Transferrable skills include the ability to deploy relevant evidence and contextual considerations and present this in the context of a written piece of work, an examination or in an oral presentation. Students also gain skills of a personal organization in terms of working to deadlines, preparing contributions for group discussion, and ensuring the best use of tutorials and seminars.
Why Study this Course?
Flexibility – the range of options on offer allows you to study religion, theology, biblical studies in historical and/or contemporary contexts, to suit your areas of interest.
Excellent reputation – Times Higher Education ranked the Department of Theology and Religion second in the country for its performance in the latest Research Excellence Framework exercise. The University of Birmingham has also been ranked as one of the world's top 30 institutions to study Theology and Religious Studies in the 2019 QS World University Rankings.
Extracurricular opportunities – you will be exposed to a variety of opportunities to enhance your student experience, including regular coffee mornings for staff and students, visiting speakers, lecture series and social events.
Small classes – teaching on the Masters-level modules involve mainly small-group seminars allowing you to really get to grips with the learning material.
The city – Birmingham is an ideal place to study Theology and Religion. The city is one of the most culturally and religiously diverse communities in Europe and the department has excellent relationships with the city's faith communities.
Modules
Core module
You will study one core module:
Research Methods in Theology and the Study of Religion
This module unpacks the core issues of researching in theology and religious studies. It addresses debates surrounding the design, conduct, ethics and evaluation of research in a multidisciplinary subject area. It prepares you to carry out independent research and to critically assess others' research across a wide spectrum of approaches.

Assessment: 4,000-word essay
Optional modules
You will choose five optional modules from a range which typically includes:
Advanced Biblical Studies

Approaches to Studying Islam (modern)

Approaches to Studying Islam (traditional)

Auschwitz in History and Memory

Contemporary Issues in Sikhism

Feminism in the Muslim World

God in Christian Philosophy

Historical and Contemporary Debates on the Holocaust

Holocaust and Genocide: Comparative and Interdisciplinary Perspectives

Islam in Europe

Islamic Philosophy

Jewish Religious Responses to the Holocaust

Muslim Thinkers of the Western World

Political Islam

Religion in Contemporary Global Politics I

Religion in Contemporary Global Politics II

Religious Nationalism

Sikh Perspectives on Interreligious Relations

The Bible and Sacred Space

"Women" and Wellbeing: Soulful Dimensions
UK/EU students also have access to two additional options offered by Al-Mahdi Institute in Birmingham, as part of their collaboration with the Department of Theology and Religion:
Mediaeval Arabic Thought
Focussing on the philosophical and theological ideas of mediaeval Arabic thinkers, this module provides you with an opportunity to study a range of thinkers and their ideas, ranging from topics such as the Graeco-Arabic translation movement during the so-called Islamic 'Golden Age' to the impact of Neoplatonism on Islamic philosophy, the proofs of God's existence, political philosophy, theological reactions to Hellenistic philosophy, ethics and philosophical Sufism. It aims to give you the ability to navigate original texts in their historical context, the ability to unpack and assess philosophical arguments, to appreciate the ecumenical nature of shared philosophical and theological concerns among Jews, Christians and Muslims, and the ability to assess the compatibility or lack thereof of faith and reason during the Islamic middle ages.

Assessment: 4,000-word essay
Thematic Study of Shi'ism: History, Doctrines and Religious Authority
This module will you with an opportunity to review an extensive list of Western scholarship (in English) on key themes that have formed and continue to form the unique identity of Shi'ism within Islam. These themes could include beginnings of Shi'ism; theological doctrines of Shi'ism; legal doctrines of Twelver Shi'ism; authority structures within Shi'ism; and contemporary issues of the Twelver Shi'i world.

Assessment: 4,000-word essay
Dissertation
In addition to your taught modules, you will conduct a piece of independent research with the support of a supervisor, culminating in a 15,000-word dissertation.
Please note that the optional module information listed on the website for this programme is intended to be indicative, and the availability of optional modules may vary from year to year. Where a module is no longer available we will let you know as soon as we can and help you to make other choices.
Teaching and Assessment
As well as the taught modules you take on this programme, the Department of Theology and Religion has a busy programme of research seminars, conferences and workshops which you can attend, so you'll be able to gain insight from a range of academics and peers from across the department.
Course delivery
We have two teaching terms per year, the autumn term and spring term.
As a full-time student, you will typically take three modules in each term, followed by your dissertation. Depending on the modules you take, you can typically expect six hours of classroom time per week, two per module. If you are a part-time student, you will typically take three modules across each year, followed by your dissertation.
Each module represents a total of 200 hours of study time, including preparatory reading, homework and assignment preparation.
Support with academic writing
As a postgraduate student in the College of Arts and Law, you have access to the Academic Writing Advisory Service (AWAS) which aims to help your transition from undergraduate to taught Masters level, or back into academia after time away. The service offers guidance on writing assignments and dissertations for your MA/MSc programme with individual support from an academic writing advisor via tutorials, email and the provision of online materials.
International students can access support for English Language development and skills through the Birmingham International Academy (BIA).
Fees
We charge an annual tuition fee. Fees for 2020/21 are as follows:
UK / EU: £9,250 full-time; £4,625 part-time
International: £19,170 full-time
The above fees quoted are for one year only; for those studying over two or more years, tuition fees will also be payable in subsequent years of your programme.
For EU students applying for the 2020/21 academic year
The UK Government has confirmed that EU students will continue to be eligible for 'home fee status' for entry in September 2020, and will continue to have access to the financial support available via student loans for the duration of their course.
How To Apply
Application deadlines
The deadline for international students to apply is Wednesday 1 July 2020. The deadline for UK/EU students is Thursday 10 September 2020.
Our Standard Requirements
We ask for 2:1 undergraduate Honours degree, preferably in a related discipline. All applications are treated on their merits, and we are happy to consider applicants whose qualifications differ, but we would encourage you to contact the Admissions Tutor for advice.
International/EU students
Academic requirements: We accept a range of qualifications from different countries - use our handy guide below to see what qualifications we accept from your country.
English language requirements: standard language requirements apply for this course - IELTS 6.5 with no less than 6.0 in any band. If you are made an offer of a place to study and you do not meet the language requirement, you have the option to enrol on our English for Academic Purposes Presessional course - if you successfully complete the course, you will be able to fulfil the language requirement without retaking a language qualification.
IELTS 6.5 with no less than 6.0 in any band is equivalent to:
TOEFL: 88 overall with no less than 21 in Reading, 21 Listening, 22 Speaking and 21 in Writing

Pearson Test of English (PTE): Academic 59 in all four skills

Cambridge English (exams taken from 2015): Advanced - Minimum overall score of 176, with no less than 169 in any component
Employability

Your degree will provide excellent preparation for your future career, but this can also be enhanced by a range of employability support services offered by the University and the College of Arts and Law.
The University's Careers Network provides expert guidance and activities especially for postgraduates, which will help you achieve your career goals. The College of Arts and Law also has a dedicated careers and employability team who offer tailored advice and a programme of College-specific careers events.
You will be encouraged to make the most of your postgraduate experience and will have the opportunity to:
Receive one-to-one careers advice, including guidance on your job applications, writing your CV and improving your interview technique, whether you are looking for a career inside or outside of academia

Meet employers face-to-face at on-campus recruitment fairs and employer presentations

Attend an annual programme of careers fairs, skills workshops and conferences, including bespoke events for postgraduates in the College of Arts and Law

Take part in a range of activities to demonstrate your knowledge and skills to potential employers and enhance your CV
What's more, you will be able to access our full range of careers support for up to 2 years after graduation.
Postgraduate employability: Theology and Religion
Birmingham's Theology graduates develop a broad range of transferable skills including familiarity with research methods; the ability to manage large quantities of information from diverse sources; the ability to organise information in a logical and coherent manner; the expertise to write clearly and concisely and to tight deadlines; critical and analytical ability; the capacity for argument, debate and speculation; and the ability to base conclusions on statistical research.
Over the past 5 years, 94% of our postgraduates were in work and/or further study 6 months after graduation (DLHE 2012 - 2017). Many of our graduates go into careers in churches of various denominations. Other students use their transferable skills in a range of employment sectors, including publishing, education and social work. Employers that our graduates have gone on to work for include Church of England, Methodist Church, NHS and the University of Birmingham.
Last updated Feb 2020
About the School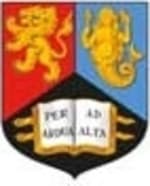 Our College of Arts and Law Graduate School is a vibrant international community of over 1500 postgraduate students. We benefit from excellent research resources and a supportive environment that allo ... Read More
Our College of Arts and Law Graduate School is a vibrant international community of over 1500 postgraduate students. We benefit from excellent research resources and a supportive environment that allows your research to flourish. Located in the Arts building at the main Edgbaston campus, our team of academic and operational staff are on hand to offer support and advice whenever you need it.
Read less