MA in Technologies and Codes of Communication
Home ›
MA ›
MA in Technologies and Codes of Communication
Read more about this program on the institution's website
Program Description
The Course in Technologies and Languages of Communication favors an in-depth study on the designing and implementation of innovative content, products, and services applicable to digital communication.
This educational path is grounded on the awareness that Paul Watzlawick's first axiom - according to which "people cannot avoid communicating" - is currently valid to a much broader extent than in the past, due to complexities of the modern communication dimension, as mediated by digital technologies. In such a context, each single performed act acquires significance in communication terms and, what really matters, leaves a trace behind, a sign, of a more or less digital nature, made up of data and information that contribute to the daily information pollution.
In this framework, students gain both theoretical and practical competencies in communication and digital and interactive media languages. In detail, the course focuses on the complex pool of technical, scientific, creative, and productive knowledge required to design, create, assess, and promote interactive products.
Study plan
Interaction Design Path
First Year
I Semester
II Semester

Social Innovation & Transformation Design
Cognitive Psychology
Network Society
Digital transformation
Gamification Strategies
Interaction Design & Programming

Interaction Design
Programming web & mobile

Sociology of Languages
Digital Marketing
Data Analysis & Visualization
Elective Module Interaction Design
Second Year
I Semester
II Semester

Computer Graphics, Modeling & 3D Printing
Service & Innovation Design
English Language for Multimedia Communications

Elective Module Interaction Design
Digital marketing lab
Stage
Visual communication lab
Final Dissertation
Elective Module Interaction Design:
Elective modules Visual communication lab:

Programming
Logic, interaction, game

Laboratorio di giornalismo e critica
Laboratorio di event management, marketing e comunicazione
Laboratorio di sviluppo
Laboratorio di publishing
Professional opportunities
Expert professionals in the field of digital innovation, with the specific ability to design and create new communication formats, applicable to the modern communication network scenarios.
By the public sector and/or the entrepreneurial dimension master graduates can perform the following roles:
Consultant on communication and digital marketing
Author and editor of contents for audiovisual, multimedia, and trans-media productions
Planner of interactive products and services
Interaction Designer
User Experience Designer
Art Director
Web & Mobile Designer specialized in the devising and implementation of solutions applicable to web, mobile, and unique platforms
Master graduates in Interaction Design are also apt to hold high-responsibility functions in the management of teams dealing with the development of applications, games, and innovative services with a relevant technological component, with promotion and marketing activities vis-à-vis digital products and with the assessment of users' experience in digital/interactive contexts.
They could also make the most of the acquired knowledge and competencies by setting up their own business in the various communication sectors related to interactive, multimedia, and video gaming products.
Admission requirements
Have a minimum of a 3-year-Undergraduate/Bachelor's Degree Diploma in a relevant study field released by an official institution of the foreign higher education system;
All applicants must be fluent in the English language with a minimum of B2 according to the Common European Framework of Reference for Languages (CEFR).
Required documents
Valid passport;
Valid Italian residency permit (if applicable);
Undergraduate/Bachelor's Degree Diploma (or the Certificate of Enrolment, if you are currently attending the last year of your Undergraduate/Bachelor's degree program and the final qualification diploma is not yet available);
Transcript of records;
Diploma Supplement (if applicable);
Certificate for interrupted studies and/or withdrawal from studies and/or other awarded university certificates with a list of all the exams sustained(if applicable). These certificates must include a detailed program listing the single learning activities and hours of study for theoretical-practical activities (for those students who would like to transfer from another University);
Eventual Declaration of Value (read more here) released by the Italian diplomatic representative in the country where the final education qualification was attained; alternatively a CIMEA Statement of comparability (if applicable).
English or Italian translation of the above-mentioned documents;
Curriculum Vitae.
Tuition fees and funding
The annual tuition fee for international students is €12,000; while there is also a single pre-enrolment fee for students of €500.
Last updated Nov 2020
About the School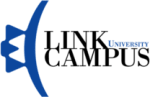 Link Campus University is a private University in Rome that stands under the Italian University's Regulation. Link Campus University combines the English system's educational strategies with the Itali ... Read More
Link Campus University is a private University in Rome that stands under the Italian University's Regulation. Link Campus University combines the English system's educational strategies with the Italian culture and didactic method. Most of the degree courses are taught in English, and some are held in Italian.
Read less