Program Description
The MA in Spanish and Latin American Studies at American University offers customized tracks to allow students to gain an interdisciplinary understanding of Latin America and the Caribbean, as well as expertise in translation, linguistics, and/or Spanish language teaching.
Master's students select courses as part of a 21-credit core curriculum that provides a strong foundation for the study of the cultural, historical, linguistic, and political complexity of the region. All core courses are taught entirely in Spanish. In addition to the core seminars, the Spanish: Latin American Studies master's program offers three 12-15 credit tracks that provide valuable training and professional skills for Latin American specialists:
Translation and Linguistics
Spanish Language Teaching
Interdisciplinary Studies on Latin America (e.g., culture and literature, international studies, history, communications, public affairs)
The Spanish: Latin American MA program requires that students take at least 21 credits in Spanish. Drawing on AU's campus resources, students may take courses on Latin America in English (up to 12 credits) in other departments within the College of Arts and Sciences and other AU schools —such as the Department of History, Department of Anthropology, School of International Service, and the School of Education. AU's Center for Latin American and Latino Studies serves as a hub of academic dynamism on campus and beyond and supports collaborative research on various issues related to Latin America.
LEARN FROM LEADING FACULTY EXPERTS
The core faculty bring wide-ranging expertise in the humanities and applied linguistics. Our humanities faculty specialize in studies of gender, human rights, immigration, globalization, memory, and violence and teach through a variety of approaches and genres including film, narrative, poetry, short story, performance, and theatre. Our applied linguistics faculty specialize in bilingualism, video game-based language learning, and telecollaborative translation.
TAKE ADVANTAGE OF UNLIMITED RESOURCES IN DC
Taking advantage of the unparalleled resources of Washington, DC, our curriculum offers for-credit internships, through the Proyecto Amistad course, at organizations such as the US Department of Justice, National Geographic, The Guatemala Human Rights Commission, and Washington Office for Latin America. We also have contacts at elementary, secondary, and bilingual schools in the area, which facilitate teaching internships. In addition, we provide funding opportunities for summer research abroad, and we regularly coordinate field trips, guest lectures, events, and partnerships with the range of research facilities in the area.
Many of our students complete the Graduate Certificate in Spanish Translation in conjunction with their MA degree. While in our program our students gain valuable professional skills to work in a broad range of fields requiring expertise in issues pertaining to Latin America, as well as rigorous academic training for those seeking to pursue doctoral programs. Students often stay in Washington after graduation and become involved in the extensive network of Latin American institutions in the city. Many of our graduates go on to work in governmental and non-governmental organizations in Washington, DC, while others decide to pursue doctoral work or teaching.
FUNDING OPPORTUNITIES
A select number of teaching and research assistantships are available to eligible students. In addition, funds are available to students through The Jack Child Spanish and Latin American Studies Endowment. The Jack Child Summer Research Awards are also available to support graduate students who are interested in undertaking research in Latin America during the summer between their first and second years in the program.
Last updated Feb 2019
About the School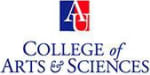 The College of Arts and Sciences at American University offers you a challenging liberal arts education within a vibrant and diverse community of students from all 50 states and 150 countries.
The College of Arts and Sciences at American University offers you a challenging liberal arts education within a vibrant and diverse community of students from all 50 states and 150 countries.
Read less