MA in Security, Terrorism and Insurgency
Home ›
MA ›
MA in Security, Terrorism and Insurgency
Read more about this program on the school's website
Program Description
Drawing on the School's research strengths in international security and sub-state conflicts, this programme addresses the phenomena of terrorism and insurgency in the twentieth and twenty-first centuries.
It will introduce you to the history of terrorism, from state-sponsored terrorism in the Cold War period and urban terrorists in Western Europe to the emergence of radical Islamism in the form of Al-Qaeda and ISIS. You will explore the dilemmas of preserving democratic liberties whilst developing counter-terrorism strategies and assessing the necessity and effectiveness of anti-terrorism legislation in the UK, the US and beyond.
You will consider the wider political context and causes of radicalisation and terrorist violence, including the analysis of situations in Afghanistan, Pakistan, Syria and Iraq as well as an in-depth study of the geopolitics of the Middle East.
Academic excellence
Our department is large and diverse and our academics are widely recognised as leading experts in their field. Our research-led teaching is directly informed by the cutting-edge research that occurs around research clusters on 'The Responsibility to Protect' and 'Democratic Engagement'.
The key strength of our research culture is an approach to academic enquiry which openly embraces normative and empirical approaches in the study of terrorism, insurgency, UK and US foreign policies, security governance in fragile states, post-Cold War conceptions of international society at a global level, as well as within the context of regional politics in Africa, Europe, the Middle East, and East and Southeast Asia.
Experience opportunities
All students on all our degree schemes, including international students, have access to hundreds of volunteering opportunities through the Leeds for Life scheme. In addition, our dedicated careers team and in-School employability champions can work with you to attain work experience opportunities during and after your course.
Course content
This programme offers you not only the chance to delve deep into the academic analysis of (counter-) terrorism and (counter-) insurgency but also provides you with the freedom to develop your expertise on a range of security challenges (climate change, conflict resolution, globalisation and conflict, human rights, poverty, post-conflict reconstruction, religious radicalism) on a global and regional level.
The compulsory modules studied will give you the opportunity to:
Go beyond political polemics and media platitudes.
Develop a robust and nuanced understanding of terrorism and insurgencies as national, regional and global security threats.
Gain an appreciation of the political, legal and ethical dilemmas, which democracies and authoritarian regimes, in both the developed and developing world, face in dealing with terrorist and insurgent tactics and strategies.
You will also be able to hone your research and writing skills in your compulsory dissertation – an independent piece of research on your chosen topic.
The wide-ranging list of optional modules means that you can explore a diverse range of related subjects of interest to you.
If you are a part-time student, you will take 30 credits worth of compulsory modules and choose 30 credits worth of optional modules in your first year. You will then take the compulsory dissertation module and 60 credits worth of optional modules in your second year to complete your programme.
Course structure
The list shown below represents typical modules/components studied and may change from time to time.
Modules
Year 1
Compulsory modules
Insurgency
Terrorism
Dissertation
Optional modules (selection of typical options shown below)
You will choose 60 credits from the below:
Conflict, Complex Emergencies and Global Governance
European Defence and Security Analysis
The Politics of Brexit
The Rise of China
Contemporary Politics of the Middle East
The Politics of the Israel-Palestine Conflict
Popular Culture: World politics, Society and Culture
Theoretical Approaches in International Relations
Civil War and Intrastate Conflict
Global Justice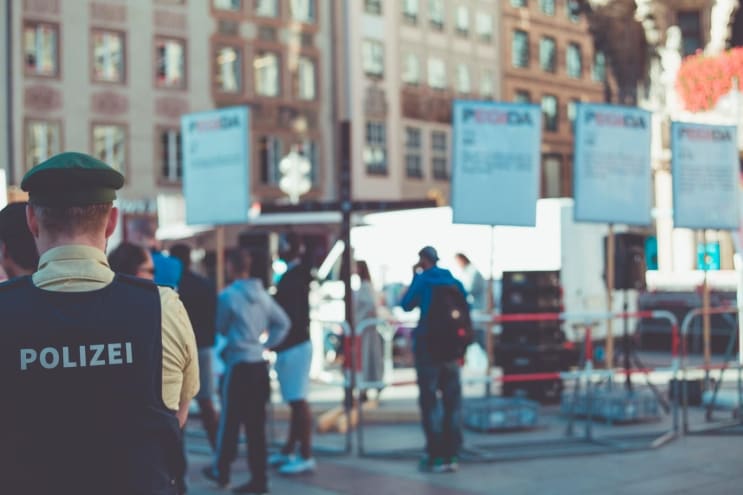 Markus Spiske / Unsplash
Learning and teaching
Teaching is through a combination of lectures, lively seminar discussions and guided weekly readings. We expect you to participate fully in taught sessions and to study independently, developing your skills and preparing for lectures and seminars. You will also be able to benefit from an impressive range of research talks and seminars led by outside speakers or colleagues from within the department and University.
Assessment
Within modules, the assessment consists primarily of assessed essays. At the end of your studies, a 12,000-word dissertation will allow you to pursue your own research interest under close supervision by one of our expert colleagues.
Entry requirements
A bachelor degree with a 2:1 (Hons) or a non-UK equivalent in social science, humanities, or another related discipline. Relevant experience will also be taken into account.
English language requirements
IELTS 6.5 overall, with no less than 6.0 in any component.
Improve your English
International students who do not meet the English language requirements for this programme may be able to study our postgraduate pre-sessional English course, to help improve your English language level.
This pre-sessional course is designed with a progression route to your degree programme and you'll learn academic English in the context of your subject area.
How to apply
Application deadlines
UK/EU students: 31 July
International students: 31 July
If you intend to apply for funding, you should submit an application for a place on your chosen course at least one month before any specific scholarship deadline.
Fees
See our website for the latest fee information.
Scholarships and financial support
If you have the talent and drive, we want you to be able to study with us, whatever your financial circumstances. There may be help for students in the form of loans and non-repayable grants from the University and from the government.
The School usually offers a number of scholarships each year.
Career opportunities
This programme provides you with ideal preparation for a career in the international political arena, equipping you with critical thinking, research and communication skills and in-depth knowledge sought after by employers.
Recent graduates have gone on to work in the UK and overseas for government, the police, think tanks, and peacebuilding organisations. Organisations graduates have gone on to include the Ministry of Defence; Metropolitan Police; International Alert; the Army and beyond. Many also pursue further study by commencing PhD research.
Careers support
The School of Politics and International Studies has a dedicated Careers Consultant who is on-hand throughout the year to support and advise you in regards to your career. The School also arranges a number of guest speaker events where you are able to engage with prospective employers, and hear from leading figures in the field.
In addition to the School-specific careers support, you will also have access to the University's award-winning Careers Centre. The Careers Centre offers one-to-one appointments, advice on starting your own business, careers events, mentoring schemes and support with your CV, applications and interviews.
Last updated Jun 2020
About the School

Our wide range of research-informed courses encompass undergraduate, taught postgraduate and research degree programmes, as well as online and professional development courses.
Our wide range of research-informed courses encompass undergraduate, taught postgraduate and research degree programmes, as well as online and professional development courses.
Read less