MA in Russian and Eurasian Studies (IMARES)
Home ›
Master ›
MA in Russian and Eurasian Studies (IMARES)
Program Description
IMARES Master's degree program focuses on Russia and the post-Soviet area. This comprehensive program allows you to study Russia and the whole Eurasian area in all aspects from A to Z. You will examine the past and analyse the most up-to-date events unfolding in the region, learn Russian and experience life in Russia.
Together with other international students you will study and discuss a variety of topics, including foreign policy and security issues in Russia and neighboring countries, history and current events, changing society and reforms, and, of course, Russian culture and arts.
By studying at IMARES you will be able to:
Apply multiple theoretical models to analyze Russian foreign policy (e.g. write a well-informed essay to answer Fyodor Dostoyevsky's topical question What is Asia to us? or Daniel Treisman's Why Putin took Crimea?);

Study the most important recent literature on nationalism in Russian and Soviet imperial contexts (e.g. learn the difference between Russia as an 'under governed empire' and the USSR as an 'affirmative action empire');

Examine cases of conflicts, political violence and terrorism in Russia and Eurasia (e.g. model an international conflict resolution process or find out why you cannot drive directly from Sochi to Tbilisi through Abkhazia);

Explore the dynamics of post-Soviet transition and domestic politics (e.g. distinguish between various forms of "color revolutions" and party systems with a course syllabus which mentions the word Kremlin only once)

Broaden your perspective on Russian- American relations (e.g. comprehend 2-3 chapters of fascinating weekly reading beyond the Cold War rhetoric);

Explore Russia's cultural and geographic diversity in the classroom and observe it every day (e.g. drive to Karelia, take a train to Kazan or fly to Elista for a weekend);

Watch the best plays in town, study visual arts by visiting the Russian Museum, and read about St. Petersburg in Russian literature (and probably even find out how EUSP is connected to Leo Tolstoy)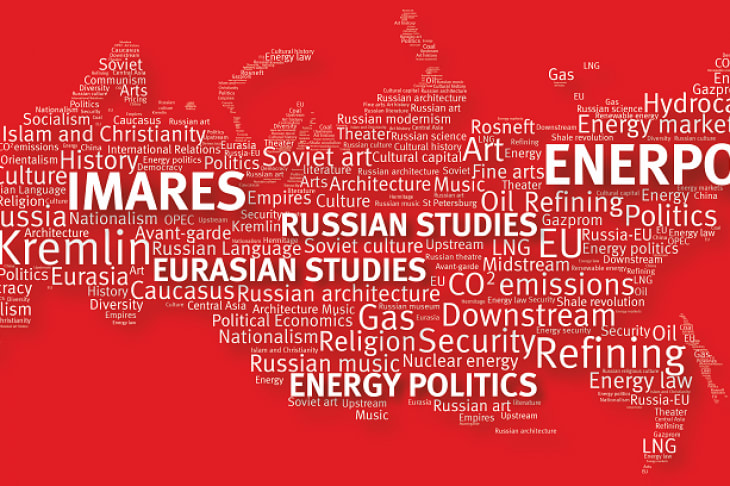 IMARES program gives you the opportunity to
get an MA in Russian and Eurasian Studies in 1 or 2 years;

select courses by leading Russian and international professors and experts in the field;

design your own individual program based on abroad course catalog;

study in the English language;

learn and improve your Russian;

enjoy the life in St. Petersburg - the old imperial capital of Russia;

get an excellent foundation for your career in public service, academia and business.
IMARES has empowered our alumni to make a career in

educational institutions in North America, Europe and Russia;

research and administrative duties at Thomson Reuters, Elsevier, Smithsonian Institution, libraries and museums, editorial boards of academic journals and publishers;

journalism at The New York Times, The Moscow Times, etc;

private and state companies such as IBM, Bank of America, and Boeing;

government bodies (e.g. foreign embassies, NASA), national or regional councils and parliaments;

international organizations such as the International Criminal Court, The World Bank, European Commission
Entry requirements
BA degree. No prior knowledge of Russian needed.
In terms of backgrounds and prior experience, IMARES students are often as diverse as the topics they study at EUSP. Whether you are a historian, political scientist, sociologist, journalist or language specialist, studying at EUSP will give you the opportunity to broaden your horizons and gain new perspectives in a career.
1-year and 2-year tracks
The program is available as a 1-year and 2-year track
Starting dates
You may start 1-year IMARES program track twice a year in Fall and Spring. 2-year track starts once a year in Fall.
The fall semester starts at the beginning of September. The spring semester starts at the beginning of February. You may choose whichever start date best suits your needs.
Admissions continue on a rolling basis. Early applications are strongly encouraged. Due to a somewhat lengthy Russian Study Visa issuing process, we ask to send the completed application form no later than
May 20, 2020, for enrollment in Fall Semester 2020

October 30, 2020, for enrollment in Spring Semester 2021
In case you miss the deadline, please write to us to discuss the possibility of a late application.
Covid-19 notice: we hope to start the fall 2020 semester in our classrooms, rather than online. We also consider the latter option as our Plan B.
Application procedure
There are 3 easy steps to apply for IMARES program at EUSP:
Complete the Application form

Send us all the required documents

Receive your Letter of acceptance or notification of rejection
Required documents
Scanned copy of your Passport. Your international passport validity period must be at least 6 months following the date you are planning to leave Russia on completing the program (e.g. if you intend to stay in Russia until June 30, 2021, your passport expiry date shouldn't be earlier than December 30, 2021)

Scanned copy of your Bachelor's degree diploma (or documentation that proves you will receive your diploma this year)

Scanned copy of your Academic Transcript

Your Statement of Purpose (about 500 words, including a statement of goals, research interests and experiences, including the subject of your bachelor thesis)

Two letters of recommendation from academics who are closely acquainted with your academic work. The letters must be e-mailed directly from your referees to international@eu.spb.ru

Your Curriculum Vitae
Last updated May 2020
About the School
Founded in 1994 with the active support of the city of St. Petersburg, the European University began operating as an elite graduate school in the social sciences and humanities in 1996.
Founded in 1994 with the active support of the city of St. Petersburg, the European University began operating as an elite graduate school in the social sciences and humanities in 1996.
Read less