Program Description
This pioneering Masters offers interdisciplinary perspectives on international performance and aims to understand performance in relation to the culture to which it contributes.
Why study MA Performance and Culture at Goldsmiths?
The programme takes in diverse forms of theatre, including multicultural and street theatre, and practices such as:

performance art
dance
ritual
site-specific performance
a wide range of hybrid forms

You will explore performance as a sociocultural process, using analytical principles from sociology, cultural theory, anthropology, history, philosophy, politics and theatre and performance.
We have numerous links, locally and internationally, with a wide variety of theatres, companies and performers, all of which enhance your research possibilities.
The programme will provide you with the appropriate categories of thought and methodological procedures for analysing, understanding and explaining performance processes as sociocultural practices: how and why they emerge from specific socio-cultural and historical time place and space.
What you'll study
There are three compulsory core modules which focus on a range of issues concerning performance as a sociocultural practice. They involve:
Conceptual and theoretical material, their interweave and their relationship to performance
Historiographical methodologies and textual issues
Analysis of live performances
Cultural difference, ethnicity and cross-culturalism
Questions to do with corporeality, alternative spaces and performance in terms of social inclusivity
A choice of options or independent study constitutes the fourth component, and a dissertation on your individual research completes your programme of study.
Core modules
The three core modules consist of:
Cultural Theory, Performance, Interdisciplinary Perspectives
This module is an introduction to the whole programme and focuses on the interdisciplinary use of a range of theories from sociology, anthropology, theatre and other areas to understand live performance. As part of this module, you are expected to see as many performances as possible.
Historicising Theatre
This module is concerned with exploring the problems and possibilities of theatre history, and the relationship between theatre, text and cultural context.
Corporeality, Embodiment, Alternative Spaces
This module includes work on rituals, shamanism, dance, hybrid forms, site-specific, multi-ethnic performance and theatres of exclusion.
Assessment
Each compulsory module and the option module carry equal weight, each representing 15% of the overall mark. The dissertation is worth 40%.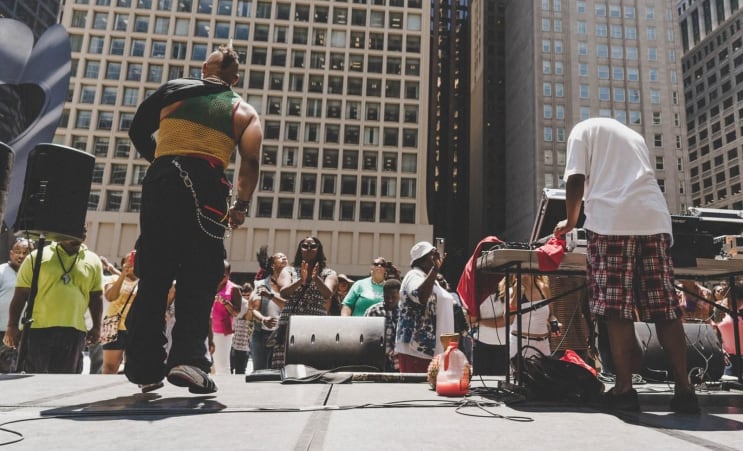 David Schap / Unsplash
Entry requirements
You should have (or expect to be awarded) an undergraduate degree of at least upper second class standard in a relevant/related subject.
You might also be considered for some programmes if you aren't a graduate or your degree is in an unrelated field, but have relevant experience and can show that you have the ability to work at postgraduate level.
International qualifications
We accept a wide range of international qualifications.
If English isn't your first language, you will need an IELTS score (or equivalent English language qualification) of 6.5 with a 6.5 in writing and no element lower than 6.0 to study this programme. If you need assistance with your English language, we offer a range of courses that can help prepare you for postgraduate-level study.
How to apply
You apply directly to Goldsmiths using our online application system.
Before submitting your application you'll need to have:
Details of your education history, including the dates of all exams/assessments.
The email address of your referee who we can request a reference from, or alternatively an electronic copy of your academic reference.
A personal statement – this can either be uploaded as a Word Document or PDF or completed online.
If available, an electronic copy of your educational transcript (this is particularly important if you have studied outside of the UK, but isn't mandatory).
You'll be able to save your progress at any point and return to your application by logging in using your username/email and password.
When to apply
We accept applications from 1 October to 30 June for students wanting to start the following September.
We encourage you to complete your application as early as possible, even if you haven't finished your current programme of study. It's very common to be offered a place that is conditional on you achieving a particular qualification.
Late applications will only be considered if there are spaces available.
If you're applying for funding, you may be subject to an earlier application deadline.
Skills
You will develop writing and oral skills at a high academic level, demonstrating the ability to think and work in an interdisciplinary manner using a range of methodologies. your ability to work collaboratively and to facilitate and participate in group discussions will be enhanced.
You will also develop skills in identifying the socio-cultural, historical and political issues and pressures specific to varied types of performance.
Careers
This programme provides a strong grounding in the principles of research and of learning through independent research. It is particularly suitable if you wish to pursue further academic work in creative, performative fields.
Last updated Jan 2020
About the School

We're a world-class university, ranked in the world's top 350 universities by the Times Higher Education World University Rankings 2016-17, and the world's elite by the QS World University Rankings 20 ... Read More
We're a world-class university, ranked in the world's top 350 universities by the Times Higher Education World University Rankings 2016-17, and the world's elite by the QS World University Rankings 2016-17
Read less