MA in New Humanities and Design: Pathway - Public History and Heritage Interpretation
Home ›
MA ›
History ›
MA in New Humanities and Design: Pathway - Public History and Heritage Interpretation
Program Description
What values can the past bring to the fast-paced and swiftly changing present? How can we discover and interpret where the roots of the present lie? The contemporary moment offers us new opportunities and new technologies with which to explore the historical, bring to the fore people's experiences of the past, and through that new understanding recreate and present new perspectives on heritage.
We envision the Public History and Heritage Interpretation as an opportunity to learn new ways of engaging with historical sites, monuments and institutions and thus address the contemporary challenges of interpreting history. This specialization will empower students to include in their interpretations of heritage the diverse voices that have been ignored so far and so engage with history outside conventional academic practice. This specialization will create professionals who have the ability to transform museums, heritage sites, and archives into spaces that dynamically interpret the past by reimagining history with new technologies.
Learning Approach
This program will provide students with a critical and theoretical framework in which to consider historical sources and materials, narratives and moments. Using a 'hands on' engagement with existing scholarship, students will gain practical public history experience and develop their own craft in a field that is expanding and shifting in exciting ways. The incorporation of design methodologies and oral history through seminars, studios, and workshops, along with exposure to a range of media, technologies within physical and digital spaces, will offer students a well-rounded skill-set that is in conversation with on-going debates in the field.
Capability Sets
Archive: Students will learn to conceptualize and create archives.
Collaborate: Students will learn to collaborate with artists, designers, and other practitioners for creating public history projects that use historical material to inform the language of design.
Contextualise: Students will learn to contextualize not only the past but also the multiple histories of the past and the ways they are deployed in the present.
Critique: Students will learn to critique the discipline of history as it is practiced in the present and to develop public history as a viable and much-needed alternative to it.
Curate: Students will learn the art and ethics of curation that is integral to all public history projects.
Course Structure
Studios: Studios encourage active, contextual learning where students develop core disciplinary skills and knowledge. Studios facilitate collaborative and creative design solutions to complex, open-ended problems.
Workshops: Workshops provide intense learning experiences in making and doing, across the different disciplines.
Internship: Internship with an industry or a design/art studio is mandatory for students at the end of semester two.
Self-Initiated Research Project: Self-Initiated Research Project is an end of the semester challenge that is the summative assessment and allows for engagement in research, inquiry, art or design based projects. The SIP begins with the writing of the project proposal and defining the scope of the project and follows the art or design process, under the mentorship of faculty/ design professionals.
Electives: Electives are liberal arts courses aimed to cultivate intellectual and reflective abilities and motivate deeper probing and holistic approach to the design process.
Capstone Project: Capstone Project is the culmination of the research, capabilities, and knowledge gained over the last three semesters. A mandated thesis document of the design output and the research process is submitted. Faculty mentors provide guidance and seminars are organized for feedback from faculty and peer groups.
Interlude Open Elective: Over a period of three to four weeks, interdisciplinary teams come together to actively construct their responses to that year's theme and provocations. It will include the Winter School in Oral History, an advanced course that introduces participants to cutting-edge research in the field of Oral History. With eminent faculty from the fields of oral and public history, drawn from across the world, the course has master classes on methodology, archiving standards, ethical issues and forms of dissemination, which allows participants to apply the knowledge gained in their own projects. The Winter School is organized annually, with a new theme covered each year.
Opportunities
CPH's wide client base will enable students to find suitable employment opportunities after the completion of the program in the following sectors:
Institutions and Corporate Sector
Leadership positions in institutional and corporate archives
Archival consultant for corporates and institutions
Content developer for events related to corporate heritage
Museum Sector
Museum curator
Museum educator
Content and Program Developer for museum galleries
Heritage Sector
Heritage exhibition designer
Archival and heritage book designer
Heritage Programmer for archaeological monuments and sites
Heritage-based walk designer
Education Sector
Consultants for school project
Higher Education – Ph.D. in Public History
Research and Collaboration
Those in the Public History and Heritage Interpretation specialization will primarily work with projects that are undertaken by the Centre for Public History (CPH). In the last six years, CPH has played a pioneering role in creating archives of contemporary Indian institutions. CPH has worked with heritage sites, folk and artisanal communities, designed public history interventions at the Bangalore Fort, and created archives and designed archival books and exhibitions for IIMC, Kolkata, IMSc, Chennai, EPW, Mumbai, Indian Museum, Kolkata, and Sasha, Kolkata.
CPH's wide range of projects are based in different cities in India. By engaging directly with CPH projects, students will also learn to integrate oral history, digital storytelling, and archival practices with communication tools that make history accessible to a larger public and move beyond academia. Apart from that CPH will also find suitable internship opportunities (Summer Practice) for learners at reputed institutions that work with museums, archaeological heritage, and contemporary history. Learners will thus gain the experience of working with real-time projects.
CPH also collaborates with the numerous research and practice labs in Srishti and learners will also have the opportunity of connecting with filmmakers, cultural activists, new media practitioners, artists, and designers who work with history and heritage.
Inquiries
For more information about this program, kindly email Siddhi Bhandari at siddhi.bhandari@srishti.ac.in
Last updated Jan 2019
About the School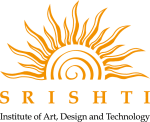 Srishti Institute of Art, Design, and Technology is a non-residential institution founded in 1996 by the Ujwal Trust with the objective of providing art and design education in an environment of creat ... Read More
Srishti Institute of Art, Design, and Technology is a non-residential institution founded in 1996 by the Ujwal Trust with the objective of providing art and design education in an environment of creativity to maximize the individual's potential.The Ujwal Trust also manages Srishti's sister institution, the prestigious Mallya Aditi International School.
Read less