MA in Light in Performance
Home ›
MA ›
MA in Light in Performance
Program Description
About this course
Entry Requirements
The programme is for graduates who have studied relevant subjects such as lighting design, technical theatre or drama, or for those with relevant professional experience as a performance maker, such as a director, technician, designer, choreographer, artist or performer. If you do not have the necessary specialist lighting skills you will be invited to attend an intensive practical lighting workshop before teaching on the programme starts.
Location
*Subject to validation
The Light in Performance MA offers a unique opportunity to explore current uses and applications of light as a material for performance.
The programme is aimed at lighting specialists who want to develop and expand their practice in designing with light, as well as non-specialists who want to expand their knowledge of working with light, such as directors, designers, choreographers, dancers, musicians and artists.
The programme includes 8 weeks of practical workshops in fully-equipped performance spaces, led by four world-leading lighting designers. For 2020-21, these will be Andi Watson, Michael Hulls, Paule Constable, and Willie Williams (subject to confirmation). You will work with each of the designers one at a time, learning from their working methods and processes.
The programme also offers a range of practice-based opportunities to explore collaborative and interdisciplinary creative processes, work placements at a range of partner organisations both in the UK and abroad, and an opportunity to further develop your personal practice through an individual or collaborative realised lighting design project.
Why choose this course?
This is a unique programme that allows you to explore ways of working with light. You will have the opportunity to learn and work with world-leading designers, learning from their working methods and practices, before moving on to develop and test your own practice as a performance maker working with light. On completion of the course, you may wish to work as an independent lighting designer for performance or return to your own specialist practice with an enhanced understanding of how light can be used in performance.
The course is international in nature and ambition and is strongly supported by a range of key industry partners.
Fee and Application Information
How to Apply
The programme is practical in nature, and students are required to have a basic level of proficiency with simple lighting systems, equipment and processes. If you are offered a place and do not have the necessary skills and experience, you will be asked as a condition of entry to take part in a 2-week intensive lighting workshop in London from 1 to 11 September 2020, prior to the programme starting (additional fee applies).
UK/EU Fees: £10,900
International Fees: £16,000
The next interview date for applicants will be on Saturday 28 March 2020.
Intensive lighting workshop
Full fee: £1100
Discounted fee for those who have a place on the MA Light in Performance: £550
Alumni Discount
A 5% alumni discount is available for Rose Bruford College BA (Hons) alumni undertaking a full time 13 months MA programme or the first year of an MFA programme.
Postgraduate Loans
The Department for Business Innovation and Skills provide a loan for eligible UK/EU students of up to £11,222 per student for postgraduate Masters study. Please see the video below for guidance and click here for more information about loans available for programmes starting in 2020.
Course content
There are 4 modules** in the MA over 13 months:
MAL701, Ways of Looking
A taught module exploring context and inter-disciplinary working methods, including practical workshops. Led by Hansjörg Schmidt.
MAL702: Ways of Lighting
A practice-based module, led in 2020-21 by Paule Constable, Michael Hulls, Willie Williams and Andi Watson*. Two one-week workshops with each designer, exploring their working methods and processes.
MAL703: Ways of Working
A module examining different ways of working, preparing you for your future practice. You may undertake a placement, arranged in liaison with students, designers, and industry partners.
MAL704: Final Project
An independent realised lighting project supported by a documented process of research and investigation.
**Subject to confirmation.
Last updated Feb 2020
About the School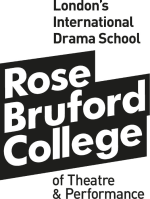 Welcome to Rose Bruford College of Theatre and Performance. Our goal is to inspire, excite and train you as a creative artist and practitioner who can use reflective practice and research, along with ... Read More
Welcome to Rose Bruford College of Theatre and Performance. Our goal is to inspire, excite and train you as a creative artist and practitioner who can use reflective practice and research, along with the world-class teaching we provide, as tools to become an independent thinker and a fulfilled and successful working professional.
Read less