Program Description
Empower your own brand of leadership
Guelph's Master of Arts (MA) in Leadership program is a life and career changing experience that will enhance your leadership competencies, transforming you into the leader you want to be. Before you begin your transformative journey, you will examine your own leadership abilities and styles, enabling you to better identify strategies and concepts that work best for you and for your own brand of leadership.
The majority of the program is offered online, allowing you to complete your course work around your busy schedule. This online learning is enhanced even further with brief and intensive on-site residential weeks in Guelph, Ontario, allowing you to collaborate, interact and network with your peers and faculty. You will gain the knowledge and skills to be able to tackle leadership challenges facing your own organization.
The majority of your coursework will see you collaborating with peers from a diverse range of industries, such as:
Private/for-profit
Health care
Policing and military
Education
Not-for-profit
Government
You will learn alongside an incredibly diverse group of professionals, who have their own unique styles of leadership. Quite often, this collaborative approach to learning creates one of the most impactful learning opportunities for students.
As a student in the MA in Leadership program, you will:
Enhance your leadership skills and competencies by learning from organizational leaders and faculty who have developed game-changing research in their field
Gain insight into your own strengths and weaknesses which will allow you to better understand your own leadership abilities
Enhance your understanding of the issues faced by a range of organizations and their leaders, enabling you to strategically confront and solve challenges
The best of both worlds
We know it is difficult to find time in your busy schedule to complete an on-site graduate program. And strictly online programs don't allow you to fully immerse yourself in course content. That's why we combine intensive on-site sessions with interactive, online learning. Guelph's MA in Leadership program gives you the flexibility to complete the program on your own schedule as well as benefit from the face-to-face interactions with your fellow peers and faculty.
Online learning
There are no online message boards or chat rooms you will be graded on, so you will not feel "chained to your computer". Rather, we mail you your reading materials for you to delve into at your own pace. You can expect anywhere between 20 - 25 hours each week during the online portion of the course.
On-site learning
Imagine a week-long networking opportunity that goes further than a simple business card exchange. The on-site residential weeks provide a career-defining opportunity for you to learn from faculty who have significant industry experience and have developed industry-changing research. Just as important, you will tackle your coursework with your peers who are in diverse, yet complementary industries. This collaborative process is crucial to our learning approach. You will not only learn new strategies and skills relevant to your career, but you will also make connections with your classmates and faculty that will last a lifetime.
Program timeline
The program starts with an on-site residential week where you will start your coursework and connect with your fellow classmates.
After the residential week, you will continue your coursework online.
After your second residential week, you will have the option of conducting a major research paper or completing an additional two courses to complete your degree.
The program typically takes 18 - 24 months to complete.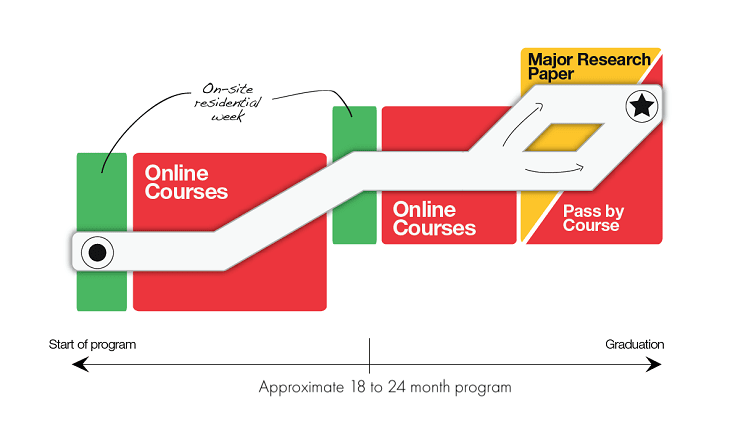 Tuition
The fee for the MA in Leadership program is $31,395 (Domestic) and $36,116 (International) and covers everything you need to successfully complete the program, including:
Tuition for all courses, both online and during your residential periods.
Meals, beverages during your residential periods.
Textbooks and course materials.
Supporting materials.
We offer plenty of options to help finance your degree. We are pleased to offer a number of entrance and in-course scholarships.
Each semester you are registered as a full-time student so there is an additional Graduate Student Association (GSA) Fee of approximately $40.
Sample courses
MA in Leadership students take a variety of core and elective courses. The following is a sample list of courses offered during the program. Course offerings are subject to change.
Foundations of Leadership: The course will enhance participants' interpersonal competency, as well as their knowledge and understanding of the theory and research underlying the impact of team management and collaboration on the organization.
Theories of Leadership: This course traces the development of the concept of leadership. Through the interplay of theory and practical application, participants will gain a deeper appreciation for the requirements, responsibilities, and consequences of effective leadership.
Role of the Leader in Decision-Making: The role of the leader in decision-making is explored through the study of the rational model for decision-making, human biases, creativity, and risk and uncertainty in decision-making. The course will also examine ethical issues and group decision-making.
Ethics in Leadership: Issues in the use and application of ethical standards by leaders are explored through examples from history, current events, novels, films and television. Relevant theory is applied to leadership examples to help students develop an ethical framework for the exercise of leadership skills.
The Leadership of Organizational Change: This course studies the role of leadership in the management of change within an organization and the changes required of management. The course examines the development of trust, the building of organizational loyalty, and motivation and inspiring of high-performance teams.
Last updated Jul 2019
About the School
The University of Guelph is like no other university in Canada. Research-intensive and learner-centred, our campuses span urban hubs and rural communities. We are known for excellence in the arts and ... Read More
The University of Guelph is like no other university in Canada. Research-intensive and learner-centred, our campuses span urban hubs and rural communities. We are known for excellence in the arts and sciences, and for our commitment to developing exceptional thinkers and engaged citizens.
Read less