MA in Leadership and Digital Education
Home ›
MA ›
MA in Leadership and Digital Education
Read more about this program on the school's website
Program Description
This specialist Masters is designed for experienced educators who want to gain an insight into educational policy issues of current global significance and their implications for the effective leadership of educational institutions, as well as wishing to understand, use and support digital tools in education.
Given the increasing interest in education leadership and digital education, this programme will allow you to build range skills and knowledge which can enhance your professional development. You will have the opportunity to apply and reflect on this new knowledge in relation to both your own learning and to your professional contexts.
With a combination of online and face-to-face teaching, you will be campus-based with access to all of the University's facilities and resources while also gaining practical experience of being an online distance learner. This experience of online learning will enhance your learning on the subject and also enable you to be a more effective leader or deliverer of online education.
Course content
The programme will provide you with in-depth knowledge of skills, perspectives and current research in both educational leadership and digital education. You will have opportunities to apply and reflect on this new knowledge in relation to your own learning and to your professional contexts. As the programme is aimed at experienced professionals, students will immediately see the relevance of programme content to practice.
Course structure
The list shown below represents typical modules/components studied and may change from time to time.
Modules
Year 1
Compulsory modules
Contemporary Global Challenges in Education Policy and Leadership Practice
Critical Perspectives on Leadership Theory and Practice
Education in a Digital Society
Optional modules (selection of typical options shown below)
Choose one from the below:
Dissertation in Digital Education
Dissertation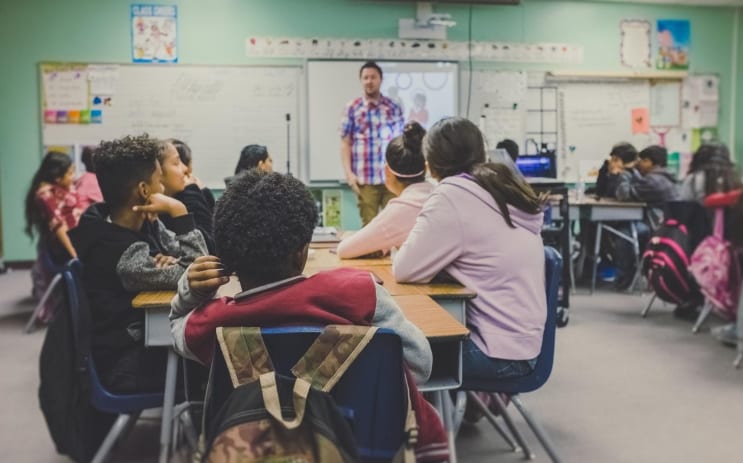 NeONBRAND / Unsplash
Learning and teaching
On this course, you will benefit from a carefully designed combination of classroom-based and online distance learning (ODL). The online teaching component is a defining feature of the programme as you will gain practical experience of being an ODL learner which will be very beneficial when you are responsible for delivering or supporting online education in your professional life.
While you will enjoy the illuminating experience of learning online this is a campus-based course and as such you will also benefit from all of the learning resources on campus – the best of both worlds.
Assessment
The MA Leadership and Digital Education uses a variety of assessment methods to augment your learning and ensure you have the skills required for professional development.
In addition to traditional essays, the online distance learning modules will take a different approach to assessment, enabling you to gain practical experience of presenting information using a range of digital technology tools. For example, you might be asked to present work as a poster, a multi-modal presentation, a website, an audio presentation with quizzes or a video.
Entry requirements
A bachelor degree (Hons) with a 2:1 or non-UK equivalent plus evidence of relevant professional experience.
The relevant professional experience could include teaching (at any level), education management, supervision or administration, software development, education publishing, education media, and roles involving the implementation, support or management of educational technologies. Other professional experience may be relevant and each case will be considered on its merits.
English language requirements
IELTS 6.5 overall, with no less than 6.0 in any subject.
Improve your English
International students who do not meet the English language requirements for this programme may be able to study our postgraduate pre-sessional English course, to help improve your English language level.
This pre-sessional course is designed with a progression route to your degree programme and you'll learn academic English in the context of your subject area.
How to apply
Application deadlines
International – 30 June
UK/EU – 31 July
If you intend to apply for funding, you should submit an application for a place on your chosen course at least one month before any specific scholarship deadline.
Fees
See our website for the latest fee information.
Additional cost information
There may be additional costs related to your course or programme of study, or related to being a student at the University of Leeds.
Scholarships and financial support
If you have the talent and drive, we want you to be able to study with us, whatever your financial circumstances. There may be help for students in the form of loans and non-repayable grants from the University and from the government.
Scholarships available include:
Dean's International Postgraduate Scholarship
Head of School's International Postgraduate Scholarship
International Excellence Scholarship (Philippines)
Head of School's UK/EU Postgraduate Scholarship
Careers support
We encourage you to prepare for your career from day one. That's one of the reasons Leeds graduates are so sought after by employers.
The Careers Centre and staff in your faculty provide a range of help and advice to help you plan your career and make well-informed decisions along the way, even after you graduate.
Last updated Aug 2020
About the School

Our wide range of research-informed courses encompass undergraduate, taught postgraduate and research degree programmes, as well as online and professional development courses.
Our wide range of research-informed courses encompass undergraduate, taught postgraduate and research degree programmes, as well as online and professional development courses.
Read less